Despair to delight, Australia's yearbook
After being put on the ropes at the MCG by India exactly a year ago, the Aussies have paved the way for a terrific turnaround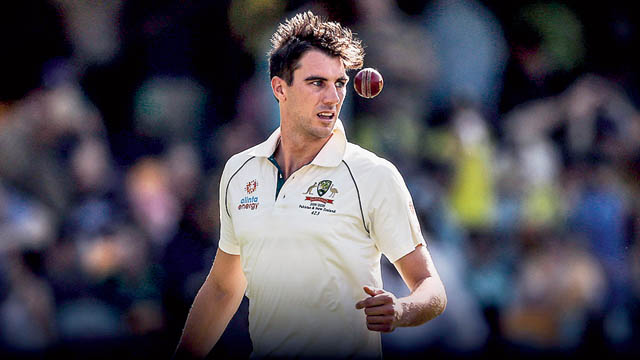 Under Pat Cummins, the Aussies have fashioned a spectacular turnaround.
File Photo
---
Published 29.12.21, 02:30 AM
|
---
A year ago to the day at the hallowed Melbourne Cricket Ground, Australia had been put on the ropes by a youthful Indian team led from the front by Ajinkya Rahane.
At the end of Day III — December 28, 2020 — at the MCG, India, who took a first innings lead of 131 runs primarily riding on Rahane's 112, had claimed six Australian wickets with the opposition just two ahead. The Telegraph headline of December 29, 2020, read 'India sniff chance to level series', an understated anticipation of wiping out the ignominy of Adelaide in the previous Test in which Virat Kohli's men had been knocked over for 36.
India went on to level the series with an eight-wicket victory chasing 70 on Day IV and would famously go on to win the series with a thrilling triumph at the Gabba in the fourth Test. Had there been a fifth Test — it was a pity there wasn't — India would have been firm favourites to put it across the Australians, who appeared bruised, bewildered and bitter, none more so than their hapless captain Tim Paine.
A year on, Australia, now led by "Captain Colgate" Pat Cummins — he of the schoolboyish smile that masks a tough competitor — have fashioned a spectacular turnaround; England, the Ashes urn out of their grasp in only 12 match days, would secretly be wishing the series was over.
Routed for 68 in their second innings with the Australia lead only 82, three-zero down with two more Tests to come, and little to suggest that their fortunes could swing for the better.
At the beginning of the tour, England had been wary of Cummins and Josh Hazlewood. The captain missed the second Test at Adelaide and Hazlewood played only the first at the Gabba.
The man who actually sent them to their doom was local lad Scott Boland, a journeyman seam bowler making his debut, who returned the astonishing figures of six for seven.
An hour of brutal fast bowling on Day II had rocked the Englishmen. But if there had been some hope of a pride-induced fight-back on Day III, it was dashed by Mitchell Starc, who knocked back Ben Stokes' stumps with the score on 46. It was then all Boland, who won the Johnny Mullagh medal for Player of the Match, an award named after the foremost indigenous Australian cricketer of his time — the standout performer on the pioneering Aboriginals tour of England in 1868.
Jonny Bairstow was trapped leg before and Joe Root, who himself had an excellent year as batsman, edged to David Warner in slip. When Mark Wood and Ollie Robinson followed in the space of three balls from Boland, they were 65 for nine and Boland had completed a five-for in 19 balls. Cameron Green castled James Anderson and it was all over.
Wood and Robinson fell for nothing taking England's tally of ducks for the year to 54, matching their previous worst in 1998.
The total was England's lowest in Australia for 117 years when they had been dismissed for 61 in the first innings, also at the MCG. If Boland was Australia's hero in 2021, it was Tibby Cotter who had wrecked England in 1904, picking up six for 40 in only his second Test. Cotter, a fiery fast bowler who was known to smash the stumps, took 89 wickets in 21 Tests with seven five-fors. He died in the Palestine campaign in the First World War, shot by a sniper during the Battle of Beersheba of October 1917.
At the beginning of the Test, Root would have been wondering if he could do a Bradman. He certainly has performed with the bat — his 1708 runs from 15 Tests in this calendar year is third highest on the list after Mohammad Yousuf (1788 runs in 11 Tests, 2006) and Viv Richards (1710 runs, also in 11 Tests, 1976).
Back in 1936-37, England had been 2-0 up in Australia, with Bradman getting two ducks in successive innings. The cricket writer Neville Cardus had, writing on the 1934 Leeds Test, described Bradman as "ready, cool and grim", epithets that could easily sit on Root as well given his selflessness and ability to stick it out.
The Aussies though won the next three Tests with Bradman getting 270, 212 and 169. Root needs to be Bradmanesque in the remaining two Tests if he wants to get some pride back in the new year.
As for the Aussies, their despair of a year ago had paved the way for the perfect moment — a terrific turnaround.