Captain Hardik Pandya looks to finish it like Dhoni
A 2-1 win over New Zealand in three-match series is Pandya's second success as captain after he led India past Sri Lanka with an identical scoreline last month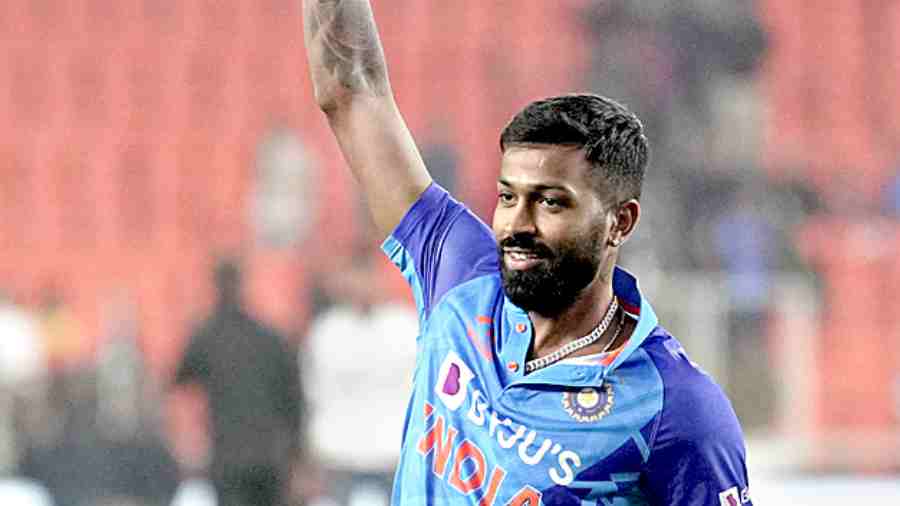 Captain Hardik Pandya with the trophy after winning the three-match T20I series against New Zealand, at the Motera stadium in Ahmedabad on Wednesday.
PTI picture
---
Calcutta
|
Published 03.02.23, 02:50 AM
|
---
Since taking over as captain of the Gujarat Titans last year and subsequently standing in for Rohit Sharma in the shortest format, Hardik Pandya has embraced the responsibility, even if it means having to temper his own game for the team's cause.
So much so that Hardik is now "okay" to step back and play the role that Mahendra Singh Dhoni did towards the end of his international career.
"See, to be honest, I've always enjoyed hitting sixes, but I have to evolve and that is life," Hardik said after leading India to a 2-1 series victory over New Zealand in Ahmedabad. "I have to take the other part where I've always believed in partnerships. I want to give my team and the other person more calmness and the assurance that at least I'm there.
"I've played more games than any of those guys out there. So, I've known the experience and more than the experience part, it's where I've batted, and I've learnt how to accept pressure and I've learnt how to kind of swallow the pressure and kind of make sure the team and everything is calm.
"In that way, maybe I have to get my strike rate down or... Taking new opportunities or taking new roles is (something) I've always looked forward to. I don't mind coming in and playing the role which somewhere down the line Mahi used to play.
"I think at that time, I was young, and I was hitting all around the park, but now since he has gone, all of a sudden that responsibility... It has just naturally come to me, and I don't mind (doing it). We're getting the result we want and it's okay."
A 2-1 win over New Zealand in the three-match series is Pandya's second success as captain after he led India past Sri Lanka with an identical scoreline last month. It is only a matter of time before Pandya is permanently put in charge of the T20I side. 
The more responsible Pandya has made his mark on the bowling front too and has backed himself to bowl in the Powerplay.
His wickets of Finn Allen and Glenn Phillips in the first two overs effectively shut the door on New Zealand in Ahmedabad and he finished with figures of 4 for 16.
"I had to bowl with the new ball (in T20Is)... I don't want any new guy to come and have that difficult role of (bowling in the Powerplay) because if they're put under pressure, then we're chasing the game," Hardik said. "So, I've always been (like) leading from the front and I've been working on my new-ball skills, which is helping me."
On the eve of the T20I series opener in Ranchi, Hardiksaid that he prepares to bowl in the Powerplay by bowling with the new ball even during training. 
Pandya last donned the India whites in 2018 in Southampton before an injury to his back put paid to his hopes. He said he will come back at the right time in Test cricket.
"I will come (back) when I feel (it's) the right time to play Test-match cricket," Hardik said. "Right now, I'm going to focus on white-ball cricket, which is important, and if time is right and body is fine, I'll give (the long format) a try."
Pandya also said he always backs his gut feeling. "To be honest, I try to read what is required, not have preconceived ideas. I look to keep it simple and back my gut feeling."