'Brave' Shreyas Iyer praised by captain Virat Kohli
'Hurt thumb not serious'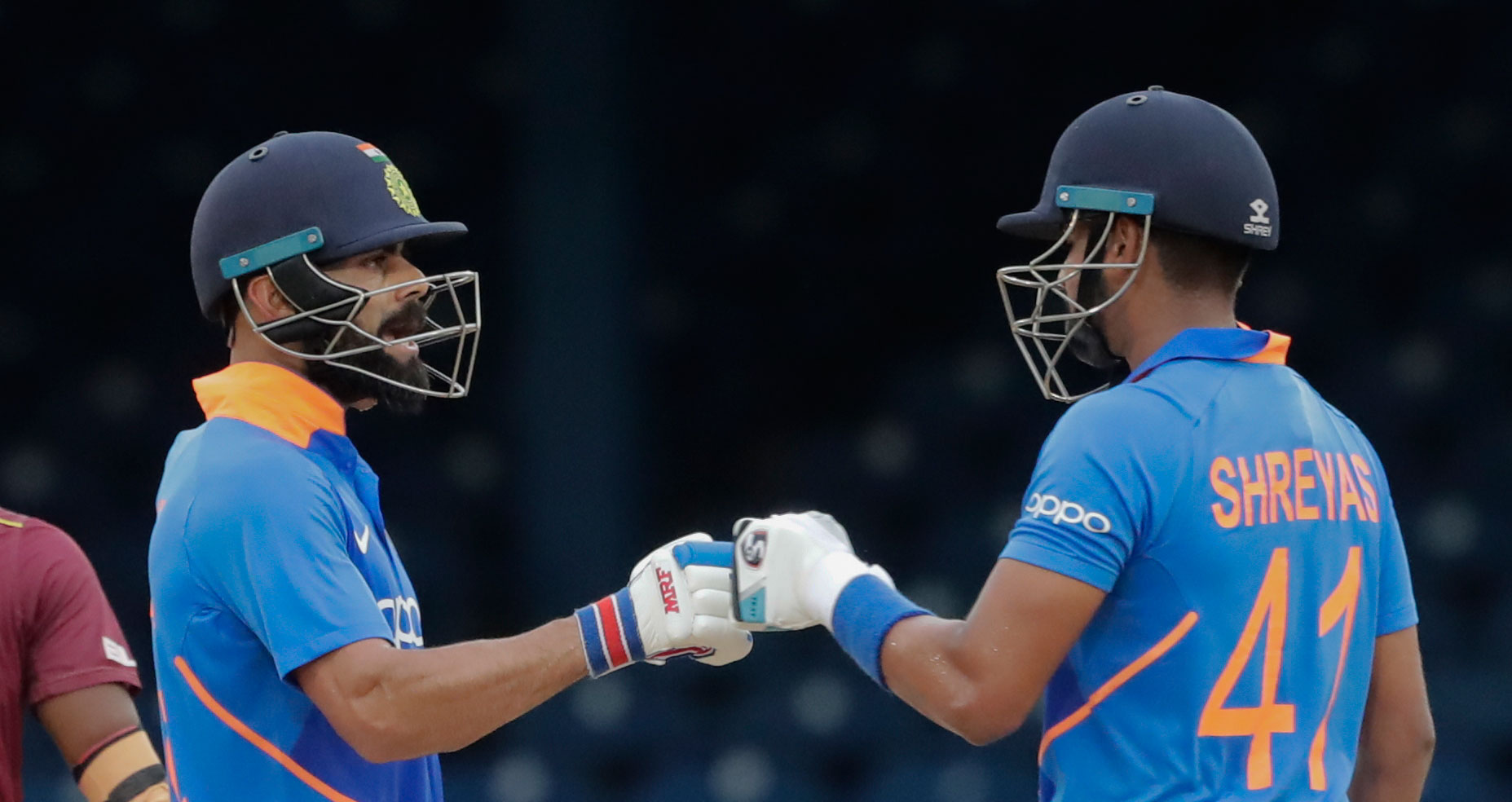 Virat Kohli with Shreyas Iyer during their third One-Day International cricket match against West Indies in Port of Spain, Trinidad, on August 14, 2019.
(AP)
---
Port of Spain
|
Published 15.08.19, 06:30 PM
|
---
Shreyas Iyer's superb form in the ODI series against West Indies has impressed Indian captain Virat Kohli who said the Mumbai batsman can be a "regular feature in middle order" if he continues taking responsibility like he did during this contest.
Kohli smashed back-to-back centuries to lead from the front in the 2-0 series win in the three-match contest against the West Indies while Iyer hit aggressive yet composed 71 and 65 to also play a big role in the victory. The duo had partnerships of 125 and 120 in the second and third ODIs under tricky situations.
"Both times he was batting with me. I have been around for a while and he was not intimidated at all, he was very confident, very sure of his game. At no stage he looked like getting out, that is great to see," Kohli said on Wednesday after India beat West Indies by six wickets under D/L Method to clinch the three-match ODI series 2-0.
"He has suddenly presented a role for himself, coming in and playing according to the situation. Hopefully he builds on to this and keeps performing like this for the team... he can be a strong contender and a regular feature in the middle order," the Indian captain said.
The 30-year-old Kohli said Iyer reminded him of his own early days in the India side.
"I was exactly the same when I came in — any opportunity I got I wanted to win games for my team and play according to the situation and you have to take risks. He (Iyer) was brave under pressure. You need to reveal your game to realise who you are, what your game is and what kind of a player you are."
Kohli added that the blow to his right thumb during India's successful run chase in the third ODI here has not resulted in a fracture and he "should be good" to play in the first Test starting on August 22.
In the 27th over of India's run chase, Kohli was hit on the right thumb by a Kemar Roach bouncer. The India captain seemed to be in some pain, but after being attended to by the physio, he continued batting to lead India to a series-clinching six-wicket win.
"I don't think it's a fracture, otherwise I wouldn't have continued (batting). It's just a split of the nail," Kohli said at the post-match presentation ceremony on Wednesday.
Asked about the condition of his thumb at the post-match press conference, he said. "Luckily, it's not broken. When I got hit I thought it was worse than what it turned out to be. I should be good for the first Test."
Kohli was also all praise for Chris Gayle, saying apart from his cricketing exploits he will also be remembered for his fun-loving and friendly nature. He said the 39-year-old Gayle was an icon and "gem of a human being" who was always there to help youngsters. The duo were earlier together in the IPL side Royal Challengers Bangalore.
"I would like to congratulate him for a great career, playing for the West Indies. He has done so much for West Indies cricket and he is icon all over the world. He is one of the nicest human beings around, that for me is his biggest quality," Kohli said.
There were rumours that Wednesday's match would be Gayle's last, but the 'Universe Boss' rubbished the notion.
"Everyone knows about his cricket but I think the kind of person he is, so helpful with youngsters, so fun loving and always smiling even in the most pressure situations. For me, Chris Gayle the person is the best part of him. I have been fortunate to spend a lot of time as a friend and get to know him as a person. He is a gem of a human being and I think he can be really proud of that, firstly."