Big-buck bet & jitters on Indian Premier League rights
According to estimates, IPL's viewership fell by 30-35 per cent in the first five weeks compared to last year's figures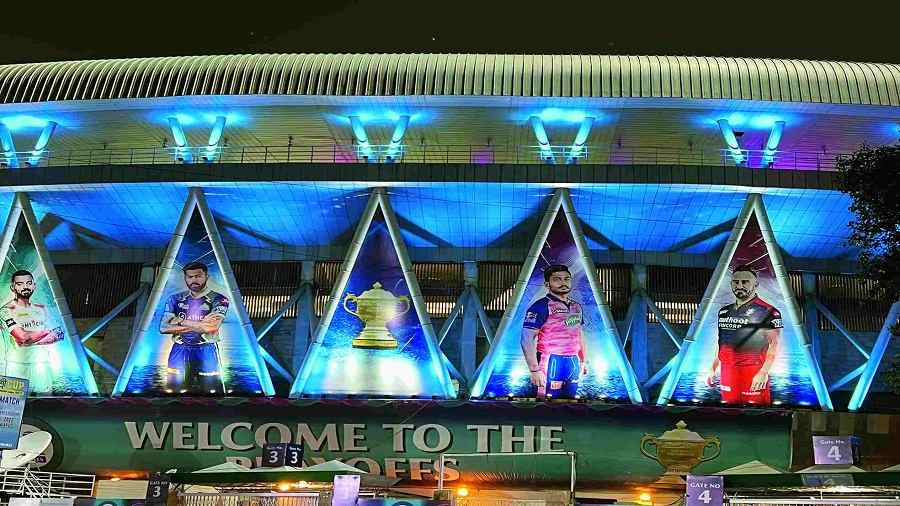 Representational Image
File Photo
---
Published 08.06.22, 02:22 AM
|
---
The IPL 2022 final between Gujarat Titans and Rajasthan Royals witnessed a record attendance of 104,859 spectators at the Motera Stadium in Ahmedabad.
However, a fall in IPL's TV viewership has led to jitters in the industry ahead of the high-voltage media rights e-auction on June 12 for the next five-year cycle. The BCCI has taken e-auction agency
M-Junction on board for its smooth conduct.
According to estimates, IPL's viewership fell by 30-35 per cent in the first five weeks compared to last year's figures. It did improve in the play-offs stage but some advertisers reportedly requested Star India for additional free commercial time on 'live' matches to make good their loss.
There is hope that the dwindling numbers will be arrested from next season when the matches are spread across 10 cities and not limited to a few venues. Various reasons have been cited for the fall in viewership, ranging from audience fatigue to non-performance of the two most successful franchises, Mumbai Indians and Chennai Super Kings.
"I don't think the drop in TV viewership will have any impact on the auction. The kind of response we are getting is fabulous and we are hoping for some very good numbers," BCCI treasurer Arun Dhumal told The Telegraph. Two new franchises — Gujarat Titans and Lucknow Super Giants — making the playoffs is also being seen as the perfect fillip to Brand IPL. Besides adding competitive edge, it is widely believed that the on-field performances will go a long way in them achieving a pan-India appeal.
The BCCI has fixed a combined base price of Rs 32,890 crore for the four categories it has put up for sale for the 2023-27 cycle of the IPL. This is nearly double the Rs 16,347 crore that Star India, now part of The Walt Disney Company, shelled out for the last five years' consolidated TV and digital bid, which ended with IPL 2022. Sony Pictures Networks India held the media rights for the first 10 years, for Rs 8,200 crore approximately.
Harish Thawani, former CEO of Neo Sports, feels the drop in viewership will have an effect on the bidding. "Yes, it will have an effect. Star's ad sales have been affected. There is no secret about it and on Hotstar, their whole inventory wasn't sold. If you notice, Hotstar has not released the numbers. BCCI never anticipated that viewership would be down this year," said Thawani, considered an expert in this field.
But with more advertisement slots on offer, the new cycle of broadcast rights could touch Rs 50,000 crore, speculate industry insiders. That the IPL has already transcended barriers and positioned itself as a global brand has been established by the interest shown by the Glazer family, which owns Manchester United, during the bidding for the two new franchises.
Disney-Star, Viacom 18, Sony, Amazon, Apple, Google, Zee Entertainment, Dream 11, Supersports in South Africa and Sky in the UK have bought the Invitation To Tender (ITT) document. Times Internet has also shown interest. But there is no guarantee that all those who have bought the ITT document will participate in the bidding process.
The Board has kept the option of increasing the number of matches but the base price in the ITT document has been based on the current format of 10 teams and 74 games.
"All this doesn't mean people won't bid. There have been signals from interested players to be conservative and not go over the top. Whether that works or not remains to be seen," said Thawani.
"I am not trying to forecast anything. Some observers are saying that it might flop in the sense that some package may remain unsold. This is called winner's curse and whoever wins this is cursed.
"Viacom 18 will bid because Uday Shankar (former CEO of Star India) and Murdoch are involved in it. Sony could also bid big. I buy that theory... I will not be surprised if it doesn't cross Rs 40,000 crore. If competitive heat takes over, Rs 50000 crore can't be ruled out," hoped Thawani.
The most lucrative package is the TV rights in the Indian subcontinent with a cumulative base price of Rs 18,130 crore. The second package includes the digital rights in India and the base price is set at Rs 12,210 crore.
The third package contains the Indian subcontinent digital rights for 18 games, including the opener and the four
play-offs. This is only applicable for OTT players where
one player can pick up this bundle. According to BCCI secretary Jay Shah, it is an attempt "not only" for "revenue maximisation but also value maximisation". The base price for this bucket has been set at Rs 1,440 crore.
Thawani, however, isn't convinced with BCCI's strategy. "This package may sell but there's lack of insight on how to protect value. They are trying to maximise income but not maximise value to the buyer. Typical of the BCCI...
"It's stupid to design two packages on digital rights. Ideally, there should have been three packages... TV, digital and rest all together and then split it into India and rest of the world... Needlessly trying to complicate things," Thawani argued.
Thawani said digital should never have been split territory-wise. "If you don't pick up the entire digital rights, your India strategy could be at risk because of pricing arbitrage," he warned.
The final bucket is for overseas TV and digital rights.
The BCCI has done away with composite bids this time. A company can put in bids for all categories, but each of those bids will be considered as separate and the winner will be decided on the basis of the highest bid in each category.
As a result, four different entities could end up with the different packages on offer.