Asia Cup: No pattern, so no alarm for Virat Kohli
'I know where my game stands and you cannot run this far in your international career without having the ability to counter situations'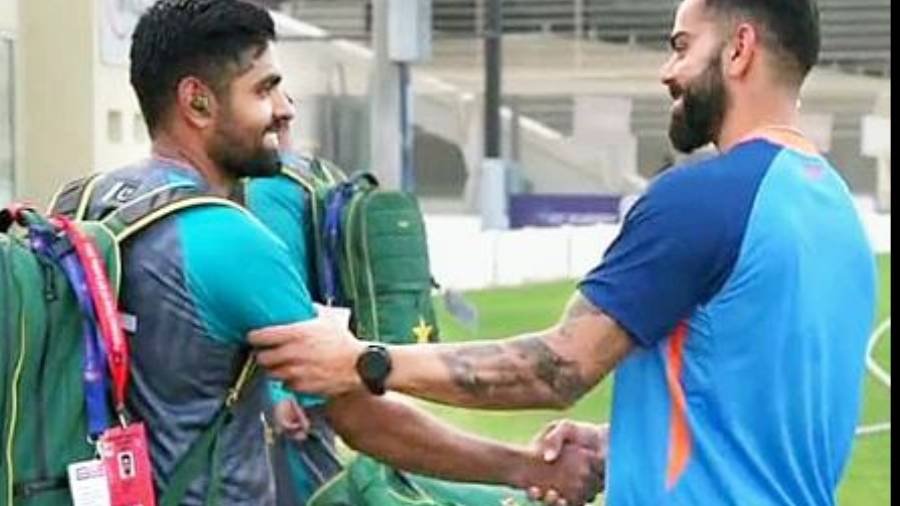 Virat Kohli and Babar Azam
Twitter
---
Calcutta
|
Published 25.08.22, 03:25 AM
|
---
Virat Kohli has gone without an international hundred across formats for nearly three years now but he doesn't think there is much scope for course correction.
The reason being that he hasn't had any specific technical problems like the one he faced during the England tour of 2014 when he was poking at deliveries on the off-stump channel. "I know where my game stands and you cannot run this far in your international career without having the ability to counter situations and counter conditions and counter different kinds of bowling. So, this for me, is an easier phase to process," Kohli said on the Star Sports show Game Plan.
The former India captain spoke of how a pattern of dismissals was detected on the England tour of 2014 and then after technical adjustments, he scored nearly 600 runs during the next tour there in 2018. "What happened in England was a pattern, so something that I could work on and something that I had to kind of overcome. Right now, as you rightly mentioned, there is nothing that you can point out saying that the problem is happening here," Kohli said. He feels that the best thing to have happened is that there aren't any patterns. 
"So, that for me, is actually an easier thing to process because I know that I'm batting well and at times, when I start feeling that rhythm back, then I know that I'm batting well. "So, that for me is not an issue, which wasn't the case in England (2014). I didn't feel like I was batting well at all. So, I had to work hard on one thing that could be exposed again and again which I overcame; right now this is not the case," he added.
As he gets ready for the Asia Cup, Kohli knows that he will have to deliver to stay in the reckoning. He said that he understood his game right now and is not afraid of the bad phase he has been going through. Rather he wants to learn from these mistakes.
"I know there are ups and downs, and when I come out of this phase, I know how consistent I can be. My experiences are sacred to me," he said. "Whatever I have experienced in this phase or in the past, as well one thing that I can vouch for, is that I have never valued myself more as a person.
"So, this for me, is an easier phase to process, but I don't want to put this phase behind me. I want to learn from it and I want to understand what are the core values that I have, as a sportsperson and as a human being," he remarked.
VVS Laxman interim head coach
VVS Laxman has joined the Rohit Sharma-led Indian team in Dubai as interim head coach for the Asia Cup. The former India batsman, who performed the same role during the three ODIs in Zimbabwe, stayed back in Dubai on return from Harare.
"Mr Laxman, who travelled with the Indian team that played the ODI series in Zimbabwe will oversee the team's preparation in the absence of Mr Rahul Dravid, who tested positive for Covid-19 before the team's departure to the UAE. Mr Dravid will join the team once he tests negative and is cleared by the BCCI medical team," the Board said in a media release on Wednesday.
KL Rahul, Deepak Hooda and Avesh Khan have also joined the squad in Dubai. The rest of the players who played in the Zimbabwe series, and are not part of the Asia Cup contingent, have returned to India. Dravid has been experiencing mild symptoms and is expected to be cleared soon. India's first game in the Asia Cup is on Sunday, against arch-rivals Pakistan.