An English affair, on & off the field
Scyld Berry, the Daily Telegraph's chief cricket writer, called Shane Warne 'the greatest spin bowler of all-time'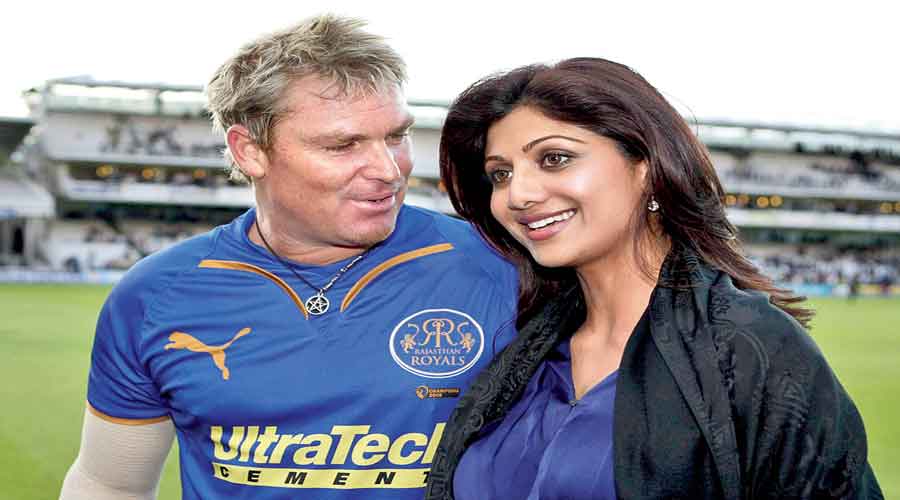 Shane Warne and Shilpa Shetty (right) after a British Asian Trust T20 match between Rajasthan Royals and Middlesex Panthers at Lord's.
File photo
---
London
|
Published 06.03.22, 04:01 AM
|
---
Shane Warne had an especially close relationship with England, where his unexpected death at the age of only 52 has left a sense of complete shock.
Scyld Berry, the Daily Telegraph's chief cricket writer, called him "the greatest spin bowler of all-time", adding, "Only Sachin Tendulkar can claim to have mastered Warne. In 2000/01 in India Warne took only ten wickets at 50 runs each in the three-Test series. Tendulkar, however, had to go into a special camp in order to prepare, by running down the wicket against legbreaks, often delivered from round the wicket, and launching them over long-on and long-off. Nobody else was so skilled."
Berry pointed out that Warne's "total of 708 Test wickets has only been exceeded by the Sri Lankan off-spinner Muttiah Muralitharan. Murali was numerically superior because he finished with 800 Test wickets but an essential difference lay in the character which they brought to their bowling: Murali was defensive until he got on top, Warne was always attacking."
BBC Radio 4's Today programme managed to secure an interview with a very sporting Mike Gatting, who was a great England batsman but who will probably be remembered in cricketing history for being the victim when Warne bowled him with "the ball of the century".
This happened on June 4, 1993, the second day of the first Test of the Ashes series, at Old Trafford in Manchester.
Poor Gatting was made to listen to Jonathan Agnew's commentary of the moment on BBC Radio 4's Test Match Special: "Here comes Shane Warne, off only two or three paces. He bowls and Gatting is…bowled. Well, Gatting is still standing there. He can't believe it. But that must have turned a very long way. We haven't got a view of this but it took his off stump. Gatting can't believe it. That is Shane Warne's first delivery in a Test match in England. He's comprehensively bowled Mike Gatting."
Then followed a recorded clip from Warne: "The ball to Mike Gatting was the perfect leg break — the first ball in an Ashes series to do it. I look back at it and say, 'Yes, it was a fluke. But I think it was meant to be.' "
On Saturday, 28 years on, Gatting was asked by the BBC sports reporter, Garry Richardson: "Mike, what were your conversations like with Shane Warne over the last 30 years? He says it was a fluke. But it was meant to be."
Gatting didn't duck the question: "Yeah, look, at the end of the day, he never lacked confidence. He probably lacked a little bit of self-belief. But after that ball, he certainly didn't lack any."
In England, he attracted just as much attention for the scandals in his private life — notably his affair with the actress Elizabeth Hurley, which began in December 2010 when she was still married to the Indian businessman Arun Nayar. The News of the World caught Warne and Hurley at the super deluxe Bentley Hotel in Kensington.
The paper's screaming page one "world exclusive" – "Hurley Cheats.....With Shane: Caught by the Bails" – was followed by her mea culpa tweet, "Not a great day. For the record, my husband Arun & I separated a few months ago. Our close family & friends were aware of this."
The split was news to Nayar, who had to read stuff like: "Eyes closed and arms wrapped round each other, the unlikely couple were captured on camera in a sensational public clinch which will devastate her devoted husband. Liz pulled Warne towards her in a darkened doorway, cupped his face with her hands and leaned in to lock lips."
Warne, who had three children with his wife, tweeted: "Sadly and unfortunately, Simone and I split up a while ago."
Warne's relationship with Hurley ended after two years, during which period she slicked down the Australian's tousled hair, reshaped his eyebrows, buffed his face and forced him to wear makeup.
In July 2009, Warne, to his credit, spoke out when Indian students were being targeted by racist thugs in Australia: "I think it is atrocious what is going on with Indian students."
At the time, he teamed up with Shilpa Shetty when Rajasthan Royals (162/7) beat Middlesex Panthers (116/7) in a charity match at Lord's.
Warne modestly brushed off Shilpa's gushing compliment when they gave a joint pre-match media conference: "The men come to see the cricket, the women come to see Shane."