Carlton Chapman: Field marshal of many parts
Described as a rising star on the horizon in 1993, he had won every football league under the sun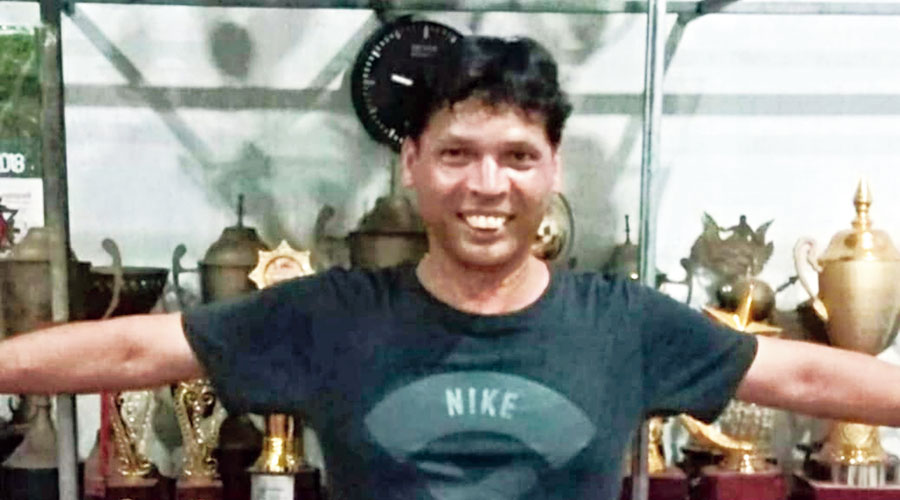 ---
|
Calcutta
|
Published 13.10.20, 03:03 AM
---
Rising star on the horizon. That's how the monthly magazine of Asian Football Confederation described Carlton Chapman after his three-goal heroics in East Bengal's 6-2 romp against Iraq's champion side Al Zawra'a at the Salt Lake Stadium. That was in 1993 when Chapman had just burst onto the scene after graduating from the Tata Football Academy (TFA).
Twenty-seven years later, after remaining in oblivion for more than a decade, the name Carlton Chapman returned to our collective consciousness on Monday morning. This time, with the news of his untimely demise in Bangalore from a heart attack.
Chapman, a former India captain who formed a deadly trio at the club level with Bhaichung Bhutia and IM Vijayan in the 1990s, was 49.
"Memories keep flooding back. He had come to TFA in 1991 two years after Renedy (Singh) and myself were selected in 1989. But he was in the senior batch," Kalyan Chaubey, his former India teammate and TFA junior, told The Telegraph. "During his East Bengal days, he used to stay in a flat near Tank No. 13 near Salt Lake Stadium. I was a regular there," Chaubey added.
"It's not the type of news we would like to hear in the morning of a new week," Alok Das, former TFA and East Bengal mate, said.
"We looked up to him," East Bengal's new assistant coach Renedy said from Imphal. "Tough to digest."
During his playing days, Chapman was one of a kind. He was part of an Indian team that was brimming with talent. Vijayan, Bhaichung, Bruno Coutinho, Tejinder Kumar, Jo Paul Ancheri, Tushar Rakshit, Renedy… Yet, the first name on the team sheet of every coach, be it Rustom Akramov, Syed Nayemuddin or Sukhwinder Singh, would be that of Carlton Chapman. He could fit into any role — winger, attacking medio or right back. Something Indian football got to see in Syed Rahim Nabi many years later.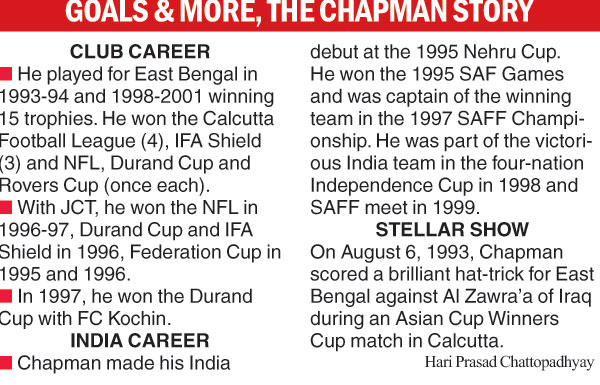 Chapman had a trophy-laden two-years with JCT when Sukhwinder's men ruled Indian football. With Chapman, Vijayan, Bhaichung, Ancheri, Tejinder and Stephen Abarowei, in their ranks, JCT were unstoppable.
Chapman won everything under the sun —- the National Football League (with JCT and East Bengal), Federation Cup (two years on the trot with JCT), Calcutta Football League and Durand Cup (with East Bengal, JCT and FC Kochin). Under his captaincy, India triumphed in the SAFF Championship in Kathmandu in 1997.
"A tireless worker on the field," Ranjan Chowdhury, who was Mohammed Habib's deputy when Chapman was selected for TFA, said.
Chapman switched to coaching in 2002 in TFA under Chowdhury and stayed there for six years till the Shillong-based Royal Wahingdoh offer came his way.
He also had stints with Bhawanipore FC and Sudeva FC. But somehow, his coaching career never took off.
During his days as assistant coach in TFA, Chapman nurtured some good talent. One such was Robin Singh. In 2007, he was effusive in praising a young Robin, who was so tall for his age that he was finding it difficult to adjust to the bed in his room.
"He is one for the future," Chapman had said. Two years later that boy destroyed East Bengal when TFA came to play in the IFA Shield. But neither Robin nor others, who came out of the academy in the new millennium, could match what the batch of 1992 achieved. Chapman was the most notable face of that 1992 group.
Chapman is survived by wife Rachel, eight-year-old daughter Ruth and son Carrick, who is just 6. "Burial will be held on Tuesday," his nephew Adrian Basavaraj said from Bangalore.
PK Banerjee, in March, Chuni Goswami in April and now Chapman. Three former India captains have left us in less than eight months.