Captain as unifier, Lloyd reveals secret of conquering the world
Sir Clive H. Lloyd delivered the 10th Tiger Pataudi Memorial Lecture on Wednesday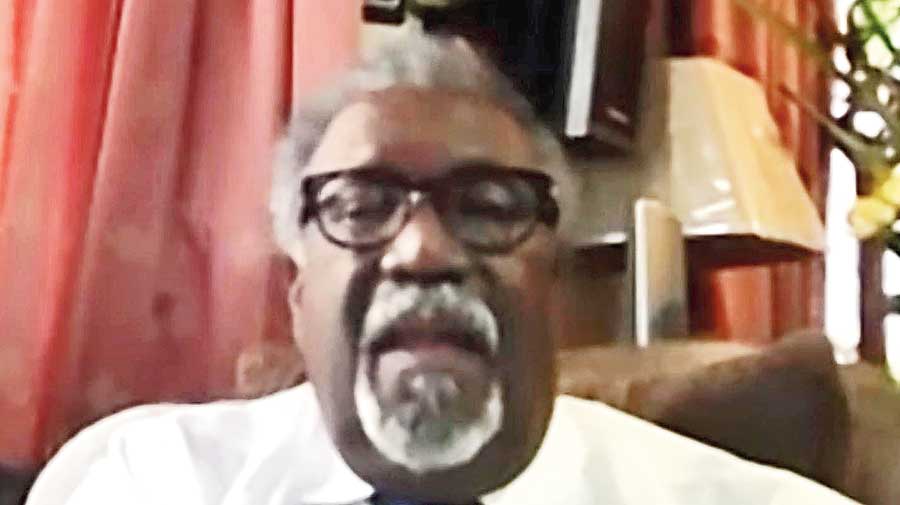 ---
Published 25.03.21, 02:16 AM
|
---
So it was that the Cat came to commemorate the Tiger on Wednesday evening and let out a revelatory purr of relief. "He could play some of the best innings in Test cricket," said the Cat of the Tiger, "fortunately he never got going against us."
Their cricketing careers came to be co-terminus and the two even headed off as rival captains, but the Cat happily confessed he had turned a Tiger convert much earlier.
"I was a Pataudi fan from the time I saw him at the Bourda," said Sir Clive Lloyd, recalling the first time he may have seen Mansur Ali Khan turn out at his homeground in Georgetown, Guyana, "He was such a scintillating fielder, so nimble for one who was visually impaired… Pardon the pun, but the Nawab still had an eye for beauty, and beautiful women. He married one of the most beautiful women in India…" Sharmila Tagore, if she was watching Sir Clive deliver the 10th Tiger Pataudi Memorial Lecture on a virtual link from London, may have felt a momentary blush, as velvet as the drapes that made the Cat's backdrop. "I was fortunate I knew him for 54 years," he said of Tiger, "We were very close."
The event is a joint initiative by The Bengal Club and The Telegraph, powered by Chemtex in association with The Oberoi Grand Kolkata.
And much like for Pataudi, he said, he felt an affinity to India as well. He bluntly explained why. "I played my first Test in India, my first Test as captain of the West Indies was in India, my first series win came in India and so did my first double hundred."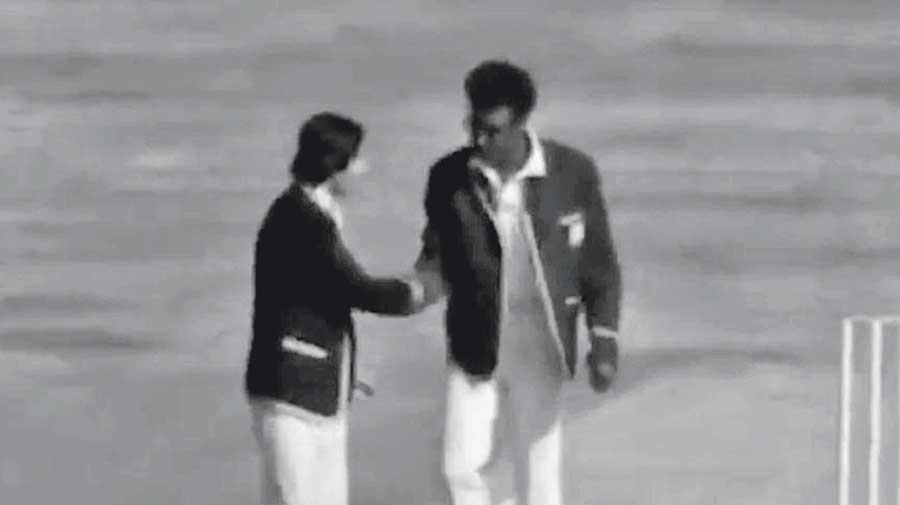 India, happy hunting ground for the Cat in his prime. He had arrived in India in 1975, leading a Windies team whose reputation didn't quite precede it. "We had no pace attack, we had no quality spinners, (Gordon) Greenidge and (Vivian) Richards had no experience in Test cricket." By the time the tour ended, they were already a bunch of world beaters whose consistence of savagery is a thing of indelible emboss. Clive Lloyd's would rove about the globe crunching and chewing the opposition wherever they went; the game's aficionados didn't know whether they should despair of the set or delight in them. They resigned themselves to doing both. For a straight decade and a half, they went unbeaten. Lloyd led the Windies to two successive World Cup victories. And when the Cat was humbled — in 1983 — it was the men from his happy hunting ground that did it: Kapil's unlikely Devils beat the fancied Windies not once but twice in that World Cup, both times against the odds. It was a defeat, Sir Clive maintains, he does not regret. In part, as he said, because he is deeply admiring of India and Indian cricketers. Among those he named: Sunil Gavaskar, Gundappa Viswanath, Bishan Bedi, S. Venkataraghavan, Erapalli Prasanna, Dilip Vengsarkar, Kapil Dev, VVS Laxman, MS Dhoni and Virat Kohli.
A special salute he reserved for what India has only recently brought to the game — the Indian Premier League. "The IPL has brought about a revolution in the playing of the game," he said, "it has been a revelation in finances, in strokeplay, in the opportunity it has given to many cricketers to rub shoulders with the world's greats and in how it has afforded cricketers a good standard of living."
He recalled a revolution from his own days — Kerry Packer's World Series Cricket (WSC) — and how a venture derided by critics as "pyjama cricket" had changed the game forever.
"It was the WSC that brought to the game notable improvements in fitness and concentration levels. I personally was aided by the WSC, to a degree that by the time I resumed captaincy of the West Indies, we had become a fit and cohesive team."
Discipline, Sir Clive ventured, was something the West Indies had lacked for a long time. "Our famous triumph at Lord's in 1950 and the series win was a ringing declaration that a cricketing nation had arrived… however, we slumped. We went to Australia in 1952 with Worrell, Weekes and Walcott but we crashed. In England in 1957, we managed only a drawn series. A victory in India during that period was no psychological compensation… all the series we played up to 1960 seemed to give dramatic pointers to our weaknesses: poor captaincy, dramatic collapses, inconsistency, lack of belief. We were known as calypso cricketers, I was determined to remove that tag as soon as it was possible… I wanted to ensure the unity and faith Frank Worrell had once built was restored. I wanted to get the team to play as a unit, as the team of the West Indies."
But there is no West Indies, Sir Clive wanted all to understand, these were a collection of islands, different nations strewn across the Caribbean seas. "You see," he said, as he proceeded to elaborate on the job at hand, "the Prime Minister of Trinidad and Tobago must govern the affairs of Trinidad and Tobago and the Prime Minister of Jamaica must do the same for Jamaica and so on and so forth. But the captain of the West Indies team must be able to govern and lead the cricketers from all of these nations, knit them into one unit with one purpose, that is the challenge of leadership…. Cricket is a supremely team sport, it involves skilful management of men, a captain has to be a unifier, he has to be more important than any prime minister."
If you are not familiar with cricket, you probably do not know of an entity called the West Indies. You wouldn't find such an entity in books of geography or politics. But you will find it in any decent discourse on cricket — the West Indies, a cricketing suzerainty with a flag of its own. That flag Sir Clive flew like probably nobody else did; that flag he wielded like a slayer's pole.
"We are only a diaspora of five million people," Sir Clive said, almost ruefully; what he left unsaid was that there was a time they ruled the world with not the sniff of a challenge. He could well have signed off as "Former Governor General, West India Company".