Father would have been thrilled with Sir Clive Lloyd's speech: Saif Ali Khan
The 50-year-old actor recalled an incident of crowd trouble at the Eden on January 1, 1967, on the second day of the second Test between India and the West Indies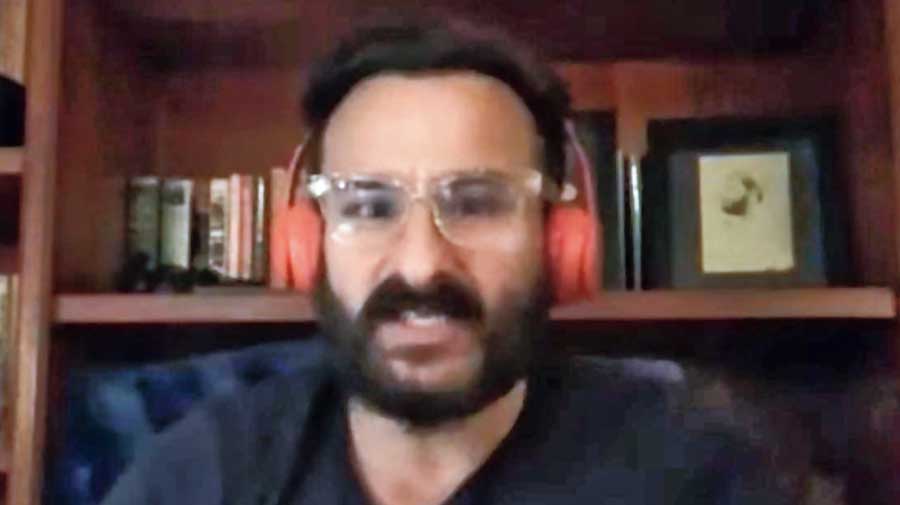 ---
Calcutta
|
Published 25.03.21, 02:30 AM
|
---
Saif Ali Khan was thrilled to hear Sir Clive Hubert Lloyd deliver the 10th edition of the Tiger Pataudi Memorial Lecture, a joint initiative by The Bengal Club & The Telegraph powered by Chemtex in association with The Oberoi Grand Kolkata, on Wednesday.
"Thank you very much Sir Clive, what a great treat it was to hear someone so experienced and such an exciting cricketer talk about the parallels between cricket captaincy and the metaphor sport serves for daily lives," Saif said.
Mansur Ali Khan Pataudi's son believes that his father would have been very happy to know that Lloyd had delivered the lecture. "It was a great pleasure to hear that (the lecture), I know my father would have been very happy to know that Sir Clive has given this lecture.
"I would like to thank you on behalf of my family for taking the time to do this. I would also like to thank The Telegraph and The Bengal Club for hosting this memorial lecture as Tiger's son and a cricket fan in general... this is such a wonderful opportunity to hear our heroes talk and say such incredibly illuminating things," Saif said.
The 50-year-old actor recalled an incident of crowd trouble at the Eden on January 1, 1967, on the second day of the second Test between India and the West Indies. The stadium was overcrowded and the unruly crowd set one of the galleries on fire.
"Under my father's captaincy there were some very dramatic moments... My father had told me a story about Conrad Hunte wanting to know how to climb up to 
the top of the pavilion because he wanted to retrieve the West Indian flag which was set on fire... My father had replied, 'Conrad, it's very brave of you. Please go and get our flag also.'"
"To me, I think the 70s, the 80s and the time Sir Clive was playing was the most exciting time to watch cricket with perhaps the fastest bowling and no helmets and uncovered pitches, the most dramatic scenes whenever India and the West Indies played," he said.
"My father had highest respect for that team," Saif said.
He would also like to meet Clive. "Sir Clive I hope to see you sometime soon in London," Saif ended.