The sportstar Nikhat Zareen gets candid about her win and her message for all women
'I knew it wouldn't be easy. In the beginning I was the only girl from my district who was into the sport...' says the boxing world champion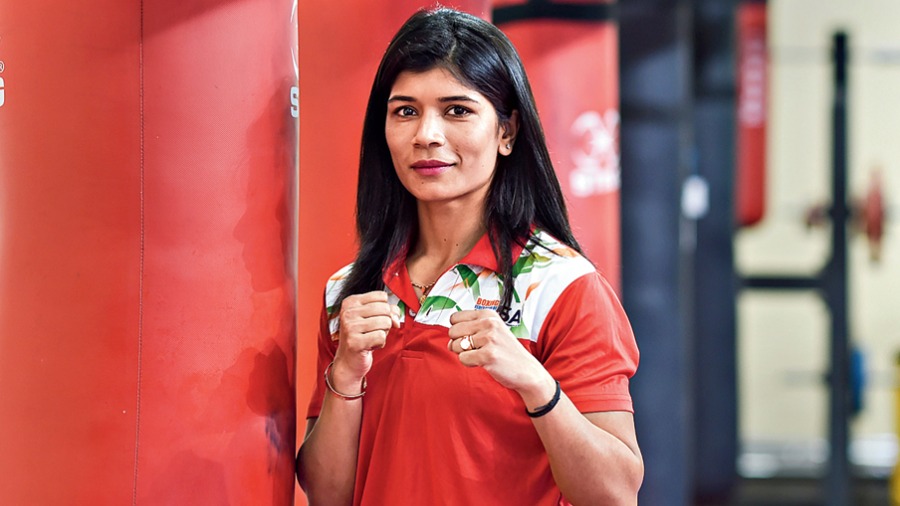 I was so happy that I was carrying the medal everywhere with me. I am really happy that all my sacrifices ultimately gave results and I could win gold for India. This medal has motivated me further to achieve more and I am moved by the joy that one medal can bring to the masses... I was trending on Twitter and it was one of my dreams to do so — Nikhat
---
Published 03.06.22, 03:05 AM
|
---
Nikhat Zareen hit headlines last month when the Telangana boxer became the boxing world champion, the fifth Indian boxer to achieve this feat. You see her interviews and her sparkling wit will leave a smile on your face. Her innocence is charming. The Telegraph caught up with the ebullient Nikhat on her win, Salman Khan and her message for all women.
Many congratulations for the world championship win! Whose face flashed in your mind at the winning moment?
Thank you so much for your wishes. It was a very emotional moment and I was thinking about my parents, all the sacrifices and struggles that my family and I made. Everything felt worth it at that moment. I was very emotional at that time and wanted to hug my parents after the final bout.   
The win has made you a household name. Your phone must have crashed!
I am getting constant calls and notifications, I can't express how happy I am. Everyone is showering me with their wishes and blessings and it is a great feeling. I hope to live up to their expectations and bring more medals for the country. I was trending on Twitter and it was one of my dreams to do so. 
Tell us how life has changed...
I am the same Nikhat Zareen and I want to work harder and bring more medals for my country. My next focus is the Commonwealth Games for which I will start my training soon. Winning the World Championships gold medal is a big milestone for me, but I need to focus and hope to achieve my ultimate goal of winning the gold medal at the Paris Olympics (2024). I am even more hungry after this win.
Have you had time to sit and reflect on your win ever since the Championships?
Initially it took some time to realise as I was so busy giving interviews and replying to everyone's wishes. I was so happy that I was carrying the medal everywhere with me. I am really happy that all my sacrifices ultimately gave results and I could win gold for India. This medal has motivated me further to achieve more and I am moved by the joy that one medal can bring to the masses. After spending some quality time with my family, I am looking forward to the CWG trials. My ultimate goal is to win the gold medal at the Olympics but right now my focus is on the Commonwealth Games.
What did your family treat you to after you came back?
I am a massive foodie but I need to prepare for the Commonwealth Games and have to be on a strict diet. I love anything that my mother cooks so for now it's all home-cooked food, which I missed a lot since I was away from home for a long time. I ate biryani in a training camp in Delhi after coming back from Istanbul. It felt so amazing as I had it after three months.
Looking back, share with us your journey of taking up boxing and what were the challenges you faced?
At my training centre... there were girls in every sport, except boxing. When I pointed this out, my father said people think girls are too weak to take up boxing as a sport. This triggered me, the perception that girls are not strong enough. I was doing athletics before 2009, but I then decided to take up boxing and show everyone that even girls can excel in an aggressive sport like boxing.
I knew it wouldn't be easy. In the beginning I was the only girl from my district who was into the sport but my father was always very supportive. I took up boxing at the age of 13 and I am lucky to have parents who always supported me. They never got bothered when people questioned their judgement and always told me to focus on my goal.
In 2017, I got a shoulder injury and that was the toughest time for me as I was out for one year. I missed the Commonwealth Games and Asian Games in 2018. The comeback took a lot of effort and I feel relieved that I have made this far. After all the sacrifices I have made, everything feels worth it when I see the gold medal.
Your mother was fearful that you might injure yourself. What did she tell you after your win?
She was very happy for me and was eagerly waiting for me to come home. She now keeps telling me to focus on boxing and the rest will fall into place. As a mother surely it was more difficult for her to watch her child getting bruises and injuries when I started boxing but she is my biggest cheerleader now. She watches all my bouts and even talks about them with me.
What have been your other memorable wins?
2011 AIBA Women's Junior World Boxing Championships held in Antalya, Turkey. It's the same championship, 11 years back when I got the opportunity to represent my country and win gold for India. Apart from them, the bronze medal that I won at the Asian championships in Thailand in 2019 was also special as it was the first major medal that I had won at the senior level. There are a lot of other special wins like the Strandja Memorial gold that I won this year but the World Championships gold is the most special one.
Who are your all-time fave boxers?
Muhammad Ali, Mike Tyson, Floyd Mayweather, Vasiliy Lomachenko, Nicola Adams, Katie Taylor. 
Who is your idol?
Muhammad Ali and MC Mary Kom. Coming to your love for Salman Khan, what are your favourite films of his?
I am a huge fan of Salman Khan and I like all his movies, especially Bajrangi Bhaijaan and Sultan. It is my dream to meet him. I am not sure how I would react but the first thing I will do if I ever get a chance is to give him a big hug.
Your social media game is on point. Do you handle it yourself?
I manage it myself and have always wanted to trend on Twitter. After winning the final bout, it was finally happening. I got very excited when I got the notification of Prime Minister (Narendra) Modiji congratulating me. The next day, Salman Khan also wished me, which was my dream-come-true moment. I am very focused in the ring but outside the ring, I am a very fun-loving person.
What is your message for all the women out there who stop short of fulfilling their dreams?
Never stop trying. Give your 100 per cent and things will eventually fall into place. The path may not be easy and many challenges will come but only by overcoming those challenges one can reach their goal. I want to tell them that there is nothing more powerful than the power of self-belief. Always believe in yourself.
Fave food: Biryani, Butter Chicken
Fave boxing punch: Hook
Fave exercise: Running
Fave city: Paris, though I haven't gone there yet.
Fave song: I Believe I Can Fly by R. Kelly