Batsman Pant shield for blunder-keeper
The wicket-keeper dropped five catches which allowed West Indies to put up 316 in Sunday's deciding ODI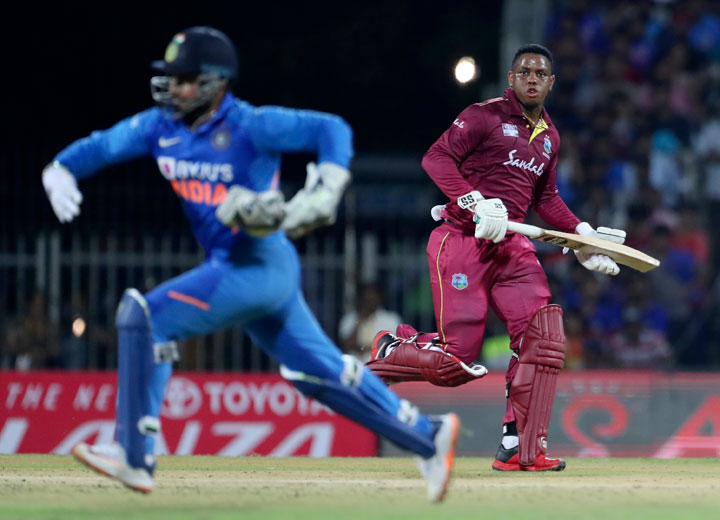 Rishabh Pant run to field the ball
(AP)
---
Calcutta
|
Published 23.12.19, 09:26 PM
|
---
David de Gea's clanger against Watford cost Manchester United dearly on Sunday; luckily for India, Rishabh Pant's errors behind the stumps in Cuttack did not prove that costly as the batsmen made sure they crossed the finishing line.
But on another day, Pant's butter fingers could make his team pay a heavy price.
The wicket-keeper dropped as many as five catches which allowed West Indies to put up 316 in Sunday's deciding ODI at the Barabati Stadium.
The five catches he dropped included two reprieves to Nicholas Pooran. The left-hander then blazed his way to a 64-ball 89, the Windies' top scorer.
Having said that, there aren't many wicketkeeper-batsmen in India now who are capable of clearing the ropes as comfortably as Pant can or press on the accelerator from the first ball.
Besides, his two away Test centuries, during which he batted aggressively, have had a major impact.
Ever since his international debut last year, in England, Pant has looked far more comfortable with the bat than with the big gloves behind the wickets. But looking at how the shorter version of the game has evolved, a wicketkeeper's capabilities as a batsman gets precedence nowadays, feel experts.
"It's not just about wicket-keeping getting diluted in limited-overs cricket. The issue is deeper...
"From school to U-16 and the U-19 levels, on what basis do you pick someone as a wicketkeeper is important. And that's where it has changed. You pick wicketkeepers on the basis of how many runs they have scored.
"And in the shorter versions, it's certainly imperative for a wicketkeeper to be a good batsman at the same time," explained former India wicketkeeper-batsman Deep Dasgupta.
He, thus, feels people should stop being "harsh" on Pant because at the end of the day, he is "a good, talented batsman".
"… Yeah, it's going to be challenging for him on slow tracks. But he got 70-odd on a slow track in the first ODI (versus the Windies in Chennai), proving he has that ability to score at more than a run a ball on such pitches.
"I think at times, people are overtly harsh on Pant," Dasgupta added.
A look at the other strong teams shows that in the shorter versions, they also have wicketkeepers whose performances with the bat matter a great deal. Jos Buttler has been assigned that task by England, while New Zealand and Australia have Tom Latham and Alex Carey, respectively. Both of them are reliable batsmen apart from being decent wicketkeepers.
Even the Windies have Shai Hope — their opener for ODIs and technically the most accomplished batsman in the side at present — as their wicketkeeper.
According to Sambaran Banerjee, former national selector and Bengal's last Ranji Trophy-winning captain, the skills of wicket-keeping cannot quite be executed in the shorter formats.
"In a T20 game, we have only 120 legal deliveries. But tell me how many balls go straight to the wicketkeeper in this format? Hardly 10. So, the 'keeper doesn't have much of a function barring taking catches or effecting run outs.
"Yeah, when the ball goes to the point or square-leg fielder, the 'keeper has to get near the stumps quickly (to collect the ball). So for that, he has to be fit.
"But the skills of wicket-keeping can't quite be executed in this format. In ODI cricket, placing of the hands and having a sense of the direction of the ball do matter, but that's also to a small extent. Not like how it is in Tests," Banerjee, himself a wicketkeeper during his playing days, said.
Both Banerjee and Dasgupta emphasised on recognising the wicketkeeper as the most important all-rounder in a team, at least in ODIs and T20Is.
"Obviously, for a wicketkeeper to contribute with the bat in limited-overs cricket is more important now. In the 70s, 80s and 90s, the wicket-keeper wasn't recognised as an all-rounder. He was viewed as just a wicket-keeper who could bat a bit. Wicket-keeping always stood first then.
"But the concept now has changed in the shorter versions, where the man behind the stumps is referred to as batsman-keeper and no longer keeper-batsman. Therefore, his batting comes first," Banerjee said.
"The real all-rounder whom we don't give credit to is the wicket-keeper. In the truest sense, he is the most important all-rounder in the team.
"In this era, you cannot have a wicket-keeper who cannot bat. Even in Test cricket today, tell me one wicket-keeper who cannot bat. There is no one. You cannot imagine picking a wicket-keeper who cannot bat," said Dasgupta.
Coming back to Pant, Dasgupta feels the 22-year-old is being criticised every time he falls short of a half-century, which is unfair.
"Batting wise, I think Pant is there or thereabouts… I feel his case has reached such a stage that every time he scores anything less than 50, people start talking about him and put him in the firing line, which is really unfair.
"On Sunday, yes, he didn't have a great day behind the stumps. But chanting his name and mocking him for that is not fair," he said.
Banerjee, though, feels Sanju Samson needs to be given a chance now.