Pullela Gopichand's masterclass: on scaling success from failure
Fireside chat marks the end of the Nasscom International SME Conclave 2019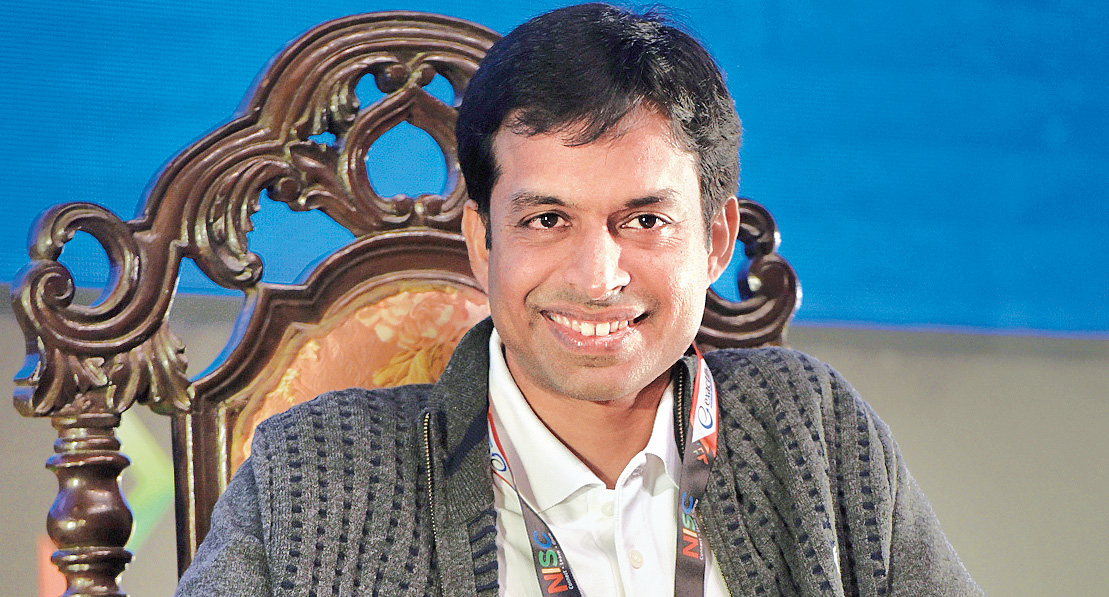 Pullela Gopichand, former badminton champion and now champion coach, speaks at the Nasscom International SME Conclave 2019, partnered by The Telegraph, on Friday.
Sanjoy Chattopadhyaya
---
Calcutta
|
Published 12.01.19, 09:07 PM
|
---
A champion player earlier and a champion coach now, Pullela Gopichand served a masterclass on success, failure, discipline and the role of coaches on Friday.
He took part in a fireside chat — titled "scaling success from failure" — that marked the end of the Nasscom International SME Conclave 2019, partnered by The Telegraph.
At the Biswa Bangla Convention Centre in New Town, an audience comprising CEOs, entrepreneurs, venture capitalists and start-up owners heard how a man once called chuha by his coach became what he is.
Here are some of his life lessons.
A few good men
The pinnacle of his playing career was in 2001, when Gopichand became the second Indian to win the All England Open Badminton Championships. His Hyderabad academy has produced a string of champions such as Saina Nehwal, P.V. Sindhu, Parupalli Kashyap and Srikanth Kidambi.
He talked in length about his coaches. There is a bit of all of them in Gopichand the player and Gopichand the coach.
Big man: My first coach, Hamid Hussain, was a strapping man at 6 feet 3 inches and looked like a Pathan. I was really small then. He called me a chuha (mouse). The day he was happy, he signed a bowl of corn soup for me at the club. Before teaching any technical aspect, he made me fall in love with the game. I wanted to go to the court every single day.
Clockwork precision: Arif (Syed Mohammed Arif) sir came into my life five years later. I was doing well in the sub-junior level. He was a strict disciplinarian. I have learnt my discipline from him. He would come for practice at 5am sharp, never a minute late.
Role model: Prakash (Padukone) sir was a great role model and taught me so many nuances of the game. But he also taught me to dream big and yearn for excellence. I have also learnt humility from him.
I was already the top player in the country when I worked with him. He was more like a friend than a coach. When I look back, I realise I got the right coach at the right time. The grassroots coach should make you fall in love with the sport. In your formative years, you need total discipline. Then you need a role model. At the peak of your game, you should have a coach who is more of a friend.
Long journey
In a sub-junior national at Calcutta, Gopichand had lost a match because he had to give a walkover. He was not injured. He could not reach the venue in time.
The venue was Netaji Indoor Stadium and the participants were lodged at the Salt Lake stadium. I won the first match and went back to the stadium, not knowing that I had a second round match the same day. When I came to know about the draw, I ran from pillar to post to seek help. There was no cellphone, no app cabs. I must have been 14 years old and it was impossible for me to travel alone in an unknown city. I missed the match and the opponent got a walk over. I cried inconsolably that day. I have never cried that much in my life.
The two stadiums are around 14km apart. But the Parama flyover, opened in October 2015, has reduced the travel time from Salt Lake to the heart of the city by more than half.
Not a drop
A freak collision with his partner on court left him with a damaged left knee in 1994. He had to undergo three surgeries between 1994 and 98. The injury bothered him throughout his career.
After the 1994 injury, I was devastated. Everyone told me I could never make a comeback. I was the number one player in the country then. I was lucky to have got a great doctor (orthopaedic surgeon Ashok Rajgopal). I followed his every word during rehab.
For six months, I did not have one drop of oil or one spoon of sugar. My passion drove me. I could not do anything else than play badminton. I knew I had to come back to the court.
Cricket's loss
My parents had first taken me to a cricket coaching camp but admissions were already over. Next stop was a tennis court but there were too many cars parked outside and they thought tennis was a very expensive sport. They took me to a badminton court next. There was no car outside. My parents were relaxed and I got admission.
In Saina, a first 
Having mentored both the players, Gopi singled out the key difference in them.
In Saina, Sindhu had someone to look up to. When Saina started playing, she had no precedent. Her attitude was phenomenal. Once she started winning big tournaments, the glass ceiling was broken. One thing I have learnt is that women are mentally very strong. If they decide something, there is no looking back.