Australian Open: Stefanos Tsitsipas aims for 'perfection'
The fourth seed credited his win to adopting a more humble approach to tennis after some setbacks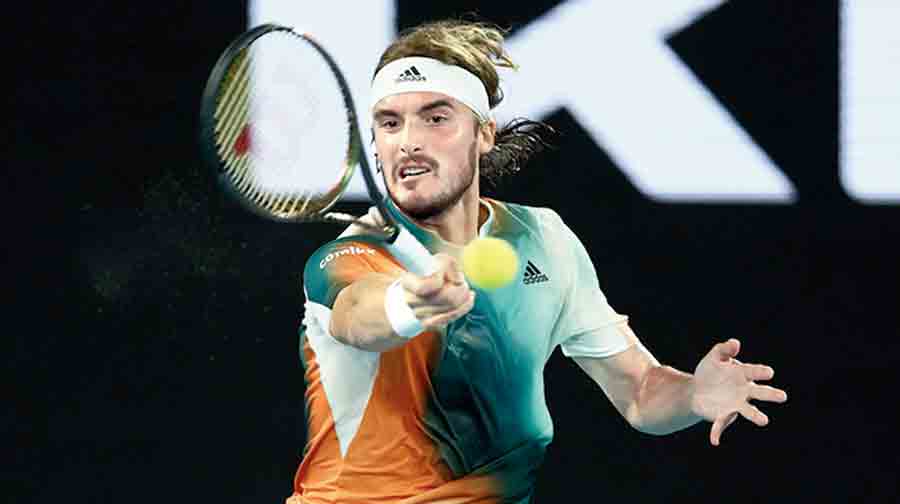 Stefanos Tsitsipas.
File Photo
---
Melbourne
|
Published 27.01.22, 02:10 AM
|
---
After a phenomenal performance against Jannik Sinner on Wednesday, Greek Stefanos Tsitsipas feels as though he is in the zone to produce something special at the 2022 Australian Open.
The fourth seed credited his 6-3, 6-4, 6-2 win over the Italian in just over two hours to adopting a more humble approach to tennis after some setbacks. "You know when you're dancing and when you're doing well, you tend to glorify yourself, as if you are untouchable," he told reporters.
"It is important, in that process, to remain on the ground and to remind yourself that you are a human being who is aiming for something great, and you're headed towards that direction and you're doing everything possible in order to achieve that greatness.
"Perfection doesn't exist, but close to perfection (does), and that's what I meant by that.
"I feel like I'm in the zone. I have no plans of getting out of it. It's part of my game," Tsitsipas said.
Djokovic inspiration
Top seed Daniil Medvedev refused to let a two-set deficit against Felix Auger-Aliassime on Wednesday to derail his journey to the semis at Melbourne Park.
It was the kind of resilience absent nine-time Australian Open winner Novak Djokovic has trademarked and Medvedev, the reigning US Open champion, said he had taken inspiration from the Serbian to get out of trouble.
"At two sets down I was not playing my best and Felix was playing unbelievable, serving unbelievable, he was all over me to be honest. I didn't know what to do so I told myself 'what would Novak do?'" Medvedev said on court.
"What came to mind, was that I thought if Felix wants to win it he will have to fight for the last point. "I managed to raise my level and when they closed the roof I felt the momentum and started serving better."