Annu Rani does a first, Sandeep Kumar ends third
World champion KelseyLee Barber of Australia stole the gold with a final round throw of 64.43m from compatriot Mackenzie Little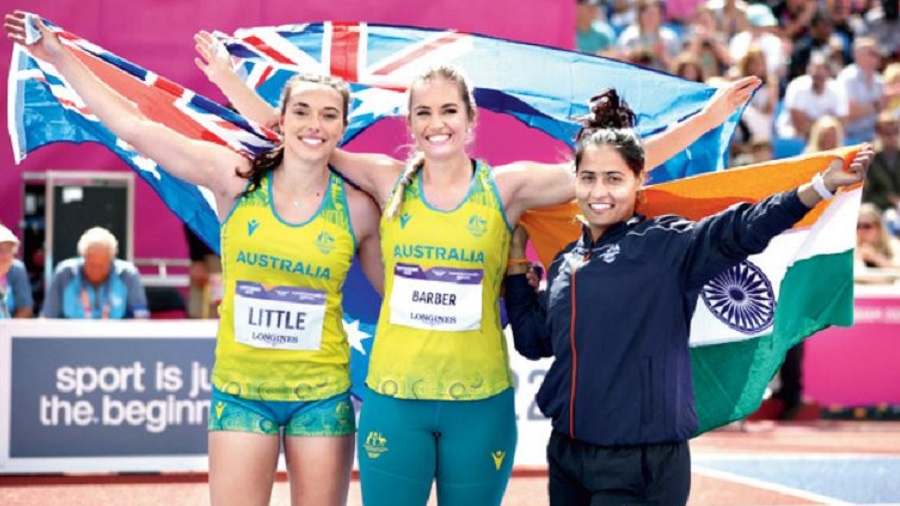 Annu Rani (right) celebrates with the Australian duo of Kelsey-Lee Barber (centre) and Mackenzie Little after the women's javelin event
Twitter
---
Calcutta, Birmingham
|
Published 08.08.22, 04:30 AM
|
---
Annu Rani became the first Indian female javelin thrower to win a medal, a bronze, in the Commonwealth Games on the penultimate day in Birmingham on Sunday. Rani sent the spear to a distance of 60m in her fourth attempt to finish third.
World champion KelseyLee Barber of Australia stole the gold with a final round throw of 64.43m from compatriot Mackenzie Little (64.27m) who was leading at the end of the penultimate round. Before Rani, Kashinath Naik and Olympic champion Neeraj Chopra had won a bronze and a gold in the men's javelin throw, respectively. 
Naik had won the medal at the 2010 Games while Neeraj took the gold in Gold Coast in 2018. Sandeep Kumar won a bronze in the men's 10,000m racewalk event with a personal best time. Kumar clocked 38:49.21m to finish behind gold winner Evan Dunfee (38:36.37) of Canada and Declan Tingay (38:42.33) of Australia.
The 36-year-old Indian race-walker showed a brilliant display of fight and grit en route to the medal. Sandeep made a bright start to the final, leading the 10-men group after the first 1,000m in the race as he clocked 3:50:06. However, he dropped to three and remained in that position for the next 2000m. At the half-way mark in the race, Sandeep remained first before dropping two positions again at 6000m point.
Over the next 4000m distance, Sandeep continued to see-saw between third and second position before eventually being overtaken by Australia's Tingay. 
Bronze in squash
The Indian mixed doubles pairof Saurav Ghosal and Dipika Pallikal won the bronze medal in the squash event. The duo hardly broke a sweat as they prevailed 11-8, 11-4 over the Australian combine of Donna Lobban and Cameron Pilley in the bronze medal playoff.