Anand solace in son Akhil
Anand was so disappointed with his seventh-place finish that he candidly said it was a new low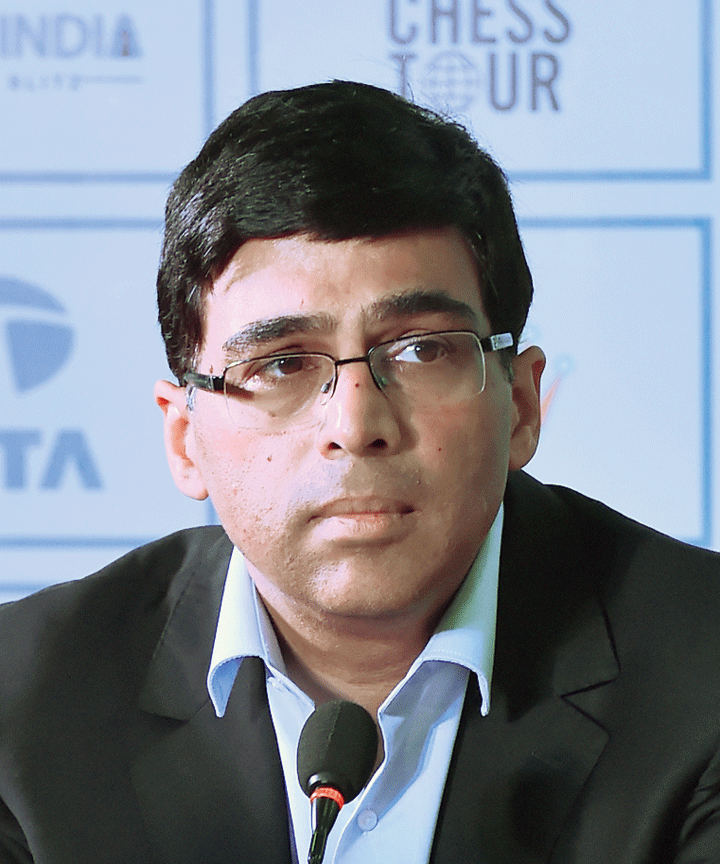 ---
|
Calcutta
|
Published 26.11.19, 09:08 PM
---
Viswanathan Anand was a distraught man on Tuesday.
Anand, who was in the running for a slot in the Grand Chess Tour Finals, saw his chances blowing apart, after a heart-breaking loss to Dutch No. 1 Anish Giri in Round 15 of the Tata Steel Chess India — Rapid and Blitz. It was a game where Anand lost on time after he squandered a winning position much to the disappointment of the crowd.
"I think it was much worse this way. I gave myself a chance and then became my own worst enemy. That's what bugs me. If I had no chance then it would have been better possibly… The Giri match was probably the final straw.
"I was winning and just forgot about the clock. If I had won that game I would have been right back in contention. Now I remember with some irony a quote 'failure I can handle, it's the hope that kills me'. This was what I was doing all these five days… Giving myself a chance and then destroying everything," Anand said his voice, choked with emotion.
Anand was so disappointed with his seventh-place finish that he candidly said it was a new low.
"To be honest this a new low. This whole year this has been my theme. Play half decent in tournaments and then spoil everything… I have not been able to show any kind of consistency or stability," he said.
Amidst the gloom there was something to cheer about though. "The good news is my son (Akhil) came second in a dance competition in school. That's the most important thing right now… You know I was at home when he was practising for this competition. Akhil took it seriously for he would put the soundtrack and keep practising his steps. And I am happy he got second prize."
Anand began the day with a lost again Russian Grandmaster Ian Nepomniachtchi. He then drew with Levon Aronian, beat Pentala Harikrishna, got the better of Wesley So and then surprisingly lost to Vidit Gujrathi. It was Vidit's first-ever win against his idol.
And then came the Giri blow in Round 15. In the last three rounds, Anand managed to hold Hikaru Nakamura, who finished second overall, lost to Magnus Carlsen and drew with Levon Aronian.
"In the last five days, Tuesday's game versus Wesley So was the most satisfying. I played with Black pieces and frankly I did not give myself a chance to beat him," the five-time world champion said.
Asked if he was thinking about the World Championships or Candidates, Anand said: "Well it's not a practical matter for two years… Right now I have to think about why things are going so wrong for me."
And how does he rate 2019? "I think this year has been very tough. But there were also some good moments. The best thing is, when the year ends you can wipe the slate and look forward to the next year. Hopefully I will be able to perform well in 2020."
GCT hopeful
Graham Jurgensen, technical director of the Grand Chess Tour, heaped praise on the Tata Steel Chess India — Rapid and Blitz and the crowd.
"The crowd was fantastic. More than 550 fans turned up on the last day. In chess it's a huge thing. I am hopeful that the Calcutta leg would be there next year too," the South African said.
"But I am not sure when in 2020 it would be held. Because next year you have the World Chess Championship and that means Magnus Carlsen and the challenger will be busy from October onwards. Before that you have the Tokyo Olympics too. So let's see. We have to decide on the timing," Jurgensen said.