Ambitious Ayhika ready to turn the tables on top stars
Aware that the Tokyo Olympics is only a year away, the paddler is careful about not going overboard with her success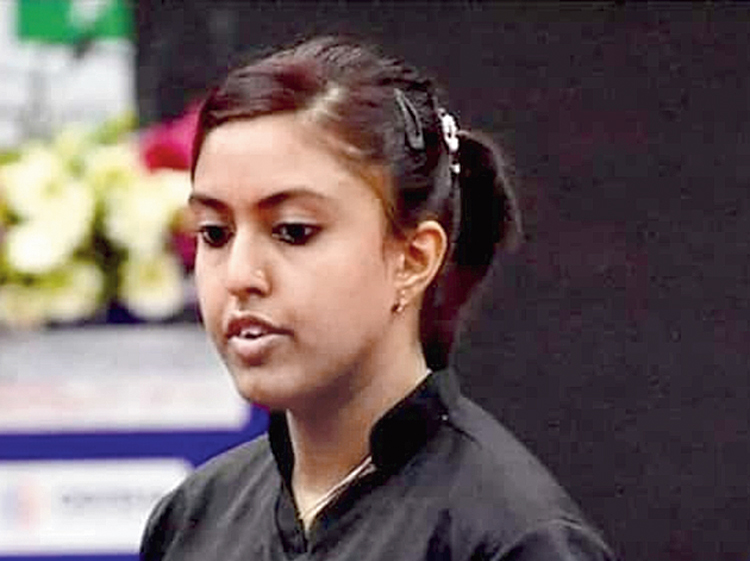 Ayhika Mukherjee
(A Telegraph picture)
---
Calcutta
|
Published 23.07.19, 10:37 PM
|
---
Ayhika Mukherjee has every reason to be on the moon after being the first Indian to clinch gold in women's singles of the Commonwealth Table Tennis Championships.
Aware that the Tokyo Olympics is only a year away, the 22-year-old paddler from Naihati is careful about not going overboard with her recent success, and instead prefers to keep her feet on the ground.
"That's (qualifying for Olympics) my ultimate goal. We all know the Olympics come once in every four years. So, if I keep playing well and be consistent, I think this could be my best chance to qualify. I can just stretch myself to any extent in order to seal an Olympics berth," Ayhika said from New Delhi on Tuesday.
In the Commonwealth TT final in Cuttack on Monday, she hammered experienced campaigner Madhurika Patkar 4-0 (11-6, 11-4, 11-9, 19-17) to emerge winner. At present, Ayhika is getting ready for the Ultimate Table Tennis (UTT), where she will be representing Puneri Paltan this year.
"It definitely wasn't easy in Commonwealth TT. It was quite difficult, to be honest.
"The Indian and overseas players who were there in the tournament certainly made it tough for me," she recalled.
"It's purely through skills that she beat Madhurika in the final," Ayhika's father Goutam said.
A revelation in the previous UTT season when she played for RPSG Mavericks, Ayhika said she takes this tournament seriously enough and is keen to better her performance.
"With not too many days left for the Olympics, I need to do well in as many matches as I can. All these games are part of my preparation for the Games.
"For instance, in the UTT, I played quite well last year, being adjudged player of the match on some occasions. But this time around, I would like to do better.
"One advantage we have in this competition is that we learn from the experience of the foreign players who participate.
"Their skills, how they go about their game, their approach, the kind of schedule they maintain… All these matter a lot.
"To speak of myself, UTT has been quite helpful in this regard," she explained.
Practising hard, playing more tournaments and staying fit will be the way forward for Ayhika. "See, as far as I am concerned, preparing well means putting in the hard yards, playing more and more tournaments and staying fit will make me an even better player.
"Thereafter, we also have the exercises that we need to do, maintaining a healthy diet and doing everything else necessary time to time. These help stay disciplined."
She also laid emphasis on the aspect of her mental training. "It's mainly about the motivation classes that I attend at our club back home. Some of us attend lectures and speeches (delivered by the coaches there), while we also express our views on certain occasions.
"So, those sessions have also benefited me."
Talking about her strengths and areas where she needs a bit of improvement, Ayhika said: "I never give up easily. I think that's my main strength, while I have a strong backhand as well.
"I am still striving to be fitter and trying to strengthen my forehand as well."