Alexa Bliss: Heel-ing touch
'It has been a great ride!' - Bliss on her pro-wrestling career, body positivity and her most recent Tag Team Championship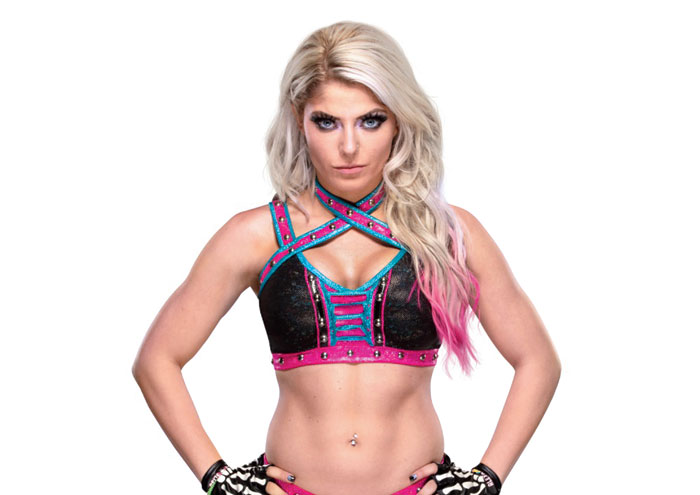 Alexis Kaufman a.k.a. Alexa Bliss: six-time WWE World Champion, Women's Triple Crown Champion and the only female wrestler to hold both SmackDown and Raw Championships — all at the age of 27.
Sourced by the author
---
Published 10.08.19, 01:22 PM
|
---
Six-time WWE World Champion, Women's Triple Crown Champion and the only female wrestler to hold both SmackDown and Raw Championships — all at the age of 27. Whether she is the best female wrestler WWE has seen or not is a matter of debate, but if there's something about her that we can be sure about, then it's the fact that she truly is a formidable force to reckon with. Recently crowned Tag Team Champion with Nikki Cross, Alexis Kaufman a.k.a. Alexa Bliss, opens up, in a telephone chat with t2, about everything in life, from her days performing at her grandfather's gigs to being the World Champion and everything in between.
From making your first main roster appearance in Wrestlemania XXX in 2014 to being the first woman to have won both the Raw and SmackDown Women's titles in WWE, how has your journey of the past five years been?
The journey has been incredible. It has been a roller coaster of emotions, a roller coaster of life, really. It's been amazing — definitely the hardest five years of my life, but certainly the most rewarding as well. It has been a great ride. Growing up, when or how did you decide that you'll take up wrestling professionally?
I was pretty much into sports and athletics all my high school and college. It was after college that my trainer told me that WWE was having their try-outs, so I decided to send in a video hoping to get a try-out. I eventually did get a try-out and here I am! (Laughs)
Last year at SummerSlam, you faced Rhonda Rousey in the title match. What kind of impact did that match have on your career?
I think I last almost five minutes in the ring against Rhonda. No, I think it's six. I'll give myself six (laugh). It was a lot of fun working with her I mean, a professional wrestler. When you have someone who comes from a different sporting background, it makes you a better performer as you both are learning and adjusting to each other's styles. Coming from a mixed martial arts background, there were quite a few things to learn from and vice-versa. It was a lot of fun!
You seem to be really enjoying playing a heel, the bad guy. Are you considering turning babyface as it seems like fans are dying to cheer for you?
That could be an interesting thing to try out one day but I'm having a lot of fun right now, being the bad guy. I'm thoroughly enjoying it. I don't like being mean or saying mean stuff but I kinda lowkey like being rude (laughs). But as a heel, your entrances aren't exactly flashy and I get to concentrate more on the storyline and my wrestling. I did compete as a face in NXT but I think I'm enjoying more as a heel. You got a chance of hosting WrestleMania 35 with Hulk Hogan earlier this year. What was it like?
It was pretty incredible. It was fun opening up WrestleMania, the biggest event on our calendar, with Hulk Hogan. It was a lot of fun and definitely a highlight of my career, for sure.
Keeping in mind your feud with Becky Lynch, what do you have to say about her being on the cover of WWE 2K20?
It's great to have a woman on the cover of the popular wrestling video game. I'm happy for her and Roman (Reigns).
You're often seen championing the cause of body positivity. How important do you think it is for people to talk about body confidence and sharing their insecurities, especially in the age of social media?
I think it is very important for people to talk about body positivity because I remember being younger and not really having anyone that I could look up to that was actually very open and honest about it. Because it's a thing that people grow with at all stages of life and now with social media, it's one hundred times more. I always try to be very open and honest about it everywhere, trying to spread a positive message. We all know your talent in the ring, but not many of us know that you used to perform at music shows in Ohio. How does being on stage performing music compare to getting in the ring and wrestling in front of a large crowd?
I used to accompany my grandpa to his gigs. He was a country singer back in the day. I used to perform a few songs. I've been a performer my whole life, right from the age of five I was performing in gymnastics, then body building to professional wrestling. Performing has been my life and I just love being in front of people. I don't know if I'll ever go back to singing after I retire from wrestling (laughs), but I'll definitely take up another art form, maybe acting.