Ajinkya Rahane to Rishabh Pant: Accept & improve as a cricketer
Rahane said Pant must stay optimistic about getting an opportunity anytime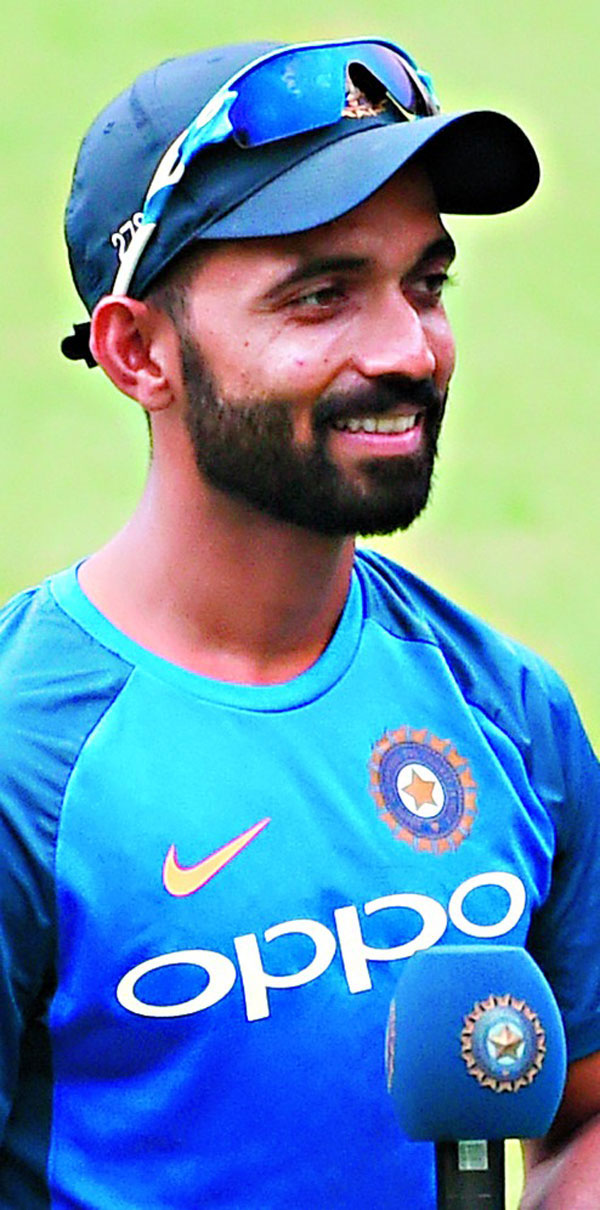 Ajinkya Rahane
File picture
---
Calcutta
|
Published 20.02.20, 09:35 PM
|
---
Ajinkya Rahane knows a thing or two about being dropped from the playing XI and making a strong comeback thereafter. So when he says that Rishabh Pant should accept whatever he is going through and remain focussed on improving as a cricketer, the young wicketkeeper-batsman would do well to listen.
Speaking at a media conference ahead of the India-New Zealand Test at Basin Reserve in Wellington, Rahane said: "It's important to accept whatever you are going through. Be positive, try and learn as many things as possible from any of the players… Senior or junior.
"See, no one likes to sit outside, but whatever your team needs for a particular game, you have got to accept that. I think acceptance is really important. Focus on the control-ables, keeping working hard and improve as a cricketer."
The 22-year-old Pant, who till five months ago was India's first choice wicketkeeper-batsman across formats, has lost his spot in limited-overs cricket to KL Rahul, and in Tests, to Wriddhiman Saha.
Rahane, who too has endured the rough end of the stick as far as selection matters go on a few occasions, said Pant must stay optimistic about getting an opportunity anytime.
"You should try and focus on what you can control as a player and keep visualising that you will get an opportunity. You know what your role is. For Rishabh, he bats at No. 6 or No. 7, so he should keep visualising about what if he gets an opportunity and what his role would be. Keep it simple," India's Test vice-captain advised.
'NZ favourites'
Rahane had no hesitation in calling New Zealand the favourites in home conditions for the first Test of the two-match series, but at the same time admitted that the current India team, under Virat Kohli, are enjoying the reputation of being competitive "travellers" as well.
"I think New Zealand are the favourites in their home conditions, because they know what to bowl and the batsmen are aware of what shots to play. As a unit, we need to learn and adapt quickly as New Zealand grounds have different angles," Rahane said.
But after humbling Australia in Australia last year, Kohli's India are nowadays considered capable of winning Test matches overseas too.
"There is no awe about the conditions anymore. Every condition is home condition for us. Irrespective of victory or defeat, expectation is bound to be there. As a team, we want to enjoy this phase where people feel that we are favourites wherever we go."
Batting first and putting up a 320-ish total in the first innings can help in overseas conditions, Rahane said.
"When you bat first, your mindset is always positive, not saying that it's not when you bowl first. But if you get 320 to 330 outside India in the first innings, it's a very good total.
"If you see all the matches we won (in England and Australia), we got around 320 to 350 runs on the board in the first innings," said Rahane.
Rahane reckons that there will be some turn on offer at the Basin Reserve due to the moisture underneath the surface. "It might spin a bit because of the moisture and dampness of the wicket, may be during the first session every day. I am not sure about the other sessions.
"The New Zealand tracks generally after two days become good to bat on. Spinners' role will be crucial because both (Ravichandran) Ashwin and (Ravindra) Jadeja are wicket-takers. If any of them gets opportunity, they will do well," said Rahane.
'Hundred' memories
Rahane's first Test hundred, by the way, was at Basin Reserve, back in 2014.
"That was a really special moment for me, getting that first hundred. I keep watching my maiden hundred," he fondly recollected. "I remember that my back-lift was changing because of the wind and that it was a challenge to control it. Sometimes you got to play with low back-lift and you have got to change your guard may be and play accordingly.
"This is a new challenge playing after 4-5 years. That team was comparatively a young team."