Afternoon start not good for football, agree rival coaches
The kick-off for the Sunday's CFL Derby has left both the East Bengal coach and his Mohun Bagan counterpart very upset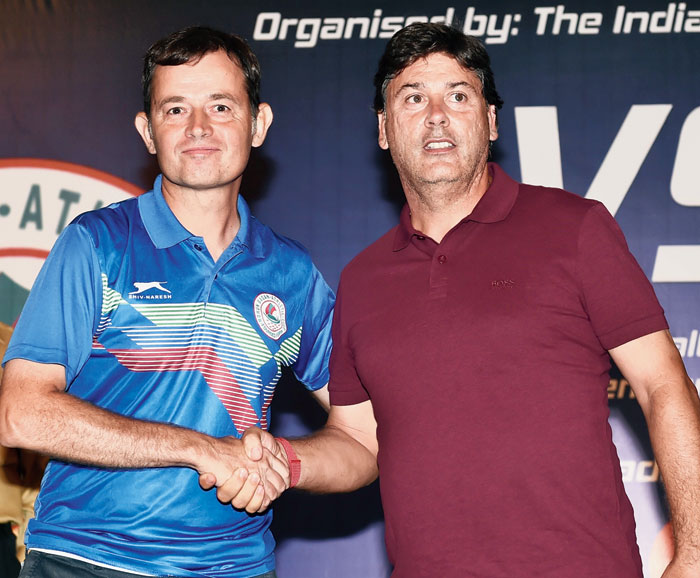 Mohun Bagan coach Kibu Vicuna (left) and his East Bengal counterpart Alejandro Menendez Garcia at a media conference on Friday
Picture by Santosh Ghosh
---
Calcutta
|
Published 30.08.19, 09:48 PM
|
---
Alejandro Menendez Garcia and Kibu Vicuna may be spending sleepless nights, thinking how to outdo each other in the season's first Derby. But on one subject, they are on the same page.
The afternoon kick-off for the Sunday's CFL Derby has left both the East Bengal coach and his Mohun Bagan counterpart very upset.
"I think it's a big problem. The weather is inhuman now. There is too much humidity. It does not allow the players to play to their potential.
"But then we cannot change the kick-off time from 3 pm to 7 pm. So, no discussion on something we cannot change," East Bengal's Alejandro said at the media conference organised by the IFA.
Vicuna was more forthright. "The conditions are not conducive for good football. If it were an evening kick-off, it would have been ideal for the players. The footballers are the main characters and if we cannot protect them, then what's the point..."
The IFA, though, said the idea is to bring more spectators from the districts who would have found it difficult to return home if the match was played in the evening.
Alejandro doesn't give access to the media during practice sessions, while Vicuna believes in free and open atmosphere. "Argentine coach Marcelo Bielsa, during his days at Athletic Bilbao, had once opened the door to the media at Old Trafford.
"But that didn't stop Bilbao from beating Man United. Different coaches have different ways of working. If Alejandro is more comfortable with closed-door trainings, then let it be.
"In Spain, it's normal. I have nothing to hide, so our trainings are open," Vicuna said.
On the match-eve, though, media will be barred from entering the Bagan ground.
East Bengal's Jaime Santos is in great form and the Spaniard is billed as the player who would be the deciding factor on Sunday. "Jaime is a great player, no doubt about that. But East Bengal are not about one player. There are others too.
"It will be 11 versus 11. They have a very good midfield, but we also have a good team. We will not give up without a fight," Vicuna asserted.
Alejandro, in his first year, won both Derbies in the I-League. On Sunday, a win would give him a hat-trick of triumphs.
"In Derbies, past records, league tables do not matter. It's clichéd, but it's a fact. It's been happening since football started," was Alejandro's reply when asked about it.
"At the same time, I am confident that my players will deliver. I believe in my players and I am sure Kibu (Bagan coach) does the same. My players will try their best to win."
East Bengal captain Lalrindika Ralte said Sunday's match would be a good opportunity for the Indian players to showcase their talent. "It is a good opportunity for Indian players to prove their mettle."
And his Bagan counterpart Gurjinder Singh felt the result would not decide the CFL winners. "I don't think this match will be the decider. Even after the Derby, there will be a lot to play for," he said.
Friday's media conference began on a poignant note. Both Alejandro and Vicuna condoled the demise of Luis Enrique's nine-year-old daughter Xana. "Condolences to Luis Enrqiue and his family," they said.
The media conference also had a dash of glamour. Actor and Trinamul Congress MP Dev was also on the dais.
"Derby is a festival in Bengal. Whenever there is a Derby, I avoid going to Salt Lake. I know how maddening the traffic would be after the match. I would also use this opportunity to request fans not to resort to any sort of violence. Derby is a beautiful thing. Let's not spoil it," Dev said.