13-year-old grand master Rameshbabu Praggnanandhaa has big dreams
'I want to be the world champion,' said the youngest grand master in the world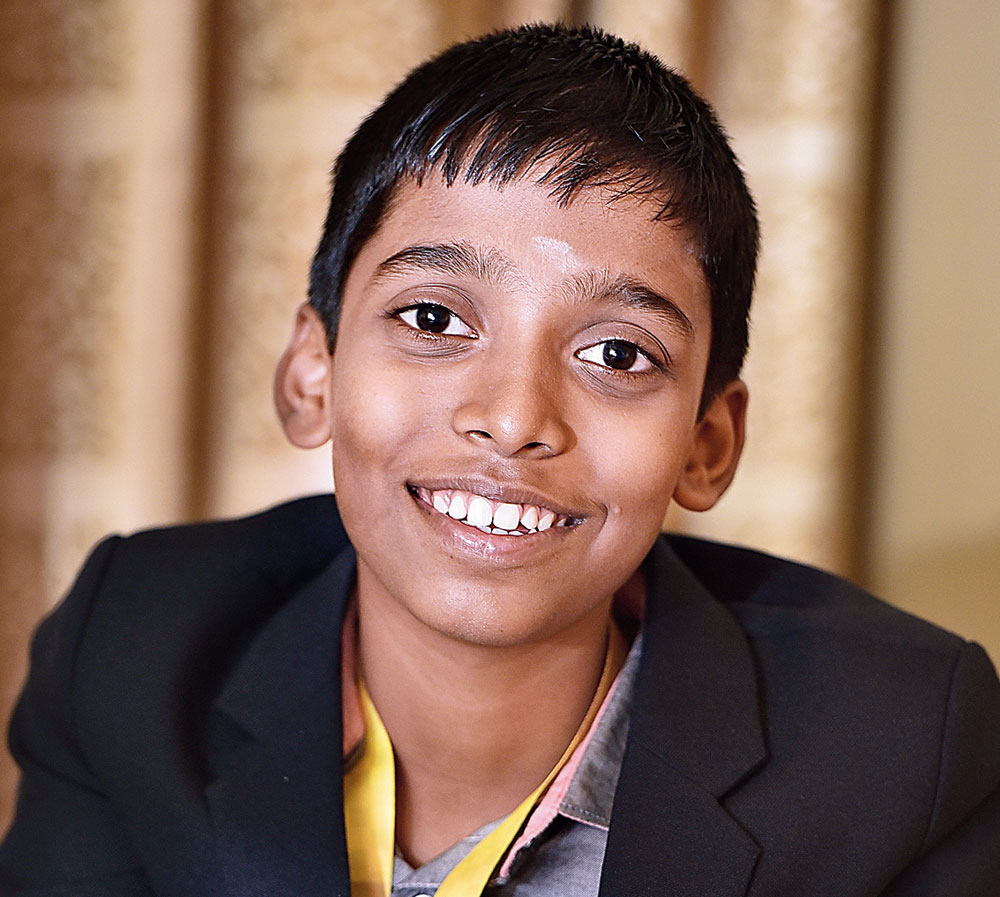 Rameshbabu Praggnanandhaa at Taj Bengal, Calcutta
Picture: B. Halder
---
Published 06.01.19, 01:09 PM
|
---
He cries after painful losses. Only for a couple of minutes though, mostly, says his coach. He isn't swayed by compliments, they only make him a better player. And, he has his sights set on the world crown. That's Rameshbabu Praggnanandhaa, all of 13 and the youngest grand master in India and the third youngest in the world.
"Usually he handles losses better than anyone I have seen, even better than (Viswanathan) Anand," says his coach of four years, Ramesh R.B.
We spoke to Praggnanandhaa on the sidelines of Tata Steel Chess India 2018 partnered by The Telegraph, at Taj Bengal, just before he headed off to a dinner with Viswanathan Anand. "He (Anand) has invited Praggnanandhaa to go and work with him for a few days in Chennai," said an excited Ramesh.
We read you were a TV addict…
Not me, my sister (Vaishali).
Did you take up chess watching your sister play?
Yes, she would practise at home and I would watch her and disturb her (laughs). So, my parents gave me a chessboard and I learnt how to set the pieces when I was two-and-a-half years old. I played my first tournament at the age of five; it was a state tournament.
Did you fall in love with chess instantly?
I am not sure. I found it interesting. You have to calculate deeper than your opponent.
What is it like to be a grand master?
I was very happy. I had wanted to become a grand master for a long time. I became a grand master in June 2018.
Do your accolades put you under pressure?
Many people wanted me to become the youngest grand master in the world after I became the world's youngest International Master. So, there was a sort of pressure at that time. Now I don't feel any pressure because I have become a grand master. Now, I just want to enjoy the game and improve my chess.
What time does practice start at Chess Gurukul (chess academy in Chennai founded by Ramesh R.B.)?
At 10am and it goes on till 5pm; 10am-1pm will be the first session and there will be a one-hour break. We play table tennis at break time just to relax and then practice would resume at 2pm and go on till 5pm. This is when Sir and I both are in Chennai, otherwise I practise on my own.
How do you relax?
I play table tennis and badminton with my sister, and sometimes cricket.
Which players do you look up to?
There are many players. There is (Viswanathan) Anand, (Magnus) Carlsen and (Fabiano) Caruana. Watching them has helped my game. I work on calculation at the academy and I have improved in my calculation. Anand is my favourite chess player. When I am playing against players like him, I am a little tense, but I never show it.
What is your goal?
I want to be the world champion.
How many times?
I don't know. As many times as possible.
What is your favourite chess app?
Follow Chess.
Do you play with your sister? And are there fights?
Yes, there will be some fights because in many things, you can pre-move the next move. Sometimes she pre-moves wrong or I pre-move wrong. In some websites, there is a takeback option. She asks for a takeback or I ask for one and then there will be a fight. She is four years older than me.
Do you watch films?
Sometimes. Recently I watched a Tamil movie called Sarkar. On a flight, if there is no Tamil or English movie, I watch Hindi films. I like comedy.
What kind of music do you listen to?
I listen to Kalki Bhagwan's songs.