YOU can take on Goliath
Richard Socher and Bryan McCann are experts on artificial intelligence and co-founders of the new search engine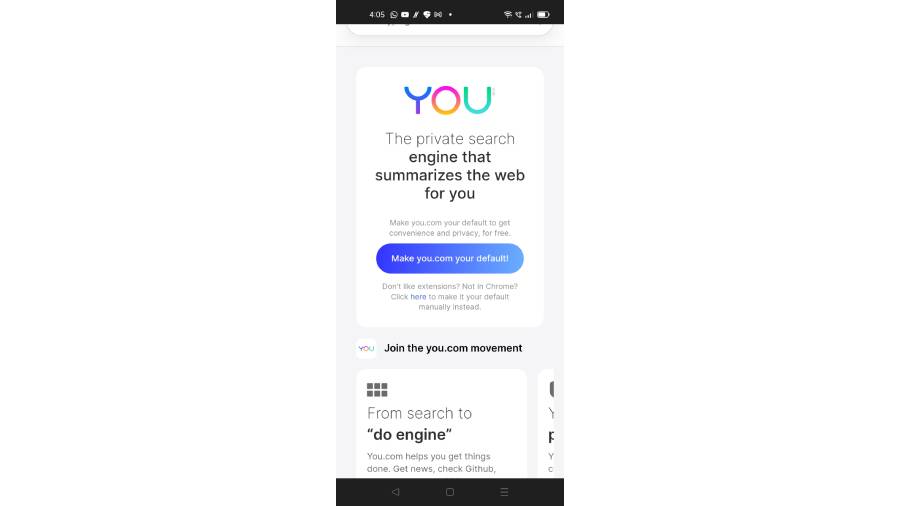 ---
Published 29.11.21, 12:01 AM
|
---
Why do we need another search engine when there is the omnipotent, omnipresent, omniscient Google, so much so that people have started calling it Google Baba? Despite this, a battle has begun to take on Goliath with the launch of  YOU (www.you.com).
Richard Socher and Bryan McCann are experts on artificial intelligence and co-founders of YOU. Socher says his search engine works on "more click trust and less clickbait", in a pointed dig at Google.
Who are the actual customers of Google? The actual customers are the advertisers. We, the people who search information, are the products as well as consumers. Google's dominance hurts both advertisers and us users. It controls the advertisement market through its affiliated businesses like Android phones, YouTube and Google Maps and we become the victims of clickbait.
While advertisers vie with one another for advertising on Google, other search engines such as DuckDuckGo are left out in the cold, and our personal data are harvested.
Moreover, there is an overdose of information out there and one just cannot process it all. Anyone can put up an article on the Internet and it is impossible to know whether that information is correct or not. This has a big impact on society and today we see a surge of disinformation and fake information doing the rounds on social media.
YOU wants to change all that and give people control of the information they consume.
To start with, the interface is different. Google, as well as other search engines, have their links listed one below the other and there are multiple pages of each search result. Not so in YOU. The information is laid out in a grid and it is organised by the source that includes generic categories like "web results" and "news" and also includes quick facts from sites such as Wikipedia or Twitter.
The big change is that people can influence the result sources shown by using upvotes or downvotes (arrows pointing up or down) next to the categories so that your preferred category will be displayed first and the downvoted category will be displayed last.
The interface encourages looking at a range of sources rather than clicking the first few. It also gives meaningful summaries for users.
When I searched for "farmers protest India", first came the news results that were basically relevant content from newspapers and several articles. A Google search also yields the same kind of result but because of the grid layout, you tend to go over more summaries than you would in Google.
Then came more analytical news as published in AP and BBC, Quartz and Axios. Most interesting was the heading Quick Facts which gave a very relevant summary from Wikipedia which perhaps I would have overlooked in Google.
The search engine uses integrated apps from sites like BBC News to make it easier to choose what kind of content you want to see.
If you want to make YOU your default search engine, the easiest way is to instal the Chrome extension. Go to www.you.com  and click on the blue band that says "Make you.com your default". This will take you to the Chrome Web Store from where you can instal the extension. Funnily, if you go to the Chrome Web Store directly and look for the extension it does not show up.
If you don't like extensions or do not want to make it your default search engine, go to www.you.com and type anything in the search bar. I would advise you to sign up for YOU from the top-right icon.
YOU emphasises the search engine is absolutely private and there is no tracking as it is not supported by ads. It never stores your queries, preferences or location. There is a private mode that even hides your IP address. You will find it on the top left where your name is displayed after you log in.
Try this new search engine. You will like the way it summarises your results and gives you relevant content.
Send in your problems to askdoss2020@gmail.com with TechTonic as the subject line