Why celebrities are wearing the Oura ring?
The most talked about device of the year is taking on smartwatches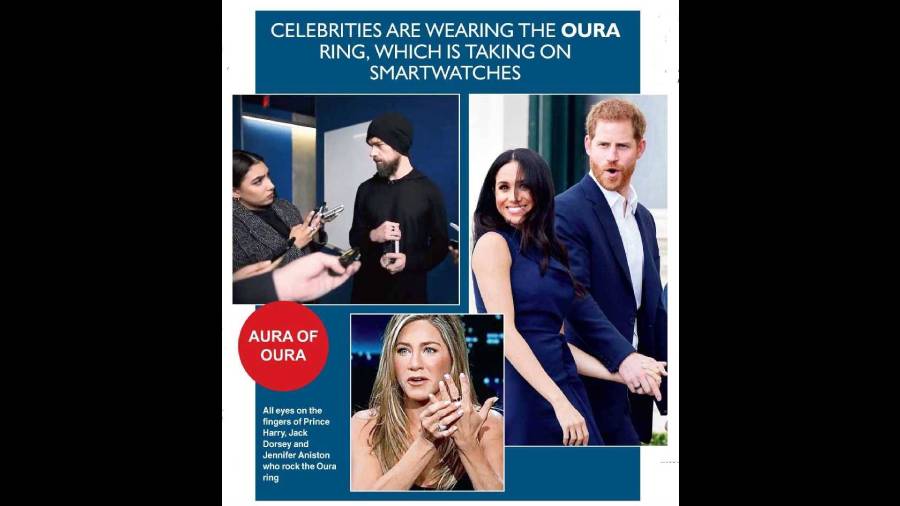 ---
Published 10.12.21, 02:10 AM
|
---
Prince Harry has been sporting it for long. Will Smith is no stranger to it nor is Shaquille O' Neal. Jack Dorsey has been wearing one. Kim Kardashian keeps track of her beauty sleep using it. And Gwyneth Paltrow is also game for it. Probably the most talked about device of the year has been the Oura ring, which has had quite a sway over the wearable health awareness segment during the pandemic. Yes, it has been around for a few years now but its usage has lately been spiking. NBA players have practiced while wearing the Oura ring as a way to track possible risk factors like respiratory rate and the user's temperature.
Ring to skin
Coming with a minimalistic look of a wedding ring, it fits snugly on your finger to work as a sleep tracker that collects data about your body, activities and sleep using optical heart-rate monitoring. It's made of titanium and works on your index, middle, or ring finger.
The almost-nine-year-old Finnish health company is based in Oulu and it had released the second-gen Oura Ring in 2018 (and there is a new one that has come out a few weeks ago). Unlike a smartwatch or a fitness band, there are no touch displays here and the ring relies on sensors to relay recorded health data to a synced smartphone. The technology at work is complex. The ring shines infrared light beams through your skin while sensors capture the changes in the reflected light beams to track your respiratory rate, heart rate, and heart rate variability. The ring can also record skin temperature. There are sensors on the inside of the ring which are slightly protruding to be in contact with your skin. There is a sizing kit, so that you don't get the fit wrong.
The new Oura Ring 3's vital features include blood oxygen sensing, period prediction, and improved sleep staging. What started with a Kickstarter campaign in 2015, is now competing with the likes of Apple Watch.
It has several advantages
Unlike smartwatches or fitness bands, this is a simple ring that you can easily wear to bed. It has a snug fit, meaning data gets recorded accurately. Plus, you don't have to charge for days because it consumes very little power. There is a large section of people who want to measure only a few body metrics and this works fine. There is a Readiness score offered by the ring. It combines elements of your sleep and activity scores to come up with a metric that measures your "readiness" for the day. And each morning, it's the first score you will see once you open the app.
And there are others…
Companies are looking at ways to track fitness by using devices other than the smartwatche, like Whoop Body, which can be attached to a pair of shorts or leggings for your morning workout or your boxers or bralette to keep your hands free at work. And there's Dreem, which offers a sleep headband that tracks heart rate, respiration and movement.
What about India?
Oura is currently available in select markets and the list doesn't include India but the company did have an India connection even until earlier this month. Born to Indian parents, Harpreet Singh Rai was the CEO of the company for several years and only a few days ago did he step down. In case you are in a market that sells Oura rings, pick up the latest iteration for $399.