Turn tech to your advantage
During the pandemic phone proved to be a superior method for feeling closer to people and enjoying conversations more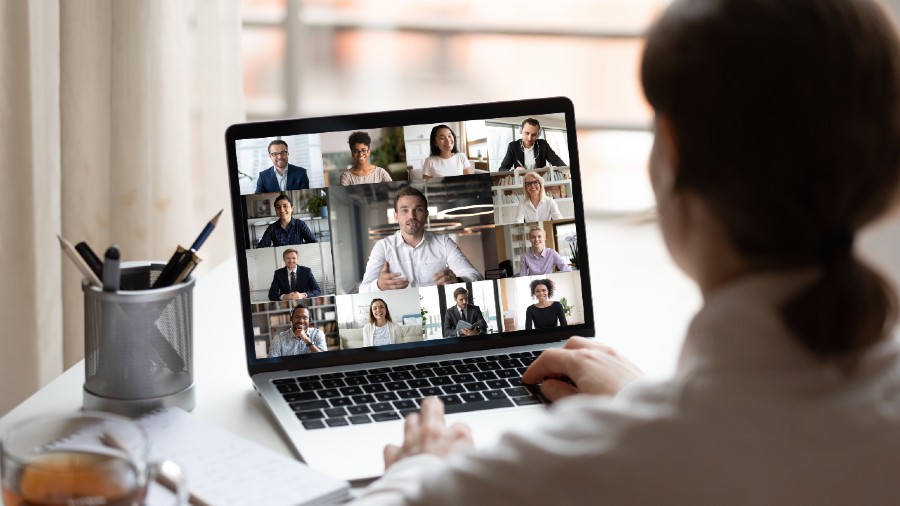 When working with colleagues from a remote setting, a text or an email is probably fine for quick conversations.
File Picture
---
Published 04.10.21, 12:01 AM
|
---
As we negotiate through the Covid-19 pandemic, many businesses are planning a so-called hybrid model, in which workers split their hours between the office and home. And therein lies a new tech challenge.
"There's more and more evidence of how important it is to be intentional and deliberate about the way we're using technology," said Emiliana Simon-Thomas, a neuroscientist who teaches at the University of California, Berkeley, US.
Despite the popularity of apps like Zoom and Slack, studies have found that the most effective communication tools are still the most low tech. That means in the office we'll probably thrive with more face-to-face interaction, and at home the phone is usually best.
To text, call or Zoom
During the pandemic, the number of phone calls doubled. The phone proved to be a superior method for feeling closer to people and enjoying conversations more, according to a study by the Journal of Experimental Psychology.
Another study found that as the use of video-calling exploded in the last year, "Zoom fatigue" became a real concern. Maintaining close-up eye contact and seeing yourself in real time can be exhausting. Plus, sitting stiffly in front of a webcam limits our mobility.
So how do we apply these lessons to a hybrid environment?
When working with colleagues in the office, we can resist the temptation to converse via email or Slack. To make the best use of being near one another, consider a face-to-face conversation or, if you work on separate floors, a phone call.
When working with colleagues from a remote setting, a text or an email is probably fine for quick conversations. For more serious discussions though, a phone or video call is probably better. But video calls can get tedious, so they should be used when there's a clear purpose for video like a meeting with visual aids in a presentation. Or a first-time introduction to a colleague.
Whether in the office or at home, if you're going to write to your colleagues, be thoughtful, Simon-Thomas added. Avoid terse notes, and add nuance and context to your message. Whenever possible, show curiosity when discussing solutions to problems to avoid coming off as a harsh critic.
Respect boundaries
Regardless of our rank in an organisation, our time is precious. When our work is interrupted by a digital distraction like a message, it takes 23 minutes on average to return to the original task, according to one study. So in a hybrid work situation, respecting boundaries will be crucial, said Tiffany Shlain, a documentary maker who wrote 24/6, a book about unplugging from tech.
There are tools, like scheduling emails and setting a status message, you can use to let others know you are busy and to set boundaries.
Gmail, the most popular email service, has an arrow next to the Send button to let you schedule an email for a specific date and time; Microsoft's Outlook app has a similar tool. Scheduling the memo to be sent at 9am tomorrow would probably make everyone happier.
Also, when you are busy or clocked out, there are methods to prevent others from bothering you.
In Slack, you can set your status to "away" and write a description like "On deadline". For email, the out-of-office responder can be turned on to let others know you are in meetings. Most smartphones also have a "do not disturb" option to silence all notifications. In the next version of Apple's iOS, set for release this fall, iPhone owners will be able to set a status message in iMessage to show others when they are busy. It will also include tools to allow notifications to appear only from specific groups, like family.
Know when to sign off
One method for turning off work mode at home is to create physical distance, said Adam Alter, a marketing professor at New York University's Stern School of Business, US, and author of Irresistible: The Rise of Addictive Technology and the Business of Keeping Us Hooked. You could set an alarm to go off in a bedroom at 5pm, forcing you to leave your office space to clock out both physically and mentally.
Shlain has a more extreme approach. For the last 11 years, she has practiced a tech version of Shabbat, the Jewish day of rest. Every Friday evening she and her family power down their devices, and for 24 hours they do all the things that energise them, like hanging out with friends, painting and taking the dog on a long walk.
"You clear the noise and the space to think bigger picture about your life," she said. When she's feeling refreshed on Sunday, she writes emails to colleagues and schedules them to be sent Monday morning.
NYTNS