The iPhone graduates to Class 11
Apple's iPhone 11 trio has the world abuzz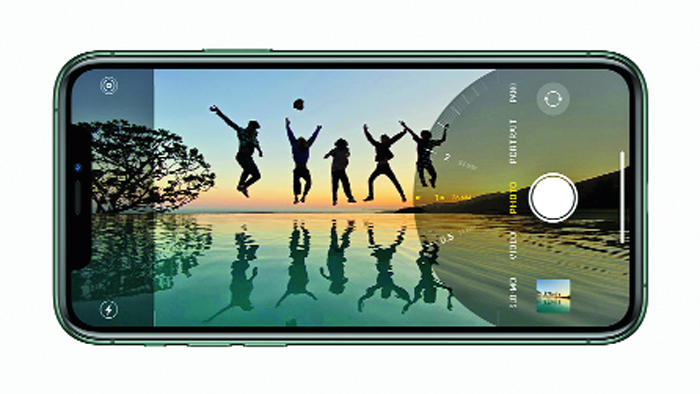 All three phones feature Apple's new A13 Bionic processor
iStock
---
Published 23.09.19, 02:28 PM
|
---
Apple's iPhone 11 trio has the world abuzz. If you are wondering which model to buy, here is some help. The camera, display and a better charger are all that separates the iPhone 11 from iPhone 11 Pro models, if you are not too finicky about the colours. Though all three models are similar in appearance, the iPhone 11 is slightly bulkier at 8.3mm. All of them have an all-glass back and a new square camera array, even though the iPhone 11 has only two lenses compared to three in the higher versions.
The display sizes vary according to model but you will find that the cheaper iPhone 11 has a larger display than the iPhone11 Pro. However, the resolution is not as good. The iPhone 11 has a Liquid Retina HD display compared to the Super Retina XDR display of the Pro iterations. The display on the Pro and Pro Max are stunning, with deep blacks and brilliant colours.
All three phones feature Apple's new A13 Bionic processor. This powerful chip can run a laptop so you can imagine just how fast and efficient it will make the smartphone. The front camera on all three models has been upgraded to 12 megapixels from last year's 7 megapixels. A new feature called "slofies" records your selfie videos in slow motion at 120 fps (frames per second). This ensures there are no jerky movements. Though the iPhone 11 has only two cameras compared to three in the Pro models, the only difference is that there is a telephoto lens with optical zoom in the Pro models. However, the triple camera system in the iPhone 11 Pro models is more than just an extra lens since they have been finely calibrated for things such as white balance and exposure. There is a new Night Mode in all three phones for taking photos in extremely low light without using the flash. This gives you pictures with natural colours that appear vibrant.
All three phones record videos in 4K up to 60 fps. When you zoom in on someone while recording a video, the microphone also focuses on your subject. This is called an audio zoom. The flash is brighter and you can hold the shutter to quickly switch to video mode.
Apple has finally sacrificed thinness to battery life for all three models. The iPhone 11 has been tested to last a full day with a single charge. But it is here that the Pro models score over the iPhone 11, running four to five hours more than last year's iPhone XS premium models. The iPhone 11 lasts one hour longer on a full charge than last year's iPhone XR.
The iPhone 11 comes with the ancient 5W charger so you need to buy the faster 18W charger separately. However, the iPhone 11 Pro and Max comes with an 18W USB-C fast charger.
As far as smartphones go, Apple is still setting the benchmark although Android phones have progressed. Android phones have gone ahead with 5G but Apple has specific reasons for holding back. 5G is in a mess. The only US-compatible 5G chipset available is the Qualcomm X50 but it doesn't work the way Apple wants it to.
All three models of the iPhone 11 have "gigabit-class LTE", which means boosting the number of lanes of the spectrum it can combine from five to seven. In the long run, it can be a good thing. By the time 5G stables out, Apple will be ready with their new modems.
Another plus point for this year's models is that they have a set of new LTE bands which will provide additional capacity if you are in crowded locations where connections are sluggish as too many people are using them. All three models also support dual SIM — a physical nano-SIM and an eSIM.
So which phone do you buy? The iPhone 11, although it is cheaper, is no pushover. It may not be futuristic, but its faster processor, better camera, battery and price make it an enticing choice. If you want to splurge, go for the stylish midnight green iPhone 11 Pro Max with 256GB storage.
Prices
iPhone 11: 64GB Rs 64,900; 128GB Rs 69,900; 256GB Rs 79,900
(Available in purple, yellow, green, black, white and red)
iPhone 11 Pro: 64GB Rs 99,900; 256GB Rs 1,13,900; 512GB Rs 1,31,900
iPhone 11 Pro Max: 64GB Rs 1,09,900; 256GB Rs 1,23,900; 512GB Rs 1,41,900
(Choose from midnight green, silver, space grey and gold)
Send in your problems to askdoss@abpmail.com with TechTonic as the subject line