The Huawei GT 2e is a watch with enough smarts for the brand's fans
Add a dash of oomph to your wardrobe, get enough health-related data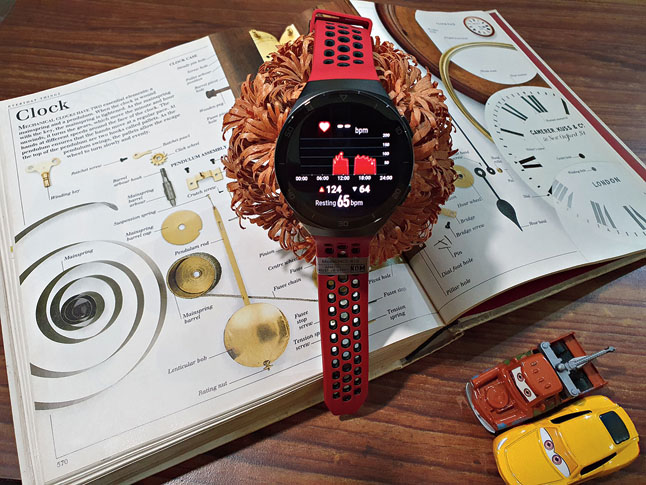 ---
Published 07.06.20, 03:44 PM
|
---
A smartwatch is not just about announcing time. It may add a dash of oomph to your wardrobe. Should offer you enough health-related data. It would be lovely if it makes you forget the smartphone during workouts. There are plenty of Android options out there. Then there are some amazingly innovative versions from Apple. And then there is Huawei. Hang on. Doesn't it support Android and iOS smartphones? Yes it does but more of that soon.
Sporty, unibody feel
Scrummy would be an apt description. The Watch GT 2 was good-looking and the upgrade — GT 2e — pushes the envelope. It sits elegantly on the wrist, offering a comfortable fit. The classic design of the GT 2 has been replaced with a younger, sporty look. It gives super young vibes, especially the lava red version. But one swallow does not a summer make. Here's more. The TPU (which is a somewhat elastic material that's also resistant to abrasion) strap is comfortable for long hours. There are perforations on it, which really help in a sweaty climate. Since the skin is able to breathe easily, there won't any major urge to loosen it or take the watch off. A big change comes in the form of two push buttons on the side instead of the crown. The bezel remains flushed to the body while an improvement comes in the form of how the wristband too is flush with the watch; there is a unibody feel which is pleasing to the eye. Huawei wanted to deliver a sporty number and it does so without any half-hearted effort.
Under the hood and connectivity
The 1.39-inch AMOLED (454 x 454 HD) display is easy on the eye and even under bright sunshine, things are discernible. What is of interest is the Kirin A1 processor which runs the show. It's Huawei's first self-developed wearable chip. Let's talk about the positives first. The chip ensures incredibly low power consumption. We tried it for a week and was left with around 40 per cent charge (after moderate use).
This smartwatch costs Rs 11,990, which is sensible pricing but, of course, some corners had to be cut to achieve it. The question is whether you can live with the cuts. Ask yourself two questions. First, do you want your smartwatch to have a microphone? Usually these microphones come across weak when in public areas. Second, is a speaker required on the smartwatch? Personally, there is no way that tiny speaker on a watch is going to play my favourite songs well enough. The GT 2e has done away with both these things. It expects you to connect via wireless earbuds, which, like it or not, is the way forward for many. It's a personal choice and I am okay with either.
Next, connectivity. This is an area that deserves a dekko. While using a Huawei phone, the smartwatch connects without any problem. It's a snap. What about those who use, say, a Samsung Galaxy S10+? After a long tussle between the US government and Huawei, the company has decided to take things in its stride. So it helps to have access to Huawei AppGallery, which is like the Android Play Store. The latest version of the Huawei Health app is required to run the device, which can be installed after reading up a little.
Some good functions
Before we dive into the many functions, we are pleased to have 4GB space on the smartwatch, which means you can easily store 100 songs to play during workouts. Second, the algorithm Huawei employs for step count is accurate. There are various workout routines and things like barometer and compass. The one we like is the SpO2 feature, which calculates blood oxygen saturation. The SpO2 data I was given was constantly above 98 per cent. Agreed, it's about who is interpreting the data — a doctor or a person with zero medical knowledge, but such an option is something one would like to have on a smartwatch.
To a feature that could have been there. Messages received on my phone are shown clearly. But what if I wanted to answer from the smartwatch? It would have been nice to have the option.
Verdict
There is no end to features we can demand from a smartwatch, like Near Field Communication (allows payments using the phone). But at a certain price only certain features can be had. What Huawei has done well is come up with a smartwatch that works for days on end without a charge. What Huawei is doing brilliantly is shaping up its AppGallery. The GT 2e is indeed a smart-looking watch with enough smarts to keep Huawei fans happy.
At a glance
Device: Huawei GT 2e
Size: 53 x 46.8 x 10.8 mm
Weight: Approximately 43g (without the strap)
Display: 1.39-inch AMOLED 454 x 454 HD
Memory: 4GB
Battery life: Around 14 days
Charging port: Magnetic charging thimble
Water resistance: 5 ATM water-resistant
Price: Rs 11,990