MULO Arena 5000 soundbar is a powerhouse performer
Nurtured in Calcutta, made for living rooms the world over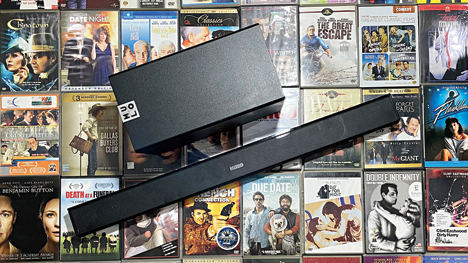 Mulo is a Calcutta-based brand that was started by two former Flipkart senior managers. The company's soundbar Arena 5000 enjoys a high rating on Amazon.in.
The Telegraph
---
Published 20.11.20, 12:31 AM
|
---
Truth: The built-in speakers on most TVs are absolute rubbish. It wasn't always this way. With TVs getting thinner, its ability to project sound forward has diminished. Nobody likes the booms and bangs of The Fate of the Furious to sound crummy. What you need is a soundbar to go with the TV. Even a halfway decent soundbar would make everything sound crisper.
You really don't have to cover the living room in speakers to fix the issue. In most cases a single soundbar would do and a woofer would be like hitting the jackpot. My personal favourite is the Bose Solo 5 and Denon DHT S316. They are good but I wouldn't like to burn a hole in the wallet anytime soon in case my wife wants a soundbar for the second TV. This is when I realised how important it is to look around for options, especially something in our very own backyard.
MULO Arena 5000. It's a special brand for several reasons. First, the founders of the brand — Archisman Chatterjee and Aniket Ghosh Choudhury — know a thing or two about sound as well as marketing (both former Flipkart senior managers). Second, they decided to make this a born-in-Calcutta brand.
Out of the box, the Arena 5000 appears steeped in minimalism, which also means a big commitment. It's a small bar that easily fits in below the TV screen. Plus, the 2.1 channel soundbar comes with a wired subwoofer. Despite the entry-level pricing, the set-up is well built with clean looks.
Consistency is key
To appreciate Arena 5000 one needs to appreciate sound. Amiss are some "extras" that some big brands boast of in way of inputs but in plenty are some sound qualities that the same big brands don't even talk about.
Before zeroing in on this particular soundbar, ask yourself what you need. Ask yourself a few questions. What does your TV support? What do you want from a soundbar? Are you looking for ease of use? The best possible sound? Do you want smart assistance? Answering these questions will make your search easier.
The Arena 5000 is about sound, which has been tuned very well for various kinds of experiences. It offers a signal-to-noise ratio of 72dB, which is an important aspect. Basically, S/N compares a level of signal power to a level of noise power. A higher number ensures that there is more useful signal than unwanted data. If the incoming signal is higher than the noise floor, the audio quality would be better. Of course, it's not the only thing to look at while buying a soundbar but it's an important element.
Also important is frequency response. It's not just about whether a system offers too much bass, mid or treble but whether it affects the balance of instruments within a track. The frequency response of Arena 5000 is 55Hz to 20KHz compared to Mi Soundbar's 50 Hz to 25KHz. All this points to the top and bottom notes a speaker can produce. More important is uniformity of response between the outer limits. Lower the deviation, better the sound, something that can be felt listening to Arena 5000.
The two 10W speakers combined with the 25W subwoofer can well take a boxing match involving a big brand into several rounds.
There are some pleasant surprises on the remote control in way of presets. You can play around with the treble and bass and move to music, movie, news and 3D modes. There is no Dolby audio here but the company is improving its game.
In way of connections, things can get better. What you will get is Bluetooth v4.2, AUX and USB. In the box is an AUX to RCA and AUX to AUX cable which will allow the soundbar to work with pretty much all TVs and computers. If you are looking to hook up something via HDMI, you would find something lacking but that too should be taken care of in subsequent versions.
Is it for you?
The marketing might of the bigger brands has stemmed the growth of local players in India. Yes, there is room for Arena 5000 to improve but it gets a few things right — mainly the basics of sound technology. Subjective impressions of inexpensive soundbars from a few big brands are fine but MULO — stands for "music lovers" — backs subjectivity with objective measurements. MULO Arena 5000 is a powerhouse performer, offering immersive sounds.
MULO Arena 5000 flies because… It's small and light
The sound profile is better than that from some established brands
The pricing is right for those looking for a basic soundbar
The four pre-defined EQ modes work for most people
MULO Arena 5000 can fly higher if…
HDMI port and Dolby Atmos get included
A larger range of soundbars across price points gets introduced
The quality of the remote control can be improved
At a glance
Soundbar: MULO Arena 5000
Audio Output: 2.1CH, wired subwoofer
Features: AUX input, USB input, wireless Bluetooth Version 4.2+EDR with range up to 10m, digital amplifier with DSP inside
Driver unit: 2 inch x 2 (soundbar) + 4 inch (subwoofer)
Frequency response: 55Hz to 20KHz
S/N: 72dB
Price: Rs 4,999