Tech never took a back seat in 2020
It was a year of Zoom-ing, using tech as a geopolitical cudgel and Silicon Valley giants becoming richer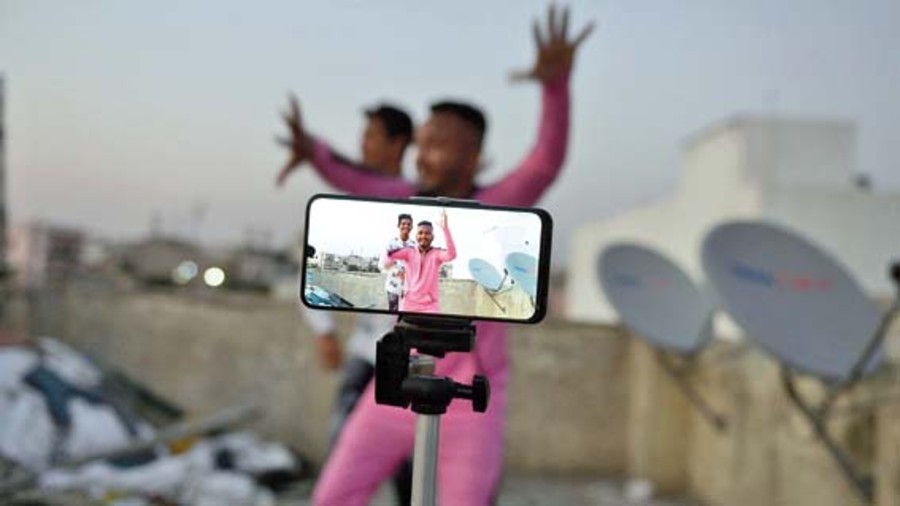 People making a TikTok dance video on the terrace of their residence in Hyderabad
File Picture
---
Published 01.01.21, 12:21 AM
|
---
TikTok gets the desi boot
In 2020, the concept of digital borders grew stronger. In June, the Indian government banned several Chinese mobile apps — citing national security concerns — but the one that made a lot of noise was TikTok. It was a big blow for its Chinese company ByteDance as the app had a few hundred million followers in India, some of them claiming to make their daily living from the app. With the ban, China, in a way, realised how the tech-ban game can play out as the country has itself been putting up walls to block Silicon Valley giants — like Google and Facebook — for years to have a better grip over online conversations. Of course, TikTok ran into more problems after its ban in India as the Trump administration in the US threatened the company and pushed it to the wall. The other big app which earned the ire of the Indian government is PUBG Mobile. Zoom becomes a verb
One can argue but there's no denying that the CEO of 2020 is Eric Yuan, the man behind Zoom videoconferencing app. What was even till the end of 2019 another app to keep corporate meetings going now and then, suddenly found itself in the spotlight because it could connect people instantaneously and in ways far better than how other tech companies managed to do. The rise of Zoom has been phenomenal even though there have been a few major stumbling blocks in its nine-year-old journey, mainly centred around privacy.
Consider this. Towards the end of December 2019, peak daily meeting participant figure was around 10 million, which became more than 200 million in March. From schools to corporate offices to families with members spread across the city and world, Zoom became the Xerox of our time — a verb.
Yes, there have been a few privacy issues but Yuan addressed each of them in a transparent manner ("We moved too fast... and we had some missteps. We've learned our lessons and we've taken a step back to focus on privacy and security").
The popularity of Zoom is not going to diminish in the near future as more and more meetings will take place. At the same time, Zoom has made Facebook, Google and Microsoft revisit their videoconferencing strategy. Needless to say, all were forced to strengthen their focus. For many years, Macs have delivered a lot of joy while taking advantage of Intel chips. Apple decided to up the game by bringing its own chip to the plate. Based on Arm architecture, which powers most mobile devices including iPhones and iPads, the M1 is way more power efficient than other chips out there while being a power driver.
Another development: Apple managed to turn the iPad into a laptop… almost. The most interesting part of the new iPad experience is the Magic Keyboard, which one has to buy separately. The company has managed to come up with a cantilevered arm on its Magic Keyboard that can firmly hold an iPad Pro or iPad Air at any angle, from upright to reclined, depending on your task or seating arrangement. And the new scissor mechanism under each backlit key offers a plush 1mm of travel for satisfying key presses. The keyboard experience has changed completely. Facebook-Reliance handshake
Though talks were on for some time but Reliance and Facebook managed to keep things hush-hush. In April, Facebook announced an investment of $5.7 billion to buy almost 10 per cent stake in the firm that houses billionaire Mukesh Ambani's telecom arm Jio as the social media giant looks to expand presence in its largest market in terms of subscriber base. "Both Facebook and Jio are united in their mission to make Internet more accessible and providing powerful online tools that will have a positive impact for both people and businesses," Ajit Mohan, managing director and vice-president for Facebook India, told The Telegraph. On the back foot
Mark Zuckerberg's social media empire just got things wrong in India when it came to hate content. The controversy around Ankhi Das, the former India policy head of Facebook, started in August when a Wall Street Journal report alleged that Das had blocked action against leaders associated with the BJP and other Hindutva groups. In October she put in her papers even though Facebook didn't link her departure to stories around her controversial stand. The earner and the giver
Billionaires continue to get richer even though the pandemic rages on. According to The New York Times, Jeff Bezos, Amazon's founder, was worth about $113 billion at the start of the pandemic. Now he is worth $182 billion — an increase of about $69 billion. But it's his former wife who is earning respect in the public space. After a very public divorce, thanks to the National Enquirer breaking Bezos's long-term affair publicly, she promised to give away much of her wealth. And she is doing just that. MacKenzie Scott, the world's 18th-richest person, has publicly revealed that she was the one "behind the donations to dozens of colleges and universities", part of nearly $4.2 billion she had given to 384 organisations in the last four months. She, in fact, has very little — if at all any — connections to the organisations she is helping out. Next-gen gear
After many years, two new gaming consoles arrived — the Xbox Series and PlayStation 5, hoping to keep gamers busy through a Covid-driven winter. While the Xbox Series looks more like a futuristic computer, the one from Sony has a cooler design. Each has its tribe and in the coming year a number of exclusive titles should be made available. At the same time, the consoles have appeared when cloud gaming is all the rage, which is like having a Netflix-style game streaming, instead of buying individual games; one has to pay a subscription. Google and Amazon have upped their focus in this new category.
High-profile hack
One of the worst hacks of high-profile Twitter accounts took place in July. Dozens of accounts were involved, including that of Joseph R. Biden Jr., Barack Obama, Kanye West, Bill Gates and Elon Musk, with their official accounts posting messages on Twitter: Send Bitcoin and the famous people would send back double your money. It took some time to bring the hacking attempt under control but how it played out was more important. The New York Times reported that the "investigation into the breach revealed that several employees who had access to internal systems had their accounts compromised in a 'coordinated social engineering attack'." It was a big loss of face for the social network.
Streamers all around
Sadly, it was one of the worst years for movie theatres, forcing all the cinematic action to move to streaming services. The technology has been disrupting entertainment business for a few years now but it was a year when it moved into supercharge mode. The unthinkable happened: high-profile films began to premiere on streaming services. India didn't buck the trend. Nobody ever expected a film like Shakuntala Devi (starring Vidya Balan) to go streaming first. Gulabo Sitabo too went the streaming way. It's not over yet. Warner Bros. is set to release its 2021 movies on streaming and in theatres at the same time. The list includes Suicide Squad 2, Godzilla vs. Kong, Dune and The Matrix 4.