Samsung elevates television set to wall art
The latest offering of the tech giant – super thin Frame 2021 comes with customisable bezels and sustainable packaging design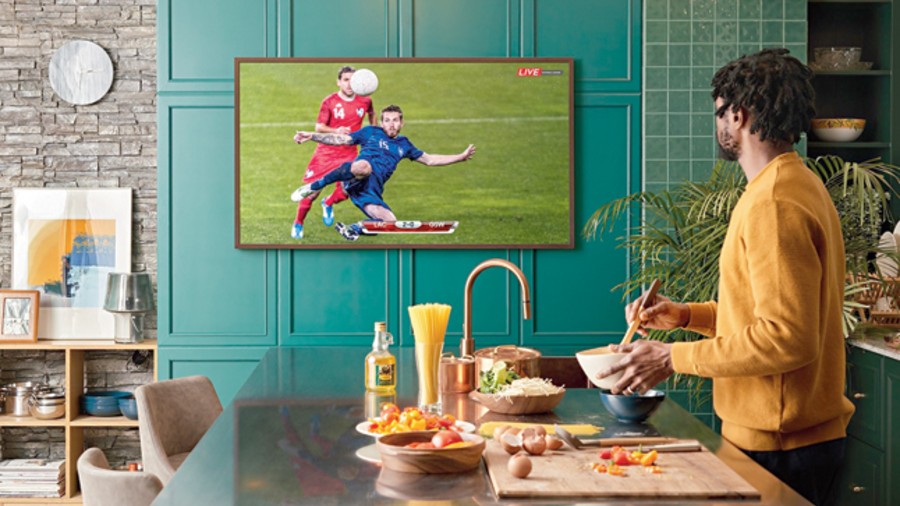 ---
---
There are television sets and then there's The Frame, which is Samsung's way to elevate the television set to wall art. Though it's been around for a few years now, the range has been becoming more customisable besides beating its competition with quality. The Frame TV 2021 has arrived and in a variety of screen sizes, starting from 43 inches and going all the way up to 65 inches, which is perfect as a biggish wall art.
Needless to say, it's unbelievably stunning when you "hang" it (well, sort of!) on the wall, making your living room look luxurious. But it's not just about looks, there's a lot of high-end tech inside. It comes with QLED technology that presents life-like colours, better contrast and an exceptional colour palette. The latest arrivals are powered by Quantum Processor 4K, and have 4K AI upscaling capabilities and SpaceFit Sound (sound settings optimises depending on the environment). You can also watch two screens at the same time. For example, you can watch an exercise video while streaming your favourite show or movie.
In way of bezel colour, there are two options, white and teak, which go well with almost all room decors. Plus, there is the option of a new height adjustable TV stand, especially meant to accommodate the sound bar for a clutter-free look.
One of the big features on The Frame is how it looks when there's no signal. It moves into Art Mode. The latest comes with more original artworks to match individual tastes and lets you curate your own personal art collection with a growing library of over 1,400 pieces of art from world-renowned institutions. There's increased photo storage space, up from 500MB earlier to 6GB, so you can store up to 1,200 photos in UHD quality. You can also upload and display your own photographs via your smartphone using the SmartThings app or a USB flash drive. Agreed that other brands, like Sony and LG, have given us TV options that display art but no brand has taken the concept further than Samsung.
Available June 12 onwards, the new Frame will be available on Amazon, Flipkart and Samsung's official online store Samsung Shop starting at Rs 61,990. You can also get complementary bezel worth up to Rs 9,900 if you get the TV between June 12 and 21.