How Apple Watch inspires its users
It has been a boon taking people one step closer to their fitness and wellness goals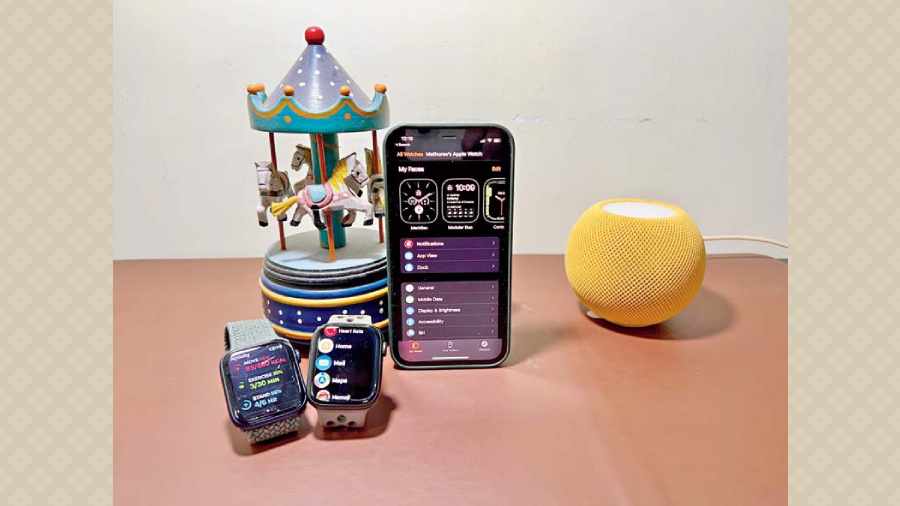 To take full advantage of the Apple Watch, check out the Watch app and Health app on your iPhone.
Picture: The Telegraph
---
Published 25.01.22, 02:47 AM
|
---
In 2020, fitness shifted from gyms to living rooms and slowly things are moving back though the home-workout phenomenon is here to stay. Either way, there has been one gadget that has managed to remain a companion in both scenarios — the Apple Watch. Be it in a studio setting or the home gym, the Apple Watch has been winning hearts and wrists, especially when we are trying to remain true to our New Year resolutions.
Standing up, stepping up and closing rings, it's easy and in case you haven't tried it out, it's never too late to take up this routine. "2022 is another year hit by the pandemic and staying in shape in the comfort of your home has become more necessary than ever. Apple Watch has been a boon taking people one step closer to their fitness and wellness goals. As a fitness professional who cross trains, I love the various features on Apple Watch Series 7, specifically closing the move, stand and exercise rings that help you push your fitness levels on a daily basis. Alongside fitness Apple Watch users also get a regular track of their sleep data, heart rate and blood oxygen levels, which is important in Covid times. Another key aspect is the seamless integration with the iPhone makes tracking data so effortless," fitness expert Sumaya Dalmia tells us.
Personally, I have managed to kickstart a habit the last year or so, going around the city to photograph the many wonders it has to offer. After one year, leaving home or staying at home without having the Apple Watch strapped on is impossible to even think of. After every hour or so, I keep glancing at my wrist to check the progression of the rings.
The two workout modes that I personally enjoy are outdoor walking/running and basketball, which is something I am revisiting after decades thanks to my 10-year-old, who loves to watch NBA to shape up her dribbling drill. There is, of course, a lot more — from strength training to pilates, HIIT (high-intensity interval training) to yoga. With two new workout types in watchOS 8 — tai chi and pilates, you can track almost any way you exercise, and see it all in the Fitness app on the iPhone. Runners get advanced features like pace alerts and cadence. Swimmers get workouts for pool swim and ocean water swim, and now for bikers, watchOS 8 will detect when you begin riding and remind you to start a workout. And it will automatically pause and resume if you stop temporarily. watchOS 8 also provides improved cycling workout algorithms that more accurately calculate calories for e-bikes.
Of course, there is high or low heart rate monitoring and irregular heart rhythms (known as arrhythmias), which could be signs of a serious condition. Many people don't recognise the symptoms, so the underlying causes often go undiagnosed. Notifications in the Heart Rate app will alert you to these irregularities so you can take action and consult your doctor.
The Fitness app is so intensive that you will be amazed by what the Apple Watch can do. In case you have diet tracking as a resolution for the New Year, you can connect almost every diet-tracking app on the App Store to the Health app. These apps will allow you to enter something like "hamburger", at which point it'll calculate your carbs, protein, and so on, and copy it to the Health app for you. If the Apple Watch has excited a Garfield like me, imagine the possibilities.
A few apps to keep you busy • Lifesum: It is a great app for entering and counting your meals and calories
• MyPlate: Like Lifesum, MyPlate helps count calories and meals, with slightly different features from Lifesum
• Lose It!: This is a weight-focused calorie counting app; you'll spend less time looking at your meals and more time looking at numbers
• Diet by GetFit: The app combines calorie tracking with meal planning. This makes it easy to find recipes and build a healthy diet
• 8fit Workouts and Meal Planner: It combines meal planning with workouts, so you can bring all of your fitness goals into this single app