It's time to jump to Apple Watch Series 7
This Dhanteras or Diwali, it makes for a great gift for a range of users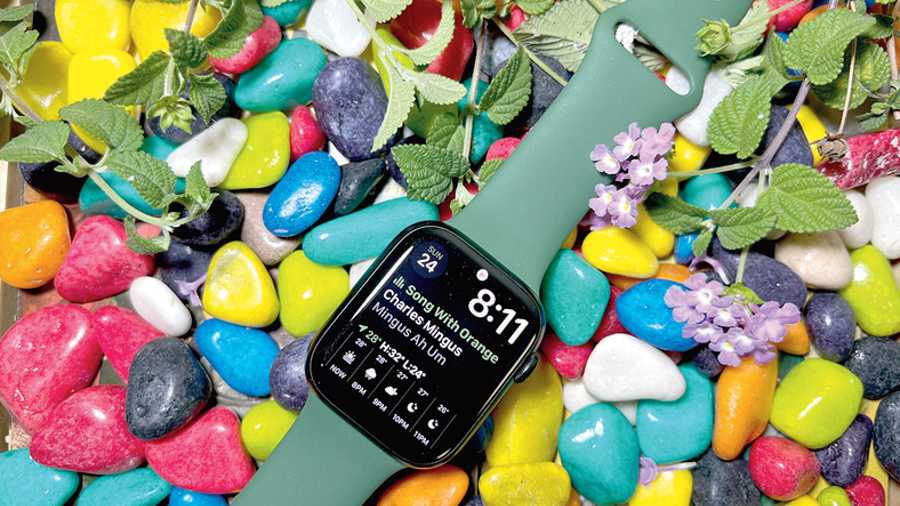 Apple Watch Series 7 is the strongest smartwatch from Apple, making it durable under toughest of conditions and it comes with a much bigger display.
The Telegraph
---
Published 26.10.21, 01:19 AM
|
---
It will be a failure on the part of a company if you have to upgrade your smartwatch every year or even two years. That's why Apple seems to be saying, if you have been using an old Watch, like Series 4 or 5, it's time to jump to Apple Watch Series 7 because the upgrade will surely be worth it. And then there are many who have had the device chalked out on the shopping list for long; this is a good year to get one. Frankly, once you start wearing this particular smartwatch, you will miss it each time you don't have it on you.
Information-packed display
What has changed or improved with the Watch Series 7 has mostly to do with the screen, build and charging to a point (we will get to that later). The new retina display has almost 20 per cent more screen area than the previous generation and over 50 per cent than Series 3. More screen area doesn't mean a huge watch because the bezels have been snapped while the curved screen looks stunning.
Improvements in the screen area department mean more information can be packed on each page or for some it maybe about enjoying bigger font size. This makes a lot of sense because the interface has been tweaked and some buttons are bigger, like on the calculator or the stopwatch, making it easier to hit the buttons on the move or while working out. You can, in fact, see more of your message at a go, way more than before without having to scroll. Even the buttons for Passcode appear bigger. The Watch Series 7 can fit over 50 per cent more text onscreen than Series 6. Plus, you can set the text size bigger to see messages more clearly, which is ideal for people with low vision or have ageing eyes or are in a poorly-lit environment. Every corner of the screen offers more functionality.
What better way to show off the bigger screen than introduce a couple of new watch faces. The first is Modular Duo in which you can have two rows of data centres packed with info to the point you can see almost everything you need at a glance. Second is the wicked watch face called Contour, which creates optical magic because the numbers are shown right on the edge of the Watch. There is also the World Time watch face on which you can see 24 time zones all at once. I'm not kidding… all on one screen.
The bigger display area has also enabled a full-size keyboard. Yup, I was skeptical at first but with usage I found it to be very intuitive and even though dictation remains the easiest way to compose a reply, I wouldn't mind typing out messages, especially because of the swipe gesture system. Plus, I can throw in emoji and Gifs.
Rock solid
The second element that can get you interested is durability. If you are worried about the Watch getting damaged during falls resulting from exercises or cycling, fear not because the Series 7 has the company's most crack-resistant front crystal, which is over 50 per cent thicker at its tallest point than that of Watch Series 6 and the crystal has also been redesigned with a flat base, creating a sturdier shape that is more resistant to cracks. It is also the first Apple Watch to be certified IP6X dust resistant (the highest certifiable level of dust protection), meaning you can wear this watch in the toughest of situations, like a bike trail. If the watch hits the dirt, it should survive. Speaking of falls, the Watch uses custom algorithms that analyse the data from the accelerometer and gyroscope to detect if you've taken a fall. And watchOS 8 has added fall detection to cycling and all workouts by sensing the unique motion and impact of falls while working out. To enable the feature, visit the Apple Watch app on the iPhone while it is automatically enabled for users over the age of 55. And like on previous models, this is water resistant up to 50 metres.
We will not get a lot into the other features because these have been around for some time now, like blood oxygen monitoring, ECG generation, heart rate notifications and sleep tracking; these work as well as before. There is also an Emergency SOS and international emergency calling. 
Battery life
Let's talk about charging and battery life. Some people would like to have more features which take a toll on battery while having extra battery means making feature-related trade-offs. I absolutely don't mind the 18 hours of battery life it offers (even with a bigger display) because that's enough for me before hitting the bed. The new model offers fast-charging in many markets but not India, Argentina and Vietnam. But the charging wire you get in the box has a pleasant change — USB-A has been swapped out for USB-C to deliver faster speeds in the markets that allow.
Should you get it?
Those who crave more information on the screen or better accessibility that a bigger display enables (like font size), this is absolutely worth checking out. If you play or exercise under extreme conditions and are always worried about the safety of the Watch, this is it. In case you are using an Apple Watch that's a few years old, it's time for an upgrade. The Apple Watch Series 7 is bigger, better and bolder than ever before, making it a perfect gift for yourself or someone you love this festive season.
At a glance Device: Apple Watch Series 7
Price: Upwards of Rs 41,900
High notes
• Bigger, bolder display
• Dust resistance
• QWERTY keyboard
• You can set multiple timers and name each of them
• Bigger buttons
Muffled notes
• No Qi charging