FaceTime app gets a power pack with the SharePlay feature
Now, users can chat with one another while having a viewing party, listen to an album or complete a fitness challenge together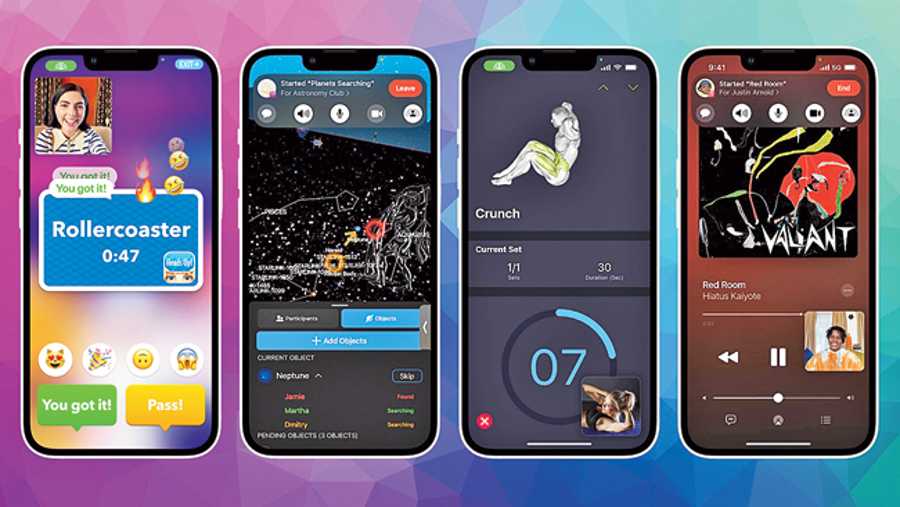 ---
Published 23.11.21, 03:09 AM
|
---
Have you used one of the much-awaited features on iOS 15.1 and iPadOS 15.1 — SharePlay? The feature allows users to enjoy videos, music and more with friends and family via a FaceTime call. And there's more to it.
FaceTime has always been one of the most appreciated features on the iPhone, allowing high-quality video calls. Launched in 2010, over the years many new features have been added to FaceTime, allowing Apple to consolidate its position in many markets.
With SharePlay, users can chat with one another while having a viewing party, listen to an album or complete a fitness challenge together. And SharePlay will keep all of these activities in sync across everyone on FaceTime.
SharePlay is available with Apple services like TV+, Music, and Fitness+ and since its release, a number of apps have introduced SharePlay experiences like NBA, Twitch, TikTok, Night Sky, Explain Everything, and many more.
How do you use it? Say you want to watch a video with friends. Simply start a FaceTime call. Go to the Home Screen, then open a video streaming app that supports SharePlay (for example, the Apple TV app). Select a show or movie you want to watch, tap the Play button, then select Play for Everyone (if it appears) to begin watching with everyone on the call. (Others on the call may have to tap Join SharePlay to see the video.) For everyone on the call who has access to the content, the video starts playing at the same time. People who don't have access are asked to get access (through a subscription, a transaction, or a free trial, if available). The playback controls are shared by everyone on the call who's watching the content, so anyone can press play, pause, rewind, or fast forward. (Settings like closed captioning and volume are controlled separately by each person.)
You can also do the same while listening to music. Or enjoy live streams on the Twitch app with friends, including the latest games with their favourite gaming creators. And then identify stars, planets, constellations, and satellites together with Night Sky.  Besides enjoying apps together, users can share their screens to browse the web, look at photos, or help each other out while on a FaceTime call.
Some apps by Indian developers have also implemented SharePlay. For example, there's Food Book Recipes (helps food lovers to cook a wide spectrum of delicious dishes), Rhymelo (it's a songwriting companion on which you find perfect rhymes for your song; now you can write new songs with your friends, record demos, share, and organise your ideas) and Chaarana (it uses SharePlay to share your workout with friends on a simple FaceTime call).