Dogs can sniff malaria in people without signs
Findings by UK researchers could help those unaware they have been infected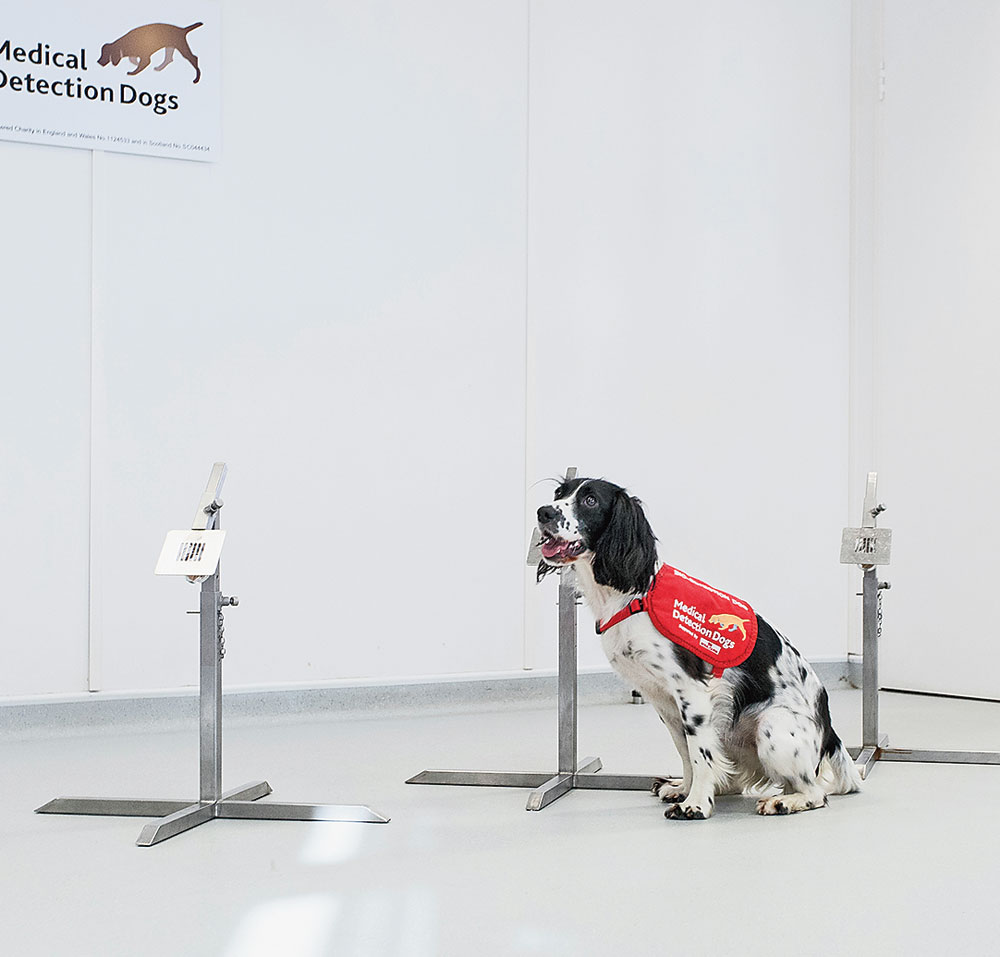 Freya, one of the dogs trained to detect malaria.
Photo Credit: Medical Detection Dogs
---
New Delhi
|
Published 29.10.18, 09:51 PM
|
---
Scientists working with canine trainers have shown that dogs can be taught to scent malaria in people without signs of the infection, raising hopes for new and rapid non-invasive tests for malaria.
A team of researchers in the UK announced on Monday the results of their study that shows dogs can scent malaria infected people from their odour. In the past, similar studies trained dogs to detect cancer and diabetes.
The researchers have trained three dogs — a Labrador-Golden Retriever cross, a Labrador, and a Springer Spaniel — to detect malaria in samples of socks worn by infected children from west Africa. The study's results were presented at the annual scientific meeting of the American Society of Tropical Medicine and Hygiene in New Orleans on Monday.
"Our results suggest that sniffer dogs could be a serious way to make diagnosis of people who don't show any symptoms but are still infectious, quicker and easier," said James Logan, co-author of the study and head of the department of disease control at the London School of Hygiene and Tropical Medicine.
Logan, in a media release issued by the research team, said progress against malaria has stalled in recent years and could be accelerated through innovative tools to detect the infection.
Public health entomologist Steve Lindsay at Durham University who led the project said this technique may help ensure that people who are unaware that they are infected with the malaria parasite receive timely treatment.
Genetic mutations have also exacerbated the challenges of detecting malaria. Scientists at the National Institute of Research in Tribal Health, Jabalpur, had earlier this year pointed out that a mutation that renders Plasmodium falciparum parasite invisible to conventional rapid diagnostic tests has emerged in several states in India and may threaten malaria elimination efforts.
The project to train dogs to identify people infected with malaria parasites was funded by the Bill and Melinda Gates Foundation under its Grand Challenges Exploration initiative that seeks novel ideas to address global health and development issues.
The researchers used socks to collect food odour samples from healthy children aged between five and 14 years from The Gambia in west Africa and collected blood samples from the children to screen them for the malaria parasite Plasmodium falciparum.
The socks were sent to the Medical Detection Dogs, a charity in the UK where trainers taught a Labrador-Golden Retriever cross called Lexi and a Labrador called Sally to distinguish between the scents of infected and uninfected children.
The dogs correctly identified 70 per cent of malaria-infected samples and correctly identify 90 per cent of samples without malaria parasites. After the initial results, a third dog, a Springer Spaniel called Freya, was trained to detect malaria.
Earlier, independent studies have indicated that dogs may also be trained to detect certain cancers and diabetes. "This is the first time we have trained dogs to detect a parasite infection," Claire West, CEO with Medical Detection Dogs. "The possible potential to train dogs to detect (other) tropical diseases such as leishmaniasis is huge," she said in a media release.