Apple hits $3 trillion valuation
In the last few years, Tim Cook has taken the tech giant to unforeseeable heights.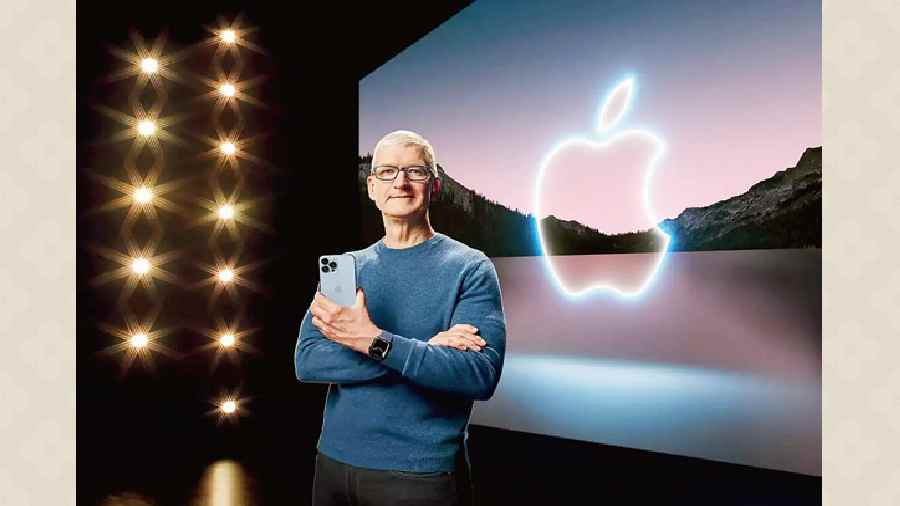 ---
Published 05.01.22, 02:20 AM
|
---
For Tim Cook, it's all in a day's work. Apple has become the first company to touch $3 trillion market captilisation but the journey has been long and never easy. In 1997, Steve Jobs stepped back into Apple to save a company which was on the brink of bankruptcy and it took a few years to strengthen its product portfolio.
Soon after returning to Apple, he made an important recruitment — Tim Cook. He had approached Cook to come over from Compaq and offered him a starting salary of $400K plus $500k signing bonus, according to CNBC. In the last few years, Cook has taken Apple to unforeseeable heights.
The iPhone maker became a $1tn company in August 2018 and two years later became the first company to be valued at $2tn. On Monday, shares in the company rose by three per cent to $182.86, which was enough to take it past the new milestone.
"When we started, we thought it would be a successful company that would go forever. But you don't really envision this. At the time, the amount of memory that would hold one song cost $1 million," Apple co-founder Steve Wozniak has told The New York Times.
When the iPhone was unveiled in January 2007, the company was worth $73.4 billion. The iPhone continues to be one of history's best-selling products. In the year ending in September, iPhone sales were $192 billion, up almost 40 per cent from the year prior.
Chasing Apple in the trillion-dollar club are Amazon, Google parent company Alphabet, Microsoft, and Tesla, all of which have market caps exceeding $1 trillion. Though Apple's market cap fell below the $3 trillion mark shortly after passing it, the point remains that the company is constantly chasing bigger figures.
And there is a bigger lesson here. Tim Cook is obviously a rich man but nowhere close to Elon Musk, Jeff Bezos, Bill Gates or Mark Zuckerberg. Instead of aiming to become the richest man in the world, he devotes all his attention and passion towards Apple. He is employee number one who ensures the company's supply chain is always running at full steam.