A fitness app dedicated to children — Fitb.ee
A gamified experience co-founded by fitness entrepreneurs and young parents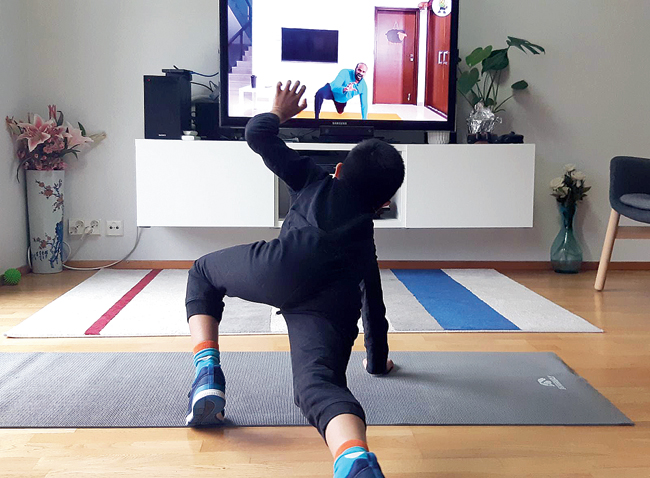 The app is gamified. Children earn points, collect badges, climb levels and peers can compare how they fare each day
Fitb.ee
---
Published 05.06.20, 04:14 PM
|
---
The pandemic rages on and parents are still trying to figure out a way to keep children busy indoors. Is there an app out there dedicated to the cause? Yes, there is Fitb.ee (available on iOS and Android), co-founded by Avinash Rajapet and Prathima Koppolu, fitness entrepreneurs and young parents themselves. Here's a quick chat with the founders, who want fitness to be a way of life for children.
What makes Fitb.ee different from, say, Cure Fit or Nike?
Unlike other applications, Fitb.ee is focused exclusively on children and teens… on the age group four to 19. Our app is designed to make exercise simple and fun for kids and a means to get your whole family excited about working out. We leverage the playful aspects around the child and include animal movements, kung fu and callisthenics in exercise routines. We encourage children to see fitness as a fun activity rather than a rigorous workout regimen. The Fitb.ee YouTube channel and social pages have a lot of fun and interactive workouts. We specialise in themed exercises, such as Harry Potter, Wonder Woman, Avengers and so on to keep kids engaged. When it comes to teenagers, we cater to their fitness needs with high-energy workouts that include kick-boxing, callisthenics and core conditioning.
How does it retain the attention of kids?
The app is gamified. Children earn points, collect badges, climb levels and peers can compare how they fare each day. We have a special walking feature, which records the distance covered every day by either holding the phone in the hand or placing it in a pocket. Nutrition is also a key focus for us, and we share periodic nutrition and hydration notifications with parents to ensure that they have ticked off the basic boxes for a holistic fitness programme.
What kind of information is being collected through the app?
We have a two-pronged approach and we split our data collection accordingly — among young children and teenagers. For children under the age of 12, we require general information like name, age, school and so on. We plan our fitness programmes according to age groups and cater to the specific needs of children. When it comes to teenagers, in addition to the above information, we require additional details about their fitness goals, like building strength, endurance or stress relief and so on.
Besides the app, what kind of fitness routine are you suggesting to children who are under lockdown?
Continuous movement and activities throughout the day are essential. WHO recommends that children need at least 60 minutes of moderate to high-intensity exercise per day, and so we suggest a fixed workout schedule two to three times a day, in short intervals. Besides this, being active and helping in household chores keep them busy and helps overcome stress and anxiety. Kids should also focus on staying hydrated throughout the day. Another overlooked aspect is rest; we emphasise on an uninterrupted eight-nine hours of sleep each night.