Unmatched taste: Palong shaak er ghonto
Readers' Speak: Year of losses for football; breakdancing in Olympics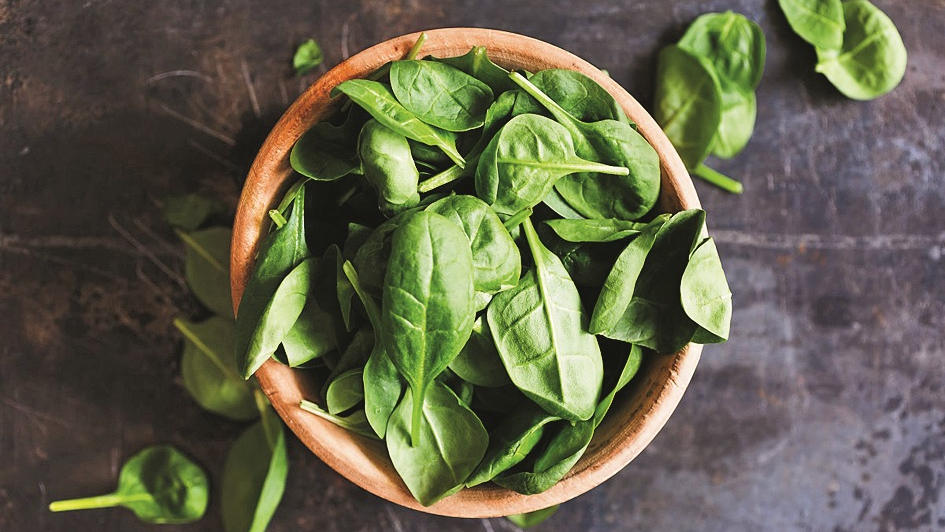 Can anything beat the taste of piping hot rice with palong shaak er ghonto and a touch of ghee?
PxHere
---
Published 14.12.20, 12:06 AM
|
---
Sir — With the arrival of winter, the markets have been flooded with fresh produce like spinach and mustard greens. Yet, the kitchens of urban Calcutta seem more interested in cooking palak paneer and sarson da saag — delicious items no doubt — than the more nutritious (and tastier) palong shaak er ghonto or alu bori diye shorshe shaak. The once-common dheki and pui shaak are almost unheard of now. The profusion of restaurants selling North Indian food has perhaps changed the palate of the next generation of Bengalis forever. Can anything beat the taste of piping hot rice with palong shaak er ghonto and a touch of ghee?
A. Sanyal, 
Siliguri
Year of losses
Sir — The year, 2020, will be remembered as one in which the world of football has been left impoverished. India lost Pradip Kumar Banerjee and Subimal (Chuni) Goswami, and world soccer weeps at the loss of one of it's all time greats, Diego Maradona, and now the Italian football legend, Paolo Rossi, who died at the age of 64. 
In 1980, at the age of 23, when he was one of the world's highest-paid players Rossi had been banned from soccer for three years after a match-fixing scandal, known as the Totonero (black-betting). This is a charge Rossi furiously denied, he maintained he had been dragged into a scandal and that his only mistake had been to allow himself to be introduced by a teammate, Mauro Della Martira, to two strangers one day at Perugia's training facility. Rossi's ban was reduced to two years, by which time he had been signed by Juventus, allowing his Italy manager, Enzo Bearzot, to include him in his 1982 World Cup squad. 
From here, there was no looking back for Rossi; he helped the Italian team to victory in the 1982 World Cup and scored the first goal for the Azzurri in the final against West Germany as Italy triumphed 3-1. He became the only footballer in history to win the World Cup, the Golden Boot, the Golden Ball and Ballon d'Or in the same year. Many opponents described Rossi as "pure phosphorus", because of his agility on his feet. In his career Rossi scored more than 150 goals, but the most memorable will be when he scored all three goals as Italy beat Brazil 3-2 in the 1982 World Cup quarter final, which many soccer writers have called the greatest World Cup match ever. After Rossi retired in 1987, he became a popular TV soccer pundit on Sky Sports and the Italian national broadcaster RAI. May the legend rest in peace.

Bidyut Kumar Chatterjee,
Faridabad
Sir — It was saddening to learn that the Italian footballer, Paolo Rossi, died at the age of 64. He single-handedly helped the Italian football team to victory in the Fifa World Cup of 1982. His timing, energy and ability to score made Rossi a footballing superstar. But the three-year ban on him by the Italian Football Federation left a long shadow on his career. However, given his talent, it could not stand in the way of his success. He will of course be remembered most for his hat-trick against Brazil in 1982, where the latter were the favourites to lift the World Cup. Rossi may no longer be with us but his games and his talent will keep him in our hearts for a long time to come.
Jayanta Datta,
Hooghly
Sir — Within a month, the world of football has lost the legendary footballers, Diego Maradona and Paolo Rossi.This brilliant forward was always considered as one of the greatest strikers in the history of the sport. To be honest, Italy has produced few footballers of Rossi's talent. His contribution to Italian football is immense. In the year 1982, he led his country to a World Cup win. Rossi mesmerized football lovers all over the world that year.
His loss is thus being felt not just by Italians but by football fans across the globe. Real admirers of the sport would never forget Rossi.

Sourish Misra,
Calcutta
Sir — Paolo Rossi was undoubtedly a gifted player. But what made him a national hero was the fact that when he gave Italy a leg up in the 1982 World Cup, the nation had been subject to significant social and political unrest for a number of years and, in spite of being regarded as one of the world's premier footballing nations, had not won a World Cup since 1938. With the victory came an incalculable lift in the nation's spirits, and Rossi was at the centre of the celebrations. Rossi scored more than 150 goals in his career but in order to understand his brilliance one would have to watch the goal he scored in the 1982 World Cup final.
Aditya Banerjee,
Gurgaon
Parting shot
Sir — It is great news that breakdancing has been included as a medal event in the 2024 Paris Olympics ("Dancing in Paris", Dec 12). Seeds for this were sown at the Buenos Aires Youth Olympic Games in 2018 where this event gained massive popularity. Although people may not agree with breakdancing being part of the biggest sporting event on the planet, they must remember that change is the only constant. What is more heartening is the fact that thousands across many countries will be able to participate. Hopefully India will also produce some world class breakdancers.
Bal Govind,
Noida