Why wait until festive season to say no to plastic?
The decision to start cleaning up on Mahalaya makes one wonder about the sincerity of it all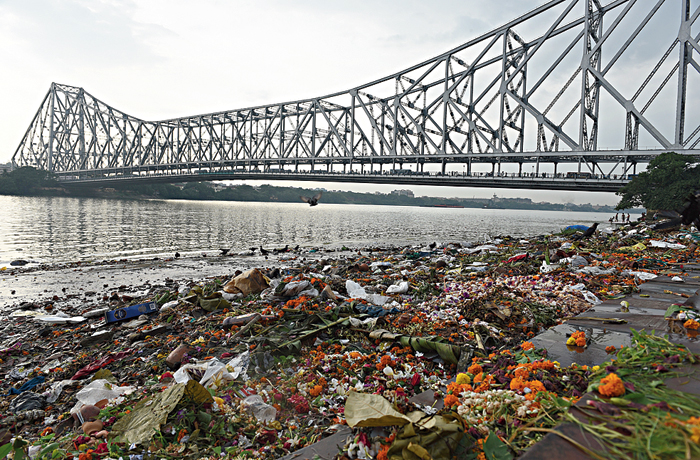 ---
---
Sir — Recently two groups in Calcutta launched clean-up drives along the riverbanks to rid the city of plastic. The sentiment is noble, but the decision taken by one of the groups to begin the sweep on Mahalaya makes one wonder about the sincerity of it all. Plastic waste reduction is crucial, but it must be undertaken all year round and not just before the festive season.
Afreen Chaudhury,
Calcutta
Sir — The public expression of regret by the Archbishop of Canterbury, Justin Welby, for the Jallianwala Bagh massacre must be lauded ("Very sorry: Archbishop", Sept 11). Under the orders of General Reginald Dyer, British troops had opened fire on a gathering of unarmed Indians in April 1919, leading to the deaths of close to 400 people. The archbishop's intention to "learn from history" and "root out hatred" is a significant symbolic gesture from a British citizen in a position of power.
While two former British prime ministers, Theresa May and David Cameron, had expressed their regrets and Queen Elizabeth II in 1997 had referred to the massacre as "a distressing example" of colonial brutality, the United Kingdom is yet to issue a formal apology. With this act, the archbishop has followed in the footsteps of Charles Freer Andrews, who was one of the first Englishmen to apologize for the event. This move marks an important moment in the shameful and bloodied history of European colonialism.
Benu Kumar Bose,
Calcutta
Sir — Archbishop Justin Welby is no doubt genuinely apologetic about the Jallianwala Bagh massacre. However, experience has taught me that a large number of ordinary Britons are of the opinion that the British 'civilized' the people in the colonies. The early European inhabitants in Australia had committed similar atrocities against the indigenous people, and the Australian Parliament has since then formally apologized to the aboriginal community. However, the British are yet to do the same to India and the other places it colonized and brutalized. Perhaps India's rise as a global power and Britain's precarious situation will prompt the latter to make amends. Indians should remain graceful towards any gestures from the British, but also mindful of the past.
Leopold Bourne,
Adelaide, Australia
Sir — The actions of the archbishop before the Jallianwala Bagh memorial were kind and displayed humility. This was in stark contrast to the act of the British officer who had ordered the merciless killings at the site in 1919. While the deaths will always be mourned, the heartfelt prayers of the archbishop must be appreciated.
Ajay Kumar Deb Biswas,
Hooghly