Wet and dry
HINTERLAND | Dry spells and extreme rainfall events must inform cropping patterns, inform the Centre-state crop insurance mechanisms, even our investments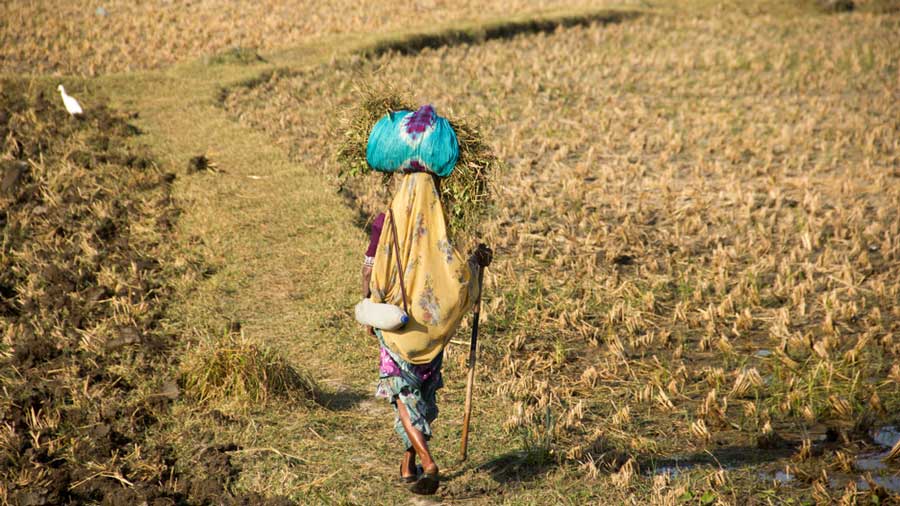 Representational image.
Shutterstock
---
Published 17.08.21, 12:28 AM
|
---
Bhattijam is a 100-household village in the Chandrapur district of Maharashtra surrounded by small paddy fields interspersed with forest patches. The village belongs to the Dhivars, a fishing community with small land-holdings. For three decades, farmers here have been waiting for the waters from a big irrigation project to flow into their fields. The project falls under the Pradhan Mantri Krishi Sinchayee Yojana, or the erstwhile Accelerated Irrigation Benefit Programme of the Central government. Distributaries are being laid at a sluggish pace — a pan-India problem with all major dams — and the community village tank is struggling with a burgeoning population, reducing its capacity.
While people desperately wait for surface water to come to their fields and improve their options of having two, possibly three, crops around the year, they must till their lands with rainwaters that are becoming increasingly moody and erratic. We are in mid-August and Bhattijam and its surrounding villages are edgy. Not because of the looming fear of the third Covid-19 wave, but because the rains have been elusive, the weather hot and dam waters are taking forever to reach their fields.
Bhattijam is in a region that gets 1,200 mm of rains annually, conducive for paddy and fish cultivation, which require lots of water. By this time, sowing is over, fish seeds are released in the community tanks, tillers begin to grow taller and paint the large swathes of land yellow and green. Not this time around. Sowing is incomplete owing to the lack of rain. Where it was done in June-July, the tillers are wilting, fields cracking and the soil turning harder. Bhattijam — and much of this region — is staring at a loss of the kharif paddy crop. If that happens, migrating out for work and livelihood post Diwali will be the only option.
Farmers are desperate for good monsoon rains. Contrast this with western Maharashtra, or West Bengal, Rajasthan and Madhya Pradesh, where floods, following heavy rainfall, have wreaked havoc and caused massive loss of lives and livelihoods. People will migrate from there too. It's a paradox that afflicts state after state, but there's no reflection on what might be the single-biggest concern for rural economies in the sessions of Parliament or the state legislatures. It is as if the law-makers don't know and won't care.
Climate change is a calamity that is building up. There is a palpable shift in the rainfall patterns all over the country —floods and meteorological droughts are occurring in the same regions. Long dry spells and extreme rainfall events, all happen in one season. Bhattijam, for instance, got mild showers some 20 days ago, but no rains since then. It may so happen, as it has in the last few years, that the village would receive heavy rains in quick span and make up for the deficit.
Long dry spells and extreme events don't augur well for farming. It's a trend that has been captured in many studies. The Intergovernmental Panel on Climate Change, in its voluminous report, has predicted more intense and frequent heat-waves, increased incidents of extreme rainfall, dangerous rise in sea-levels, prolonged droughts, and melting glaciers. If that's the macro-picture, the micro-picture shows massive human pain and anguish, exacerbated by wrong or no policies to mitigate climate shocks and aberrations, unbridled and mindless infrastructure projects tampering with local ecologies, and lack of governance among other factors.
We can't deal with it unless we prepare. The only way is to draw carefully thought-out, meaningful contingency plans. Dry spells and extreme rainfall events, for instance, must inform cropping patterns, inform the Centre-state crop insurance mechanisms, even our investments. Private and government extension systems must plan for climate contingencies. States must have climate funds to meet aberrations and extreme weather events and communities must be drafted into planning and deploying a sustainable and sustained response.