Unhappy birthday
A renewed pledge to reclaim Gandhi's India could be the perfect way of honouring the Mahatma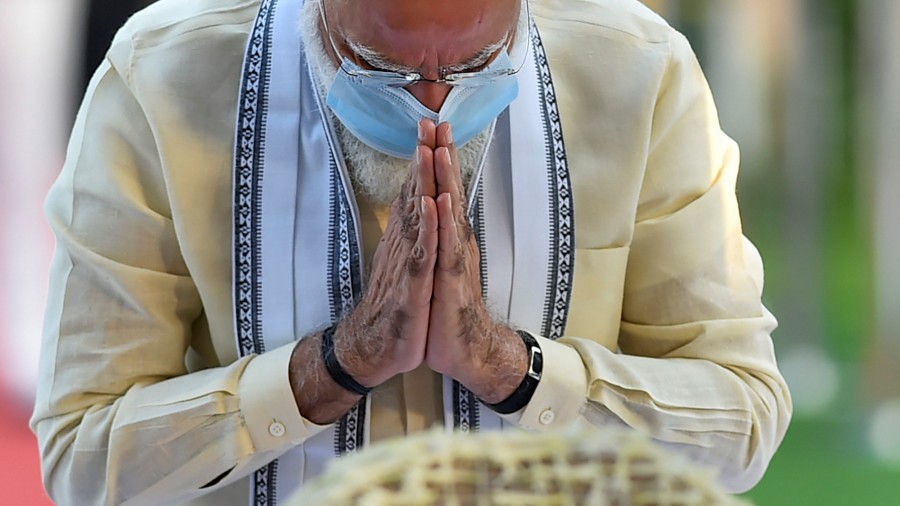 ---
---
Birth anniversaries of icons need not be joyous occasions. They are invariably marked by pageantry, the hollowness of which is deeply unsettling. M.K. Gandhi — he turned 151 last Friday — may have been amused, even mildly irked, by the rituals of reverence that are heaped upon him year after year. Politicians bow before him in a show of respect; the prime minister, ever conscious of the need to send out a message, did not break with the tradition. Ordinary mortals spend the day not in solemn reflection — Gandhi, after all, paid with his life for his beliefs — but in the pursuit of leisurely activities: Gandhi Jayanti is in the list of national holidays, at least for now.
There is, however, reason to believe that in recent years, this perfunctory show of ceremoniousness has been accompanied by deliberate acts of provocation, challenging not so much the man but his ideals. Consider the fact that Twitter was flooded with a show of support for Nathuram Godse, Gandhi's assassin, on the day of the Mahatma's birth. This is not merely an example of the tastelessness of the tribe of Gandhi-haters. It signals a deeper shift: that of the frightening distance that separates the nation from the man who is said to be its progenitor in a manner of speaking. This growing chasm has many manifestations. Of these, the systematic vilification and repression of, and the violence perpetrated on, minorities — Muslims and Dalits — are the most sinister. That New India defiantly cocks a snook at the cardinal Gandhian principles of ahimsa, satya, fraternity is borne out by the daily indignities inflicted on the vulnerable: a Dalit girl raped and mutilated in Uttar Pradesh; the autonomy of farmers put on sale by — note the irony — invoking the Gandhian ideal of atmanirbharta; the throttling of the voices of dissent and the persecution of the defenders of truth, be they institutions — NGOs? — or individuals — the citizens who have kept the Gandhian flame flickering through their courageous protest against the divisive Citizenship (Amendment) Act.
It is this yawning gap between word and deed in the commemoration of Gandhi's vision that the nation needs to think about as it stands at a crossroads. This chicanery — honouring the Mahatma while, simultaneously, dishonouring every conceivable idea that he stood for — is what the interim Congress president, Sonia Gandhi, implored fellow Indians to recognize when she warned India of the 'lip-service' being paid to that long-departed beacon of light. But contemplation would not be enough. The bugle of reclaiming the India that Gandhi had fought and died for would have to be sounded — now. The process must then unfold by honouring non-violence, democracy and collective action. That could be the most meaningful way of preserving Gandhi's legacy for the foreseeable future. Even the Mahatma, an iconoclast, would perhaps approve.