On Gandhi Jayanti, praise for his assassin
Tweets hailing Nathuram Godse blamed Mahatma Gandhi for everything from Partition to the execution of the revolutionary Bhagat Singh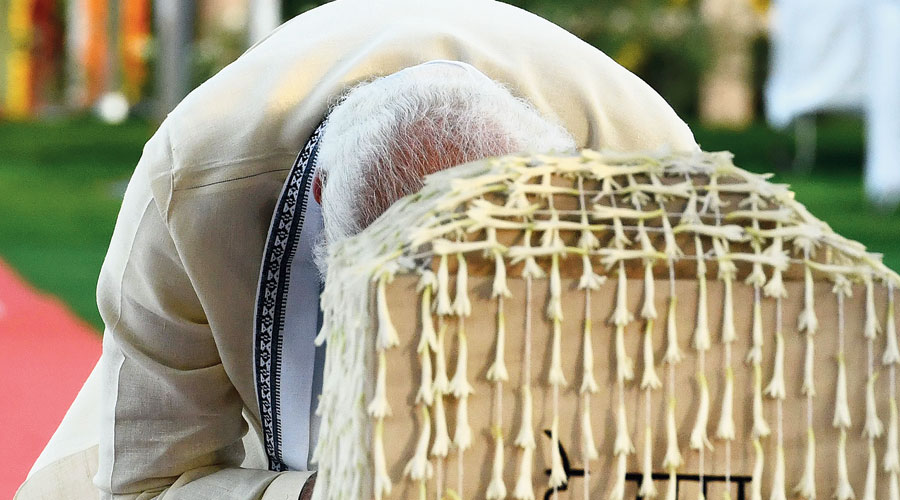 ---
---
It is not known whether Prime Minister Narendra Modi has been able to forgive those who hailed Nathuram Godse as a patriot, but Mahatma Gandhi's 151st birth anniversary is sure to test his forbearance.
Almost half as many people hailed Gandhi's assassin Godse on Twitter on Friday as those who remembered the Mahatma. By evening, there had been 1.17 lakh tweets with the hashtag "Nathuram Godse Zindabad", compared to more than 2.63 lakh tweets with the hashtag "Gandhi Jayanti", which accompanied a Gandhi emoji inaugurated by Modi in 2018.
Those praising Godse, who has many admirers in the BJP, included at least two handles followed by Modi — @chaitrasal and @swetasamadhiya. The tweets hailing Godse blamed Gandhi for everything from Partition to the execution of the revolutionary Bhagat Singh.
Many of the tweets greeting Godse were accompanied by the hashtag "Sudarshan ki haar, Hinduon ki haar" — a reference to the Supreme Court disallowing the television channel Sudarshan News from continuing with the telecast of a show about jihadi elements "infiltrating" the civil services.
Modi, who had said last year that he would not be able to fully forgive Malegaon blast accused Pragya Singh Thakur for calling Godse a "patriot", visited the resting place of Gandhi on Friday to pay his respects. Pragya, however, went on to get a BJP ticket in the general election and again hailed Godse as a "deshbhakt", this time in Parliament.
Many Twitter users, including @chaitrasal, also remembered to wish former Shastri, a Congress stalwart who has of late joined the pantheon of luminaries whose legacies are being sought to be usurped by the Right wing, with the conspiracy theories swirling around his death being used to besmirch the party and its tallest leaders.
The Indian Express Online quoted an analysis by keyhole.co, a realtime hashtag tracker, that showed that Twitter users began using the Godse hashtags at 5am on Friday, an hour before those wishing Gandhi. There were regional variations like fewer Godse tweets from Kerala, and pro-Godse Calcuttans using a different hashtag called "Nathuram Godse Amar Rahe". The pro-Gandhi tweets could catch up only after 1pm.
Congress MP Shashi Tharoor tweeted: "We know who has enabled this trend & whose face is hypocritically masked. I have no doubt Gandhi's India will prevail over Godse's. #GandhiJayanti."
Perhaps a befitting tribute to Gandhi on Friday was that the top trends by the evening were all against the Hathras gang rape and murder and the government's attempts to silence the Dalit teen's family and journalists covering the incident.