Two films, one tale: Editorial on legacy of Amar Akbar Anthony
It will be hard for India to pitch its diverse democracy to the world while imposing a narrow vision through popular cinema that has for long served as one of its best cultural ambassadors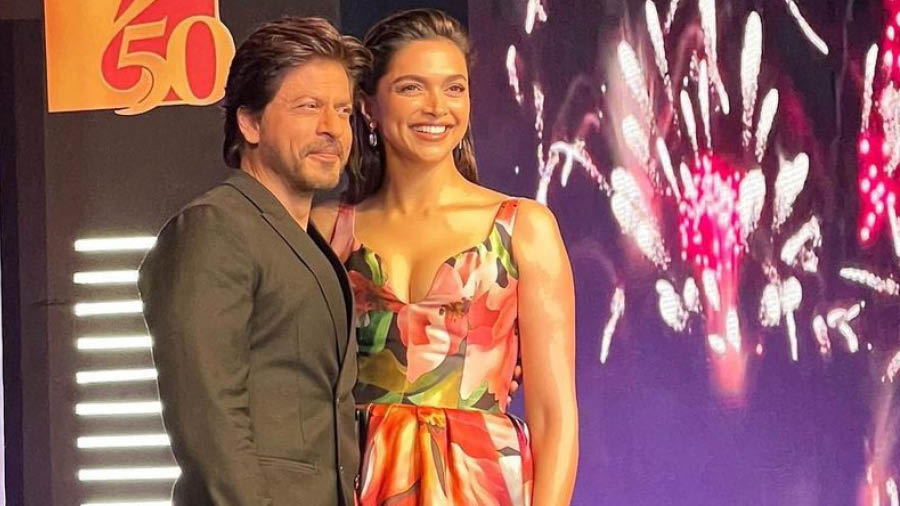 Shah Rukh Khan and Deepika Padukone
File Photo
---
Published 04.02.23, 04:33 AM
|
---
India's Hindi film industry is often over-the-top. Yet, as the actor, Shah Rukh Khan, reminded India last week, it is through their subtle messages that mainstream films offer their vision of India. Addressing the press after the success of his recently released blockbuster, Pathaan, Mr Khan referred to the movie's female lead, Deepika Padukone, himself, and his co-star, John Abraham, as 'Amar', 'Akbar' and 'Anthony', respectively. Mr Khan was alluding to the faiths that Ms Padukone, himself and Mr Abraham were born into as well as referencing the iconic film, Amar Akbar Anthony. A potboiler that otherwise played on several familiar tropes that are associated with Bollywood, this 46-year-old film nevertheless captured the underlying theme that Indians of all religions share common values and can come together. Fittingly, in Amar Akbar Anthony, three brothers separated as children are brought up by a Hindu police officer, a Muslim tailor and a Catholic priest, respectively, and then unite as adults to take on a gang lord.
But the parallels between Mr Khan's latest film and  Amar Akbar Anthony run deeper and reflect how popular culture at its best can sensitively deal with complex, passion-arousing themes such as crime, religion and national security. The actresses, Parveen Babi and Shabana Azmi, Muslims in real life, played the Catholic Jenny and the Hindu Laxmi, respectively, in the 1977 film while Neetu Singh, a Hindu, played Dr Salma Ali. In Pathaan, Ms Padukone plays a former Pakistani agent while Mr Khan's character works for India's Research and Analysis Wing. The idea is simple — an actor's religion should not affect how audiences view his/her character, just as an Indian's religion ought not to impact how the nation views him/her. Sadly, the fact that Mr Khan needed to emphasise the diverse faiths of his co-stars reveals that the reality of  Pathaan's India is very different from the one that Amar, Akbar and Anthony grew up in.
Pathaan witnessed loud boycott calls from far-right groups, ostensibly over a song and alleged obscenity. The attempts to derail the film are a continuation of the attacks that Mr Khan and other cultural icons have faced since they raised concerns about India's sharp turn towards Hindu majoritarianism under the government of Prime Minister Narendra Modi. Meanwhile, films that reinforce problematic stereotypes about Muslims —The Kashmir Files is one example — receive government support and tax breaks. Legends such as the actor, Amol Palekar, have been stopped from speaking when they have criticised the government's attempted takeover of art institutions. Ultimately, the very idea of an inclusive, diverse India is under challenge. The consequences of this threat will also be felt outside India. It will be hard for India to pitch its diverse democracy to the world while imposing a narrow vision through popular cinema that has for long served as one of its best cultural ambassadors. Yet Pathaan's success suggests that the country's Amar Akbar Anthony-legacy is not completely lost. Estranged brothers just need to come together, once again.