Token gestures: Meghalaya and Netaji
There is no word on whether the government plans to preserve Kelsal Lodge or the Netaji Library at Rilbong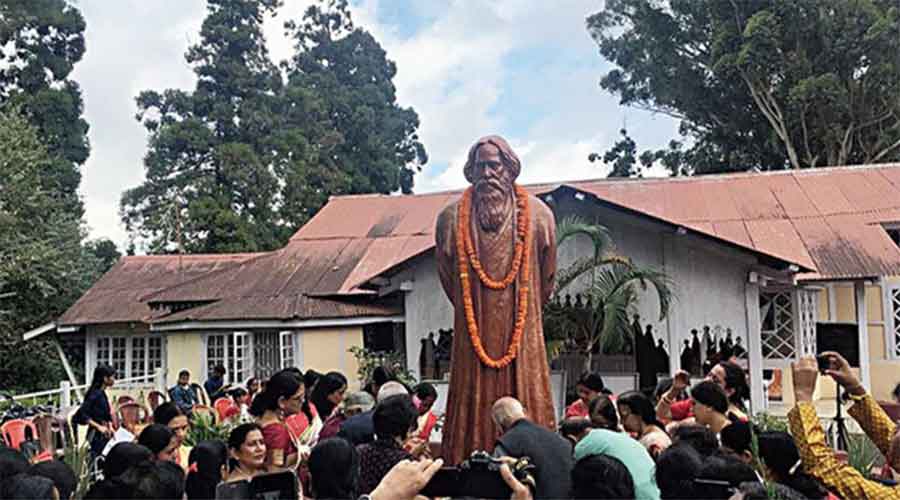 Brookside, the house in Shillong where Rabindranath Tagore stayed more than a hundred years ago.
The Telegraph file picture
---
Published 25.06.21, 01:00 AM
|
---
Rabindranath Tagore's stay in Shillong is not only well-documented, but the bungalow he had lived in, Brookside, is also preserved as a heritage building with his statue standing tall amid the pines. But very little is known about the visit of Netaji Subhas Chandra Bose to this abode of clouds, although Netaji stayed there not once but five times. With his 125th birth year being celebrated, the Meghalaya arts and culture department has taken to social media to highlight the bungalows Netaji had lived in.
Netaji arrived in the Scotland of the East in June 1927. One would hardly associate a soldier-statesman with lyricism, but in a letter to his sister-in-law, Bivabati Devi, he wrote: "Shillong is beautiful and has a good sanatorium... The azure sky, green fields, the mountain ranges all around, the play of light and shade in the forests, the continuous roar of the waterfall, all this keeps me contented. It reminds me of Shakespeare's lines in As You Like It: 'And this our life, exempt from public haunt/Finds tongues in trees, books in the running brooks/Sermons in stones, and good in everything'."
However, he disliked the incessant rain, and it was the monsoon and the Khasi hills comprise the wettest place on earth. Were he to resort to Shakespeare again, there was Feste in Twelfth Night with his plaintive song: "[f]or the rain it raineth everyday!"
And although Netaji was not under house arrest, all these letters were censored.
According to the researcher, Malabika Bisharad of Shillong, Netaji was there to recover from the travails of imprisonment: "After two-and-a-half years of detention without trial in a Burmese prison, Subhas Chandra Bose was freed on May 16, 1927. His weight had fallen by 40 pounds while in jail. Shillong was chosen as the most suitable place for him to recuperate. He was under the medical supervision of Dr Bidhan Chandra Roy, who had a house in Shillong and came there to treat Netaji."
Accompanied by his parents and elder brother, Sarat Chandra Bose, with his family, Netaji first stayed in Kelsal Lodge, now occupied by the BSNL in Oakland locality. He left Shillong for Calcutta in August but was back in the first week of September, accompanied by his parents, sister and others. They stayed at Kelsal Lodge again till October 18, 1927. He was elected president of the Bengal Provincial Congress Committee on his return.
Bisharad, who has steadfastly campaigned for the heritage status of Brookside, rues that the front gate of Kelsal Lodge only has BSNL inscribed on it, instead of the name of the bungalow. It possibly came to light in the Eighties, when Netaji's relatives visited Kelsal Lodge and enquired about the place.
Netaji also stayed in Bidhan Bhavan (presently Circuit House) and Ashley Hall, now under trustees, during his third and fourth visits to Shillong in June 1929 and September 1938. In October 1938, during his last visit, he stayed in the Raj Bhavan.
In 1997, Shillong celebrated Netaji's birth centenary and unveiled his statue at the State Central Library. In March this year, a freedom concert to mark the 75th anniversary of India's Independence was held at the Raj Bhavan, the same elegant structure where Netaji had stayed in 1938. Its Durbar Hall contains paintings of national icons, including Netaji's.
At that function, the chief minister, Conrad Sangma, mentioned the "struggle of the forefathers for the freedom of the country." On January 23, he unveiled a statue of Netaji on Jail Road.
However, there is no word on whether the government plans to preserve Kelsal Lodge or the Netaji Library at Rilbong. In the town marking the 94th year of his visit this month, should token gestures suffice to commemorate Netaji's milestone birth anniversary, especially in a country that boasts of the world's tallest statue at 597 feet?