When Rabindranath Tagore visited Shillong
Unfortunately, Brookside, the house he stayed in, looked uncared for even during the centenary celebration of his visit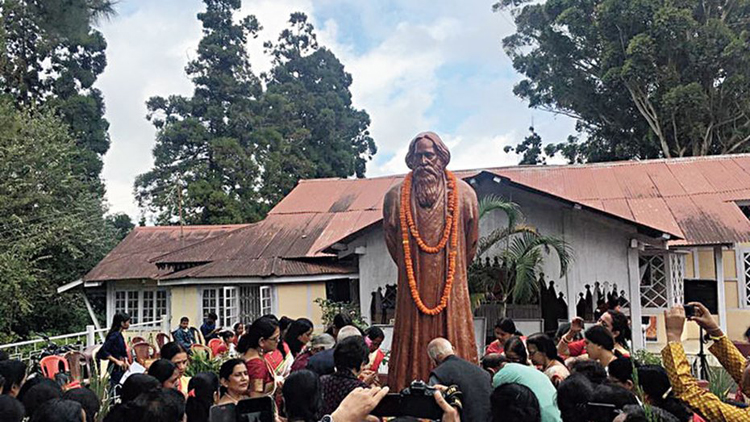 Celebrations on October 11 at Brookside, the house in Shillong where Rabindranath Tagore stayed a hundred years ago
(Telegraph file photo)
---
Published 11.11.19, 07:25 PM
|
---
A century ago, the Nobel laureate, Rabindranath Tagore, made his maiden visit to Shillong, the capital of undivided Assam. He spent three weeks at Brookside, a bungalow in the Rilbong locality, belonging to the then Chittagong assistant commissioner, Kiran Chandra Dey. In a letter to little Ranu Adhikary (later Lady Ranu Mukherjee), the captivated poet wrote: "There is bright sunshine this morning, with a few stray clouds clinging to the hills, as if basking in the sun. They appear too indolent to precipitate into rainfall. There is no similarity between my writing room here and my nook in Santiniketan. This room is fairly large, furnished with a table, sofa, bed and armchair. The windows have glass panes; I can see the tall deodar trees trying to communicate with the clouds. The garden is resplendent with jasmine, chrysanthemum, rose and several unknown varieties of blossoms. I wake up before sunrise and walk along the path bordering the flowers; they are not afraid of my grey beard or flowing robes. They are full of merriment."
It was with this lucid description in mind that I ventured into Brookside. Located on the bank of the Umshyrpi stream (Tagore termed it Nirjhorini), along a long, meandering road, under the shade of towering pine trees, it resembled the ubiquitous Assam-type bungalows dotting the Shillong landscape.
In a letter Tagore wrote to Hitendranath Nandy from Brookside on November 18, 1919, his fascination with the surroundings is memorably delineated: "I am very happy to be in Shillong. It is much better than Darjeeling... The place where we are staying is quite isolated and the lanes are quiet, overshadowed by deodar trees and washed by the rippling sound of the Nirjhorini." When the poet visited South India in 1928 and wrote Shesher Kobita, 13 of the 17 chapters were inspired by his stay in Shillong. Although Tagore did not mention Brookside by name, the letters bearing its descriptions and its geographical location make it evident that Jogmaya's house in the novel is indeed modelled on Brookside.
The environs may have lost a modicum of their idyll, but the bungalow still stands amid the pines and the eucalyptus, with the Umshyrpi gurgling alongside. It wasn't difficult to spot the gate; it had 'Meghalaya Legislative Assembly' writ large. I turned to see the Tagore researcher and untiring crusader for this heritage campus, Malabika Bisharad, on the stairs of her home, the vantage position giving her a bird's-eye view of the Brookside compound.
Brookside was the venue of celebrations last month. In the morning, Bisharad rallied the residents to light 100 lamps and blow 100 conch shells to mark the centenary of Tagore's visit. That evening, the Indian Council for Cultural Relations and the Meghalaya department of art and culture organized a programme.
But more is required than these occasional tributes. "It is very unfortunate to see Brookside uncared for even during the centenary of his first sojourn to Shillong," rues Bisharad. "At the main entrance, the plaque which was installed in 1961 is covered with moss, surrounded by weeds and undergrowth. The roof of the bungalow needs immediate repairs. The copper-coloured statue of Tagore (installed on May 9, 2011) where we pay tribute is in desperate need of fresh paint."
Indeed, the decrepit white monument with a plaque bearing the words of the laureate, "Bipade morey raksha koro/E nahe mor prarthana/ Bipade ami na jeno kori bhoy (Let me not pray to be sheltered from danger, but be fearless in facing them)", could well be the plaintive cry of Brookside's run-down heritage. The minister for arts and culture, Alexander L. Hek, told me he had asked the secretary to expedite plans for a Rabindra Bhavan, where the assembly now stands, as well as a facelift. Word of honour, honourable minister?