The Offbeat Sari: Spotlight on fashion designer Sabyasachi Mukherjee
Eye on England | The trouble with British history is that so many heroes from the past are now judged as rogues, especially if they are found to have had slave-trading links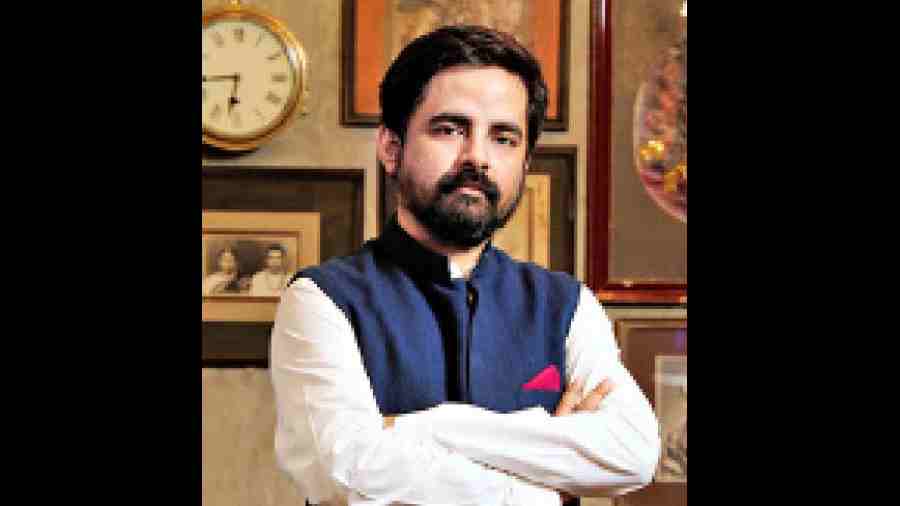 Elegant designs
File Photo.
---
Published 21.01.23, 05:08 AM
|
---
Nine yards of elegance
The fashion designer, Sabyasachi Mukherjee, will get a huge plug this summer when The Design Museum in London holds the exhibition, The Offbeat Sari, with 90 trailblazing examples on loan from all over India. One of the highlights will be the sari worn at the Met Gala by Natasha Poonawalla, the wife of Adar Poonawalla, the CEO of the Serum Institute of India. At a preview last week, the curator, Priya Khanchandani, told me: "It's designed by Sabyasachi who's arguably the most important name in Indian fashion. This sari, which is gold and very highly embroidered, embellished, extremely heavy in weight, was styled with this really amazing gold Schiaparelli bodice."
Priya, who was herself wearing a Diksha Khanna "distressed denim" sari, travelled widely in India, choosing designs from the likes of Abraham & Thakore, Raw Mango, Akaaro, NorBlackNorWhite, Tarun Tahiliani, Abu Jani and Sandeep Khosla, Anamika Khanna and Rimzim Dadu. Oddly, when I was last in Calcutta, travelling on the Metro between Belgachia and Chandni Chowk, I couldn't spot a single woman in my carriage wearing a sari.
The saris in the exhibition are not the sort the traditional mother or grandmother would wear, nor the wet garment worn by Raveena Tandon in Mohra, Priya said. Josephine Chanter, the director of audiences, said: "With a population of 1.4 billion, India's significance within contemporary culture is vast. It makes the sari movement one of today's biggest and most important global fashion stories." The museum's CEO, Tim Marlow, said "Indian textiles have long been explored ethnographically in international museums and we are excited to be presenting cutting-edge Indian fashion to UK audiences in London..."
Long shadow
Having read Prince Harry's memoir, Spare, cover to cover, it seems to me that the book could, more appropriately, have been called "Missing Mummy". Diana's shadow falls across the whole book. Harry was only 12 when she was killed in a car crash in a Paris tunnel on August 31, 1997. The most distressing part was reading Harry's account of opening a "Do not bend" envelope and looking at photographs of his mother in the back of a mangled Mercedes. "At last I came to the photos of Mummy. There were lights around her, auras, almost halos… As I realized their true origin, my stomach clenched. Flashes. They were flashes. And within some of the flashes were ghostly visages, and half visages, paps and reflected paps and refracted paps on all the smooth metal surfaces and glass windscreens. Those men who'd chased her… they'd never stopped shooting her while she lay between the seats, unconscious, or semiconscious, and in their frenzy they'd sometimes accidentally photographed each other. Not one of them was checking on her, offering her help, not even comforting her. They were just shooting, shooting, shooting... I hadn't been aware, before this moment, that the last thing Mummy saw on this earth was a flashbulb."
The book is dedicated to his wife, Meghan, his children, Archie and Lili, "and, of course, my mother." Harry writes: "I missed my mother every day…."
Murky history
The trouble with British history is that so many heroes from the past are now judged as rogues, especially if they are found to have had slave-trading links. That is why the Sir Francis Drake Primary School in Lewisham, south London, is being renamed Twin Oaks Primary after a poll including parents, many of whom are black. Drake has long been the quintessential English hero, knighted in 1581 by Queen Elizabeth I for defeating the Spanish Armada. But he had previously taken part in African slave capturing voyages with his cousin, Sir John Hawkins.
The name change hasn't pleased everyone. The Daily Telegraph's assistant editor, Michael Deacon, attacked the BBC: "What concerns me most about this story is not the renaming itself. It's the way that it's been covered by the BBC. Because, according to the opening sentence of the BBC's report, the school was originally named after 'the 16th-century slave trader Sir Francis Drake'…As if slave trading is what Sir Francis Drake is best known for, above all else."
Positive forecast
To mark the start of the women's IPL, the Financial Times has done a video report in which the paper's South Asia correspondent, Benjamin Parkin, was very positive about the business prospects of the venture.
"The growth of women's cricket in England and Australia is great but in order for women's cricket to succeed on a global level, India needs to be at the centre," he said. Parkin added that the decision of the Board of Control for Cricket in India to provide equal match fees to men and women players was a really important step. My suggestions are that Indian women should not be called 'Eves' since the men are not dismissed as 'Adams'. And perhaps Gurinder Chadha should make a cricket equivalent of Bend it Like Beckham.
Footnote
The 91-year-old media tycoon, Rupert Murdoch, is romancing a woman 25 years his junior — "Ann-Lesley Smith, a 66-year-old Californian widow", according to the Mail. The story has not appeared in Murdoch-owned newspapers, no doubt because of lack of space. His fourth wife, Jerry Hall, Mick Jagger's ex, was dumped by email last year.