The lunch party
Shah's luncheons last week are reportedly part of a BJP outreach programme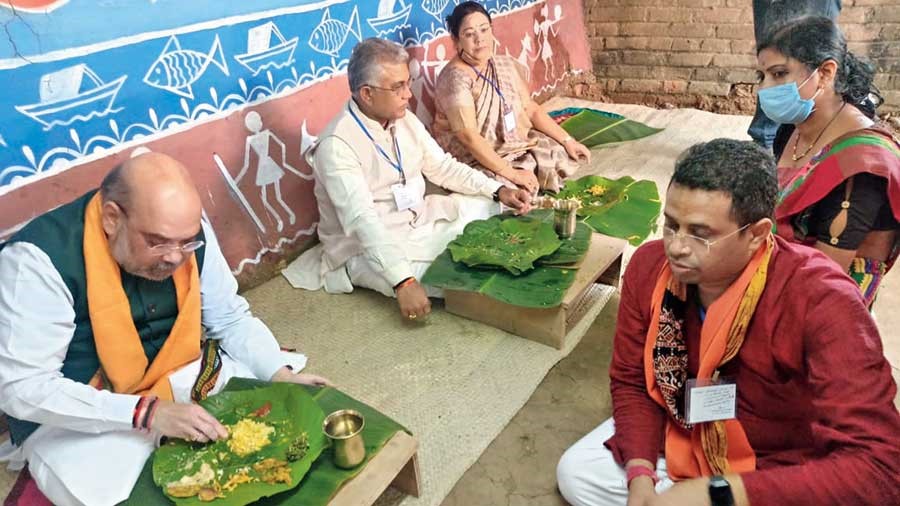 ---
---
There is nothing like an impending election to whet the appetite of our politicians. During his two-day Bengal trip last week, home minister Amit Shah had lunch first at the home of Bibhishan Hansda of Bankura district. Lunch 2 of Day 2 was at the home of Nabin Biswas in Baguihati in the North 24-Parganas. Hansda is a tribal farmhand, Biswas belongs to the Matua sect, and the choice of hosts is an indication of the BJP's poll menu, recipe, ingredients, cooking technique et al. In February 2020, soon after the Delhi Assembly elections, Prime Minister Narendra Modi had tweeted visuals of himself enjoying "tasty Litti Chokha for lunch along with a hot cup of tea". The discerning commented that the PM's tastebuds seemed to be uncannily in sync with the poll calendar wherein Bihar followed Bihar.
Reach and the famous
Shah's luncheons last week are reportedly part of a BJP outreach programme. But outreach is not the same as reach out. It is even less about reach. In any case, there was a similar effort in Uttar Pradesh in the run-up to the 2019 Lok Sabha polls. To counter criticism of the government's anti-Dalit policies, the BJP launched the Gram Swaraj Abhiyan. MPs were told to spend a minimum of a night in villages where SC/STs constitute over 50 per cent of the population. Even chief minister Adityanath followed the party diktat and visited a Dalit family each in east UP's Pratapgarh district and west UP's Amroha, in Ayodhya, in Gorakhpur…
Atithi…
Adityanath said something about sahbhoj or community lunch being indicative of social equality, but there were whispers that the host villages were not particularly pleased at being used as photo props while the CM's minions supervised cooking of the meal and ensured there was ready supply of bottled water. Another BJP minister visited a Dalit home for dinner all right, but ordered out. The houseowner said he had been asked to sit outside his own house. In some villages people apparently joked that at least in the course of these visits they enjoyed uninterrupted electric supply all night. The dining continued, but given the continuing scramble for the Dalit vote in UP, the BJP had overlooked the little matter of the aftertaste. In Bengal, Shah's host Hansda later told media he wished he had got a chance to speak to his distinguished guest. But not everyone was cheated of the aftertaste. Hours before Shah's lunch, three years after she had hosted Shah at her home in Naxalbari, three years minus one day after she had shifted allegiance to the Trinamul, Geeta Mahali was appointed a homeguard by the state government.