The despair of Rabin Mondal
Highly respected though he was, his grim and grimy art did not win the accolades he richly deserved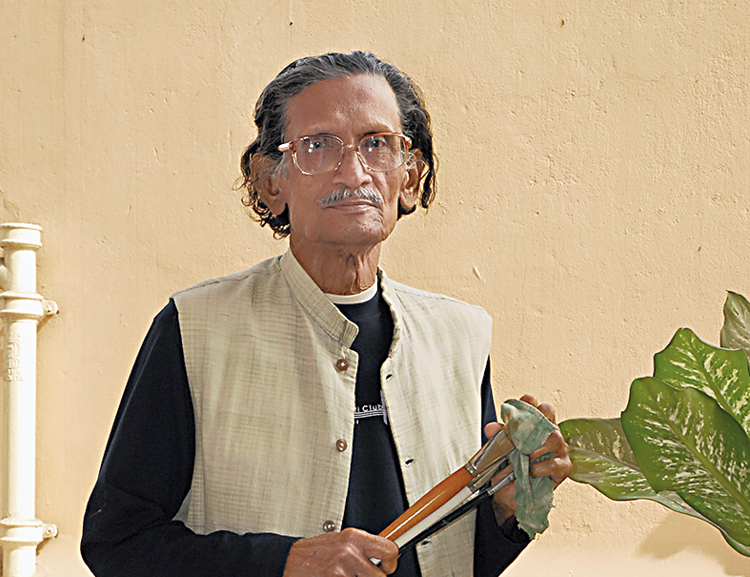 Although Rabin Mondal never had satire in mind, his representation of people is close to Jonathan Swift's account of the loathsome Yahoos — "the most filthy, noisome, and deformed animals... nature ever produced"
(The Telegraph picture)
---
Published 22.07.19, 10:28 AM
|
---
A very successful Delhi artist once wondered aloud to me why Bengal artists of the 1960s and 70s bothered to produce the grim images of hunger and poverty that few ever appreciated and which had even fewer takers. Practitioners belonging to the art-for-market's-sake ilk could never comprehend that Bengal artists of the era felt compelled to take up their brushes to make some sense of the despair they saw around them. Rabin Mondal, who died in Calcutta on July 2 at 90 years of age, will be remembered as one of the rare artists who painted the pain he saw with such intensity and passion that he never spared a thought for what he will gain from it.
Howrah, where Mondal was born in 1929, was the wellspring of his creativity. Writing about his evolution as an artist, he noted: "Thanks to the predominance of factories and workshops in Howrah, it attracted people... in search of a living. There's no problem in landing up at a place where there is a railway station like Howrah and where factories hold sway. Once you arrived... with bare necessities, you will make good. People started gathering here with such an expectation. And gradually there was an explosion. Although Howrah beckoned to people beyond its capacity, its economic and social infrastructure did not support that... Howrah... faces an extremely horrible situation which residents, who are aware enough, can feel."
These words afford a clear picture of Mondal's disposition, expressed in his angst-ridden images. With stark naked, unprepossessing human figures shorn of any cosmetic concealment, his depiction of the degeneracy of mankind is as dark as Jonathan Swift's description of the Yahoos in Gulliver's Travels. Although Mondal never had satire in mind, his representation of these bestial people is very close to Swift's account of the loathsome Yahoos — "the most filthy, noisome, and deformed animals... nature ever produced". Mondal created perfect pictorial equivalents of these words in his powerful drawings of nude men and women with porcine bodies and of abhorrent creatures such as toads and other nightmarish beasts. While toiling humanity plumbed the depths of depravity to hang on to life, those in power were no less troubled beings. It is no accident that many of Mondal's bulky figures with dark contours and garish colours were akin to tribal and folk totems that are still objects of worship. He was obviously trying to break away from rigid academic discipline and opt for a modernist mode to forge a personal idiom.
Mondal was born in a joint family that owned a modest industrial unit, which he was forced to look after as a student of the Government School of Art owing to dire finances. Years earlier, there was another break in his studies, when he fell seriously ill and could not leave his house. Mondal witnessed the Japanese bombing, the 1943 famine and the Great Calcutta Killings in 1946. Zainul Abedin's drawings of the man-made famine, which he copied, had an impact on him. But it was when he was housebound for months that his hidden talent for drawing flowered. His uncle was a gifted pakhawaj player and musical soirées used to be held in his house. So he was encouraged to cultivate his talents.
To complete his graduation he had to opt for evening classes, but he was already in the thick of things as he came close to Calcutta's culturati. In spite of adversities, he continued to paint and draw with zeal and tenacity, qualities that did not desert him even in his last days. He landed a job with the railways in 1955, also the year of his first group show with leading artists. His first solo show in 1962 was critically acclaimed. Even if one found his work too disturbing and unsightly, it was difficult to ignore him. In 1964, he co-founded the group, Calcutta Painters, along with other eminent coevals. Highly respected though he was as an artist who made no compromises, Mondal's grim and grimy paintings did not win the accolades he richly deserved.