Taylor Swift-themed 'break-up bar' to come up in Chicago
American Diaries | The newly-elected Republican Congressman, George Santos, has been in the news for all the wrong reasons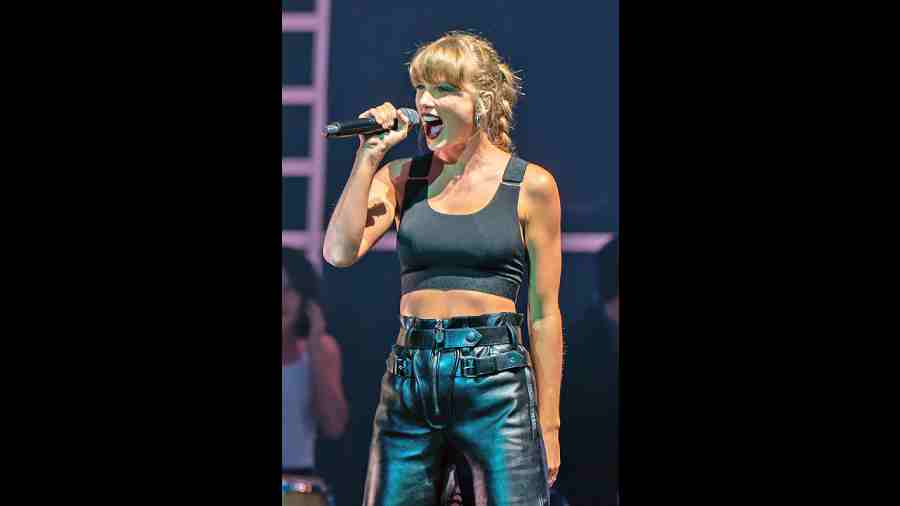 Taylor Swift: Anti-Valentine icon?
Sourced by The Telegraph
---
Published 28.01.23, 05:41 AM
|
---
Valentine detox
With Valentine's Day around the corner, local markets have begun to display heart-shaped items, flowers and stuffed teddy bears. At the same time, many 'anti-Valentine's Day' activities have also been taking place.
First off, a Taylor Swift-themed 'break-up bar' is coming up in Chicago's West Loop neighbourhood. The executive chef, Alex Vazquez, told Variety magazine that Swift was the perfect choice for the theme given her long history of break-up songs and bad boyfriend stories. "What she sings about, and the heartbreak in her music, pairs very well with what we were looking for in wanting to get away from typical cupid and romance pop-ups," he added.
The pop-up bar is called 'Bad Blood', a nod to one of Swift's popular songs by the same name that debuted in 2014. The menu will include food and cocktails that Swift has mentioned in her past interviews. The bar will also feature life-size cutouts of the singer, a tarot card reader and, of course, a karaoke machine that will play all her smash hits. Swift herself will certainly not be present.
In a similar vein, Virginia Aquarium is organising the 'Love Bites' fundraiser. "... we're here to lift your jilted souls with a little anti-Valentine's fun (draiser) where you can (symbolically) feed your ex to one of our animals!", it says on its website. You can pick from their menu, which includes creepy-crawly bugs and rats, which will then be fed to the animal of your choice. You will receive a video of the feeding with your ex's name attached.
Con artist
The newly-elected Republican Congressman, George Santos, has been in the news for all the wrong reasons. The butt of all the late-night talk show hosts, Santos has been facing heat for fabricating everything about his life — his name, his resume, his family history and his past.
First, he embellished his resume, claiming that he worked for Goldman Sachs and received an MBA from New York University. Second, he misled voters by saying that his grandparents survived the Holocaust when they are actually from Brazil. There is also mystery regarding how he acquired his wealth, especially since he claimed to have funded his election campaign all by himself.
To top it all, even after being exposed, Santos was still appointed by the GOP leadership to serve on two, albeit lower-level, House committees. There have been growing calls for Santos' resignation. However, Kevin McCarthy, the newly-elected Speaker, said that it is up to the voters to decide his fate. Unsurprisingly, many senior Republicans have shared a similar view.
Equal justice
For the first time, a statue of a woman has been placed atop the courthouse near Madison Square Park (officially called the Courthouse of the Appellate Division, First Department of the Supreme Court of the State of New York). The sculpture sits next to the line of male figures, including Confucius, Justinian, Lycurgus, Moses and Zoroaster.
The figure has been created by the Pakistani-American artist, Shahzia Sikander, who has also placed a sculpture in Madison Square Park as part of her exhibition, Havah...to breathe, air, life.
The statue depicts a tall, radiant woman, standing in a power stance, with braided hair curled back like spiralling ram's horns, and tendrils representing her arms and feet. The statue is 18 feet tall and wearing a hoop skirt, inspired by the stained glass dome of the courthouse.
The figure atop the courthouse is similar, only the skirt is replaced by a lotus plant, symbolising wisdom. It stands shoulder-to-shoulder with the nine classically draped statues of the male legislators. "The image of justice as a woman has been present for centuries, but women only gained juridical voice in the last one," Sikander said in a statement.
Pants off
Celebrities are dropping their pants this season. Literally. Last fall, it was the trend of underwear and lingerie worn as outerwear. Now, the trend of wearing underpants as bottoms has started picking up, with celebrities going pantless on the streets.  Two months ago, Kendall Jenner was seen in Los Angeles in a knitted sweater and tights. Bella Hadid was spotted in New York City wearing a white t-shirt and briefs — the look was completed with a leather jacket and UGG boots. Hailey Bieber was spotted last week in a neon green hoodie from hubby Justin Bieber's collection, Drew House, sans pants.
The 'no pants' fashion essentially means ditching the pants and going with just a t-shirt and sheer tights, or a body suit or men's briefs, with nothing over it. Designers like Bottega Veneta, Miu Miu and Burberry have showcased the 'no pants' look on their social media and runways.
Footnote
Masalawala & Sons, a new restaurant serving Bengali food, recently opened in Park Slope, Brooklyn and earned a glowing rating from The New York Times. The items on the menu are different from what is usually served in Indian restaurants overseas, where the typical main attraction is the chicken tikka masala. Instead, you will find the iconic daab chingri, bhapa doi, machher dim, echorer kaliya and even simple ghee bhaat. The New York Post called the restaurant the "toughest reservation in NYC".