Sow the seeds
Processing of millets is difficult and needs appropriate technologies to be developed locally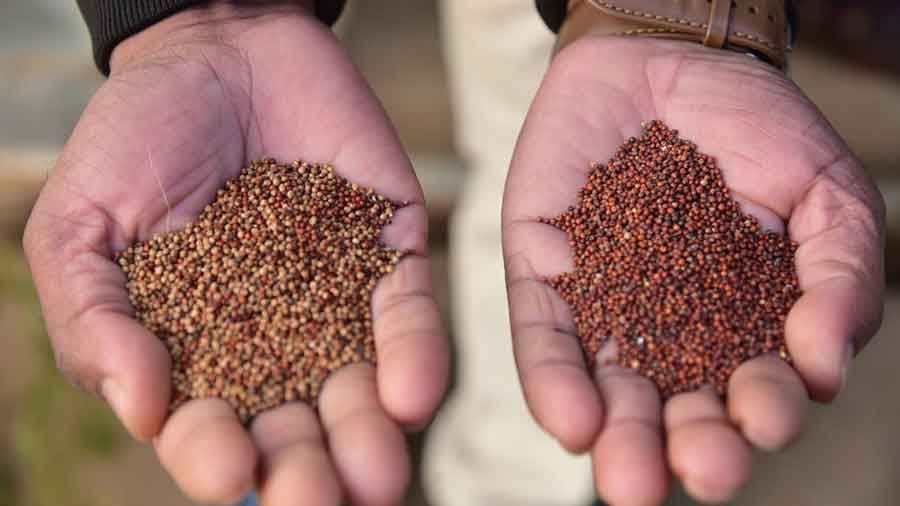 There was a time when millets were at the centre of this nation's daily diet, before wheat and rice took over the thaali.
File photo
---
Published 10.03.23, 04:30 AM
|
---
This is the year of millets. There is a lot of buzz around the need to revive millets, both in our farms and our daily diets. The Narendra Modi government is going hammer and tongs about the fact that the United Nations declared 2023 as the International Year of Millets at the behest of India, which, together with China and Nigeria, is among the largest producers of millets in the world.
There was a time when millets were at the centre of this nation's daily diet, before wheat and rice took over the thaali. In the past few decades, the cultivated area under millets, also called nutri-cereals, has been shrinking. This is what necessitated the call to revive these coarse and sturdy grains, which are nutritious, and rich in proteins and fibres. They are also best suited for most soils, under varied conditions with less water, thus toeing agro-ecological principles. In short, millets embody sustainable agricultural practices and are tied to rural livelihoods in rainfed agricultural systems as well as to household nutrition.
Why, then, has the production of millets shrunk? Because from production to markets, farmers have no incentive to grow them. Agriculture universities and research institutions have stayed away from millet research. Millets also don't enjoy as much State support as wheat, paddy or maize does.
Across India, government-driven celebration is in the air, through conferences, seminars, talks and publicity drives. The thrust is on celebrating the year, not on serious discussion on how to revive and bring back millets to our farms and in our diets which will help both farmers and consumers.
To walk the talk, the Modi government would need to wake up to some of the constraints that millets face and commit public resources to fund their revival. India grows two kinds of millets: major (sorghum, pearl and finger millets and so on) and minor (foxtail, kodo, proso, barnyard, among others). The recently-held Public Convention on Millets for Millions rightly pointed out that we need to cultivate an ecosystem that addresses every single vertical, from seeds to inputs to production to post-harvest to value addition to processing to markets and consumer demand. This is easier said than done.
Despite the comparative advantage that millets enjoy, challenges abound. For a scaling up, demand needs a big upsurge. A lot of work is needed to bring about behavioural changes towards millets. Productivity and production are on the lower side and thus not financially lucrative for farmers. Processing of millets is difficult and needs appropriate technologies to be developed locally. There's no dearth of millet germplasms with communities, but public institutions will need to work on improvements to varieties after procuring enough germplasms from them. Solutions are needed at different scales for different regions.
First, the revival of millets calls for a decentralised approach — an anathema for the Modi government. It calls for the Centre to work with the states, again a difficult proposition. It will also need scientific evidence tied to the farmers' traditional knowledge to boost production and productivity.
Unless the issues with production and demand are addressed at the local level and millets are woven into the food basket — be it through assured demand generated through the public distribution system or the Integrated Child Development Services scheme — how will it get that vital, initial boost it so desperately needs? Farmers need a cue that if they grow millets, they will get a fair price and an assured market.
Luckily, there are plenty of examples that prove millets can be revived effectively for farmers and consumers. The task is an uphill climb and it starts when this year ends, that is if we are serious about what we say.