Sartorial code
Taking the Indo out of Indochina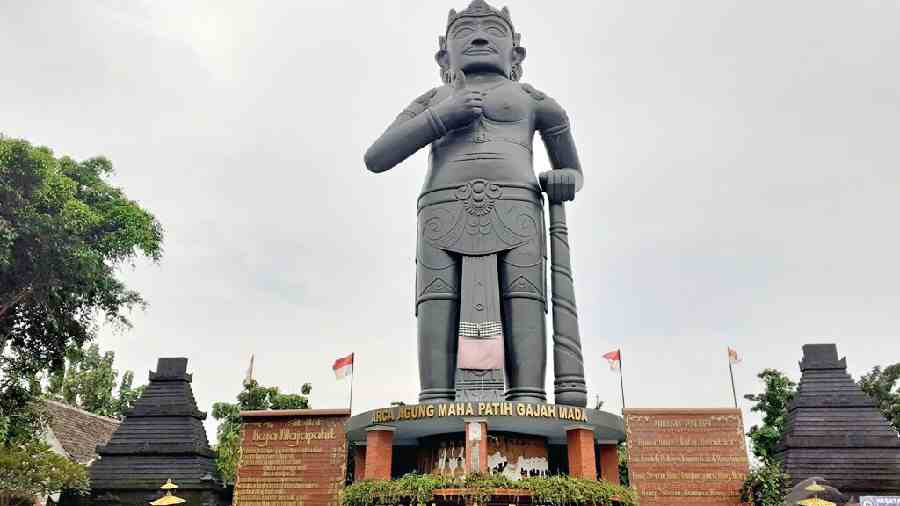 A statue of Gajah Mada in Indonesia
---
Published 07.01.23, 04:32 AM
|
---
India doesn't need to fling a saffron bikini at Asean. But it would have been one in the eye for Xi Jinping if Narendra Modi had sported a Hindu dhoti in Southeast Asia instead of Muslim churidars. Any Indochinese would instantly recognise the 2,500-year-old dhoti as the original of the national garments of all those nations of lore and legend that the French Orientalist, George Coedès, called the "Indianized States of Southeast Asia".
For all its suzerainty pretensions, China left no similar sartorial legacy in Indochina which it called Funan. Being weak in geography, China also calls Arunachal Pradesh "Zangnan" or "South Tibet", and shortens the 3,488-kilometre Sino-Indian Line of Actual Control by 2,000 kms. Aggressive Hindutva worthies become strangely coy when it comes to contradicting China or standing by their own sartorial principles. Yogi Adityanath and Pragya Singh Thakur are walking advertisements for devotional saffron but Atal Bihari Vajpayee stomped the international stage in ungainly European trousers. One suspects that Modi's flamboyant turbans are chosen more to make a stunning fashion statement than to evoke cultural roots. Receiving Xi at Mamallapuram in karai veshti and angavastram was local political one-upmanship: no Indochinese was present to recall A.L. Basham's claim that "the whole of Southeast Asia received most of its culture from India." Only Tamil voters were impressed.
Xi's own studiedly casual shirt sleeves downplayed the event's symbolism. He disdains the Mao jacket that was identified with China's years of struggle except on the rare occasions when it is politically rewarding to demonstrate solidarity with party and proletariat. He knows that times have changed since the hapless Zhao Ziyang promoted 'smart' lounge suits and spent 15 years in house custody for his pains. Today, China's leader is determinedly smarter than arch-rival Joe Biden. Suited and booted as befits a superpower boss, he towered stiffly over Thailand's courteously bowing King Vajiralongkorn, Rama X of Ayutthaya, at the Asia-Pacific Economic Cooperation forum in Bangkok. Apec's doors being still closed to India may have given Xi additional satisfaction.
Modi could not warn His Majesty that Ayutthaya without his Bharatiya Janata Party is more forlorn than Hamlet without the Prince of Denmark or that the BJP can call Thailand's Rama an imposter. Instead, he gratifyingly discussed building people-to-people bridges with another monarch, Britain's King Charles III. Such projects would be castles in the air in Thailand where people who believe the Buddha was born there became somewhat oblivious of their Hindu lineage under the revered American-born king, Bhumibol Adulyadej (Rama IX), whose 70-year-reign didn't permit a single visit to India. Even his daughter, Princess Maha Chakri Sirindhorn, a Sanskrit and Pali scholar and regular visitor to India, advises the neutral 'Indic' instead of 'Indian' in describing culture and influence. Jaswant Singh's MekongGanga-Suvarnabhumi project almost foundered on the rocks of national sensitivity because the Thais have appropriated the Suvarnabhumi label for both their country and Bangkok's airport. Cold-War partisanship and Indian neglect — our leaders haven't done much fence-building since P.V. Narasimha Rao discussed computer keyboards with Asian letters with Rama IX — compounds the estrangement.
Not that Suvarnabhumi has totally obliterated the past. India's elusive omnipresence prompted an American's comment, "I see India everywhere but find it nowhere", while Jaswant held forth on 'Greater India'. As Arvind Kejriwal bemoans, Indonesia's 20,000-rupiah note honours Ganesh, which Indian currency doesn't. Descendants of Hindu priests from India were noticeable for their white robes and chignons on the way to the Bridge on the River Kwai. A dhoti-draped agriculture minister represents Thailand's king at the annual ploughing ceremony. It's said that an Indian guest was asked after a Javanese wayang kulit puppet show depicting the Ramayana (which they call Ramakien) "I believe you have something like it in your country too?"
No Indian in authority asserts Basham's belief that "it was from India, especially from the south, that the people of Southeast Asia learnt the art of writing." It's inconvenient to do so, like wearing a dhoti. The Muslim churidar is less trouble, more with it. Yet, Sinnathamby Rajaratnam, Singapore's first foreign minister, said the region was called "Further India, the Indian Archipelago, the Indies and Indochina" until K.M. Panikkar coined the phrase, 'Southeast Asia', for the British, Dutch, French and Portuguese colonies with a shared Hindu heritage that were "connected integrally in their political, social and economic life". Seeing the arc from Suez to Singapore as India's protective glacis, Attlee demanded India should defend the "Southeast Asia area" as a condition of Independence. If Rajendra Chola could brave the seas in the 11th century to attack Sumatran Sri Vijaya and establish control over Malaya, ambitious regional potentates or outside powers with a local foothold can repeat the adventure in reverse.
The tsunami that raged from the Coromandel Coast to Aceh in 2004 further underlined the unity of the IndoPacific region which holds China hostage: more than 70% of China's petroleum and 60% of its trade passes through the Malacca Straits. Perhaps the American-sponsored Quad with its nucleus of the nuclear-powered trilateral security pact, Aukus, reinforces that cohesiveness, giving India a confidence it lost in the Galwan Valley and which a 'sky-scraping Ram mandir' hasn't restored.
"Commerce and business prompted Indians to cross the eastern seas," Hema Devare wrote in Nagapattinam to Suvarnadwipa. Bowling along the Odisha coast in a jeep which he had refitted like an aircraft cockpit, the swashbuckling Biju Patnaik talked of the Bali Jatra festival and women singing to their gallants to bring back golden ornaments from lands beyond the ocean. Shashank, a senior Indian diplomat, found while investigating illegal emigration that simple folk in Tamil Nadu believed they could go to the bus stand or railway station, pick up a ticket, and board a ship to Suvarnabhumi. The new Suvarnabhumi beckons as tantalisingly as the Land of Gold that summoned the merchants and mariners (later, maulvis too) who created the lost kingdoms of Suvarnabhumi. IT whiz-kids chattering in Hindi in Singapore's 'Silicon Valley', the transatlantic drawl of investment bankers who have fled glass-ceilinged New York, honeymooners in Bali, and Phuket's crowded Indian restaurants called 'Gandhi' (which one?) and 'Hangover Inn' testify to a robust diaspora. So did the recent brawl on a Thai Smile flight to Calcutta. Droves of street-smart young men fly to Bangkok (or Kunming) with no luggage but return a few days later laden with packets and parcels whose contents soon spill out on Calcutta's gift and novelty shop counters.
In his book on fashioning "the Siamese monarchy's modern image", the Italian-born historian, Maurizio Peleggi, describes restyling the royal wardrobe for King Chulalongkorn (Rama V) who visited India in 1872, starting and ending in Calcutta. Chulalongkorn "wore the western-style shirts and jackets over the phanung, a kind of Siamese garment resembling the Indian dhoti and folded to look like knickerbockers called the chongkrabaen." Bengalis quickly detected the dhoti in the royal party's pleated knee-length garment, also called sampot. Similarly-attired courtiers lined the stairs when I visited Bangkok's Chitralada Palace 122 years later.
Photographs show Cambodia's King Norodom Sihanouk in tunic, sampot and dress sword, the formal attire of that era throughout Indochina. Loin cloths drape Jakarta's massive (although nothing as extravagant as India's Statue of Unity) figures of Gajah Mada, the Majapahit general and diplomat. Myanmar's Aung San Suu Kyi is as stylish as she is courageous in a sarong. Called mekhela, lungyi, longyi, phanung, chongkrabaen, Khmer chawang kabung, Malay baju kurung and many other names, the humble dhoti is the last marker of Indic influence that Xi's $1.3 trillion Belt and Road Initiative threatens to erase by taking the Indo out of Indochina. It would be ironic if the American-sponsored Aukus's Australian nuclear subs have to save the faltering heritage of the dhoti that its Hindu guardians abandoned while dhoti-pants were all the rage.