Power and Play
In a seamless world proven by the Covid to be linked more closely together than imagined, the US election, Bihar and by-polls in a dozen states across India were not the only elections of the year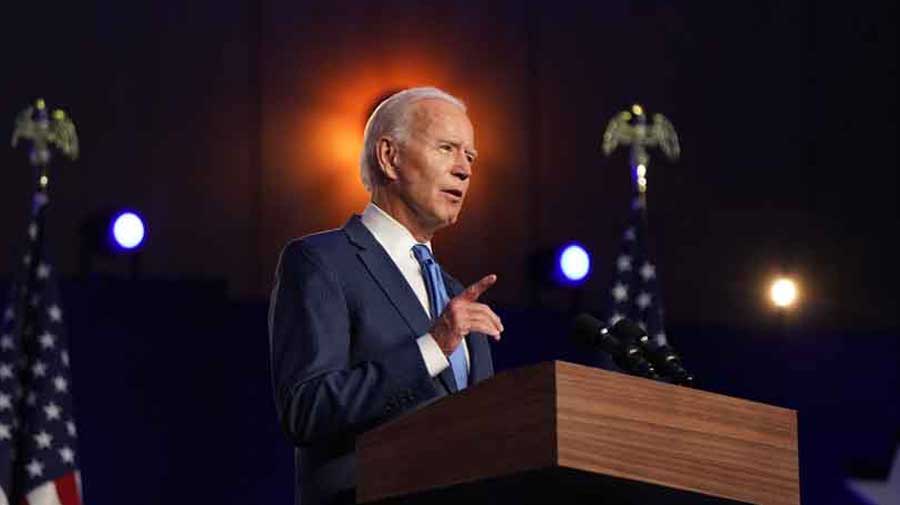 President-elect Joe Biden speaks in Wilmington, Delaware
NYTNS
---
Published 15.11.20, 12:08 AM
|
---
The US presidential elections had the world riveted last week. And then came Bihar and by-polls in a dozen states across India. In a seamless world proven by the coronavirus to be linked more closely together than imagined, these were not the only elections of the year. The African nation of Burundi went to polls in May. The governing party candidate was declared victorious amidst allegations of fraud and the outgoing president, Pierre Nkurunziza retired after 15 years in power with the title Supreme Guide, a luxury villa and a settlement of over USD 5,00,000. Foreign observers were reportedly not allowed citing Covid-19 norms.
Patterns
There were echoes and there were echoes. Resonances and resonances. Guinea in West Africa had its elections too. Despite a two-term limit, the incumbent president, octogenarian Alpha Conde, won a third term in office this October. It was a bitter and bloody poll and the results have been contested by the Opposition. Soon after, Tanzania went to polls and here too the incumbent John Magufuli won. A devout Christian, Magufuli kept churches open even as the coronavirus raged. He said, "Coronavirus, which is a devil, cannot survive in the body of Christ... It will burn instantly." Not long ago, Tanzanian comedian Idris Sultan was arrested for cyber-bullying the President --- in a video he was seen laughing at the Magufuli's photograph. And last week, Tundu Lissu, the head of Tanzania's largest Opposition party, Chadema, fled the country amidst reports of the government crackdown on politicians of opposition parties.)
Landslide
There are patterns in there, if you care to look. In Central Asia's Tajikistan, President Emomali Rahmon was re-elected for the fifth term. (A single presidential term lasts seven years.) In South Asia, months after Gotabaya Rajapaksa won Sri Lanka's presidential elections, his Sri Lanka People's Front and allies won the general elections. Mr President named big brother Mahinda Rajapaksa the prime minister. The press called it a "landslide victory". Myanmar too witnessed a "landslide victory" for the ruling National League for Democracy and second term for Nobel Peace Prize winner Aung San Suu Kyi. Rohingyas couldn't contest. Rogingyas couldn't vote. There were mass cancellations of votes in Rakhine, Shan and Kachin. But it is a landslide and the party has since announced that it will invite ethnic minority parties to work with it. Greece elected the country's first female president, Katerina Sakellaropoulou. Leftist leader Luis Arce won in Bolivia. And though buzz is that Jacinda Ardern's policies are not so red anymore, the New Zealand Parliament blushed a deep Red post last month's Labour win. In Seychelles, where a single party has been in power since 1977, Anglican priest Wavel Ramkalawan defeated incumbent Danny Faure in the presidential elections. It seems the new Indian-origin president's grandfather emigrated to Seychelles from Bihar many years ago. 
It is one seamless world.