People excluded from the NRC are not criminals but victims of the system
The healing process of restorative justice and the transformation it envisages are crucial to restoring justice and dignity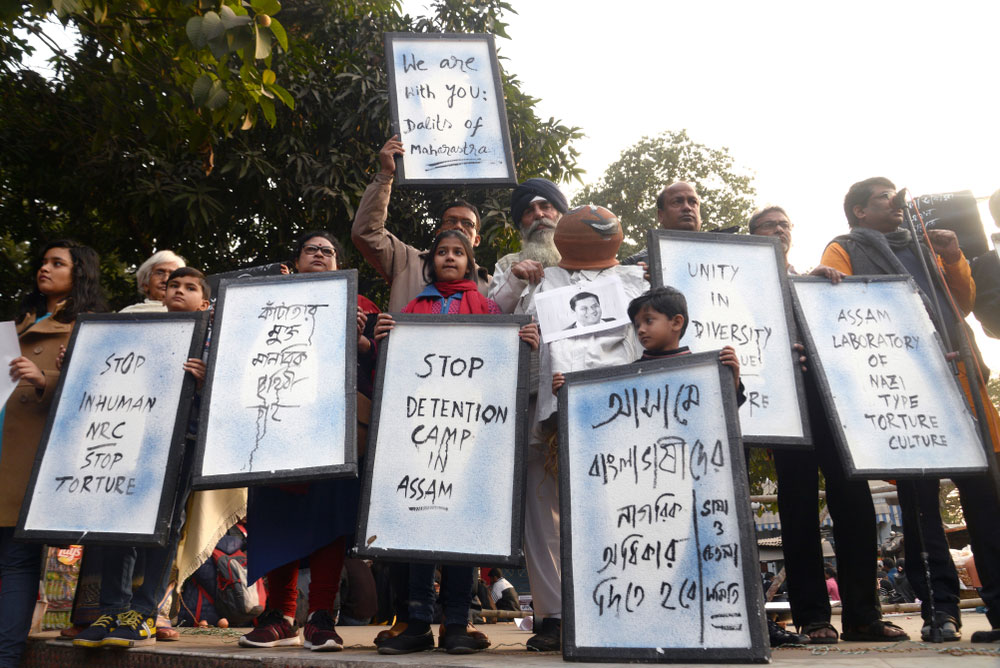 The country's biggest detention centre is coming up in Goalpara, Assam, for 3,000 detainees, and is the reason for many protests
(Shutterstock)
---
Published 09.09.19, 07:57 PM
|
---
Heed the numbers: a total of 3,30,27,661 applicants, of whom 3,11,21,004 figure in the updated National Register of Citizens, published in Assam on August 31. The 19,06,657 people who were excluded will get 120 days for filing appeals from the date of receiving a notification of exclusion, to have their cases decided by the foreigners' tribunals, failing which they may be relegated to "detention camps" generally housed in overcrowded jails.
The Centre earlier told the Supreme Court that 938 people were detained in six detention centres in Assam and 823 of them have been declared foreigners by tribunals. It also said the tribunals had declared 52,000 as foreigners, but the Centre has deported only 162. The country's biggest detention centre is coming up in Goalpara for 3,000 detainees.
As the debate rages over the veracity of the NRC narrative, advocates of restorative justice wonder whether it would work better in this context than the existing retributive paradigm. A fellow alumnus from the Centre for Justice and Peacebuilding in Virginia, US, Paranjoy Bordoloi, who is now based in Guwahati as the Assam communication officer of a health programme and is endeavouring to initiate restorative justice mechanisms in jails for a more humane module, said: "The possibility of the use of restorative justice could certainly be explored in dealing with NRC cases."
While sensitizing jail inmates on tuberculosis, HIV and tobacco-use, Bordoloi, along with a team led by the doctor, M.B. Nath, came across a young boy last month. The 18-year-old, who had cleared his Class X exam, has been in jail for three years in a robbery incident and was receptive to the restorative justice procedures, such as the circle process, using the lens of the victim so as not to view him as an offender and incorporating of values like respect and humility.
"Most of the over 30 jails in Assam are overcrowded. In Guwahati Jail, K.K. Handique University has been conducting free education and offering degrees to the inmates. Very soon they will start a skill development mentorship programme for those who are interested in starting their own business when they go home," Bordoloi added.
On the possibility of introducing restorative justice in Assam jails, he said: "For the last 10 years, there has been a paradigm shift in the attitude of jail officials in Assam. The main principle of restorative justice, to view every inmate from the lens of a victim, can be introduced to make these programmes more effective. A restorative justice centre within the jail can promote practise of these principles... I can see it happen if few groups start working on it. The jail inmates come from many religious and cultural backgrounds. I have seen an environment of mutual respect among them."
Howard Zehr, considered the father of restorative justice in the United States of America and our mentor at CJP, says: "Restorative justice is a process to involve, to the extent possible, those who have a stake in a specific offence and to collectively identify and address harms, needs, and obligations, in order to heal and put things as right as possible." He views the ultimate goals of restorative justice as threefold: ensuring that decision-making authority is in the hands of those most impacted by the offence; bringing the pursuit of justice more in line with healing and transformation; and reducing the likelihood of future offence.
As restorative justice practitioners, we can view the route for those dealing with NRC exclusions with empathy for two reasons. First, the onus of proving one's citizenship does not directly implicate those whose names are missing as criminals. Second, since it is apt to view these "offenders" as victims of the system, the healing process of restorative justice and the transformation it envisages are crucial to restoring justice and human dignity.